The hunt for a ANDRA Gold Christmas Tree at the Westernationals kicks off this afternoon at the Perth Motorplex for both the competitors of the 18/19 Summit Racing Equipment Sportsman Series and the West Coast Challenge's Top Doorslammer and Top Fuel Motorcycle racers.
Nine Top Doorslammers and eight Top Fuel Motorcycles will do battle over the two days and nights of action at the West Australian venue as they seek to lay claim to the highly prestigous golden accolade.
Goldenstates Summer Slam A Final winner Ryan Moresby is one Doorslammer competitor who is itching to get into racing this afternoon.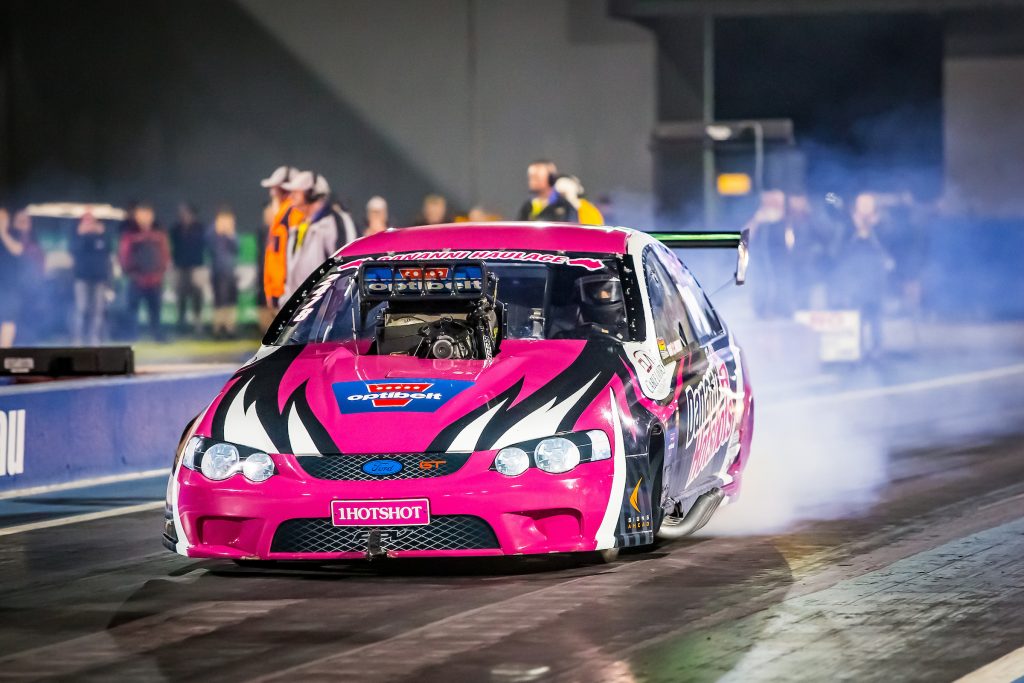 "Gold Christmas Trees are very hard to come by so I think the West Coast Challenge is a great opportunity to try and win one – I already have one from the Summit Racing Equipment Sportsman Series so hopefully I can add one for Top Doorslammer to the collection this weekend," the Padbury, WA racer said while thanking his sponsors, Dananni Haulage, Cable Layers Australia, Optibelt, Ftrucks WA, BL and SG Lake Brick Cartage, Black Magic Racecars, Kcraft Bullbars and Armadale Miniloads.
"The Goldenstates meeting was a testing one for sure, it was more 'ass than class'," he laughed. "We just happened to be in the right place at the right time, but a win is a win. We are hoping to be a lot more competitive this weekend.
"It will be awesome to see what we expect to be an all five-second field at the Westernats this weekend. Everyone entered has dipped into the fives or come very close, so it is sure to be an awesome couple of nights of racing – with the ANDRA Gold Christmas Tree up for offer, I am sure everyone will be pushing that little bit harder as well."
For Top Fuel Motorcycle competitor and Goldenstates winner, Wayne McGuinness, a ANDRA Gold Christmas Tree would be a great reward following what has been a hectic lead-up to the Westernationals.
"This time last year I completely destroyed the engine on my new bike on its first time out. It has taken me 12 months to get all the parts together and we only got it going around a week or so ago," McGuinness explained, while noting that his Goldenstates win came courtesy of his second Top Fuel Motorcycle.
"It is Damien Muscat's old bike, the most decorated V-Twin in the world with 14 national titles around the world. After all the work and the cost over the last year to get it running again, I am pretty excited to have it back on the track this weekend.
"It should be a great weekend with an eight bike field including some new bikes as well as the likes of Benny Stevens, Jay Upton and Mark Drew amongst others. The bracket is really stepping back up and I am very happy about that.
"Thanks must go to my brother Gary, partner Tracy and my crew Ben, Bruce and Slim as well as Bravo Resources for their support. We are looking forward to seeing everyone at the track and invite everyone to come on down to the pits and have a look and a chat," concluded the Munster, WA racer.
The Westernationals will be held at the Perth Motorplex across March 2-3 ahead of the ANDRA Grand Final event which will also be held at the Motorplex (April 6-7, 2019). For event information, visit www.motorplex.com.au or www.andra.com.au
IMAGES: WAYNE MCGUINNESS (FEATURE IMAGE): LUKE NIEUWHOF. RYAN MORESEBY: HIGH OCTANE PHOTOS.