At this weekend's 50th annual Westernationals, Serpentine (WA) racer Lucas Green is hoping to continue the momentum of recent victories, including his breakthrough win at the coveted Anita Board Memorial late last year.
The Westernationals event at the Perth Motorplex will be held across February 27 and 28 and represents the penultimate round of the extended 19/20/21 Summit Racing Equipment Sportsman Series.
"The Westernationals is a great event for West Australian drag racing because there are a lot of interstate drivers and riders that come to race against us in a variety of classes which is fantastic," said the year 8 student who will turn 13 in April.
"We will be aiming to improve on my reaction times and go a couple of rounds, hopefully ultimately culminating in winning the event!"
Green broke through for his first event victory late in 2020 before following up with a win at the Super Sportsman Showdown event earlier this month.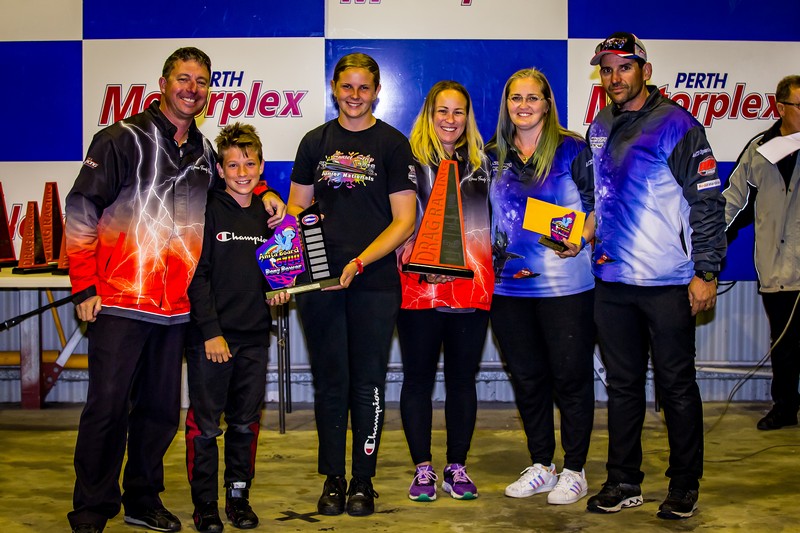 "At the Anita Board Memorial, I was nailing great reaction times and was able to win the races against Zara Board and Brodie Zappia because of those reaction times," said Green, who spends his off seasons playing AFL.
"When I won the event, I didn't believe it at first. But when it sunk in, it just felt unbelievable to have won my first race event and to claim such a very valuable and important award."
While the Westernationals event is part of the national title chase for the Summit Racing Equipment Junior Dragster bracket, the points earned there also count towards the local WA Drag Racing Championships – in which Green is currently ranked second for his bracket.
"The racing this season has been pretty good. We debuted a new car which is an ex-State Championship winning car. It looks great with a new wrap designed and applied by Scene Signs and has been very consistent so far," Green said.
"Since the engine and clutch was freshened up by Eddie Wroe at Thornlie Automotive in the off-season, having the new car has allowed me to shave four tenths off the times of my old car.
"With consistent times, I have been able to focus more on staging the car in the same spot and improving the reaction times. It is certainly a work in progress though – at the two meetings before the Super Sportsman Showdown I had first round exits with red lights in the -0.050 range, but thankfully the car has still been very consistent ET-wise.
"When it comes to the WA Drag Racing Championships, I am feeling quite nervous as Zara is not far away from me in the points and there are quite a few other racers who are not far behind.
"It would be quite an achievement to win the State Championship. However, we still have four seasons left (before we age out) so we are more just focusing on being consistent and getting as much racing in as possible.
"The Junior Nationals at Mildura is also a key focus for us, along with ending this season successfully, as from April I can step into A/JD (currently B/JD)."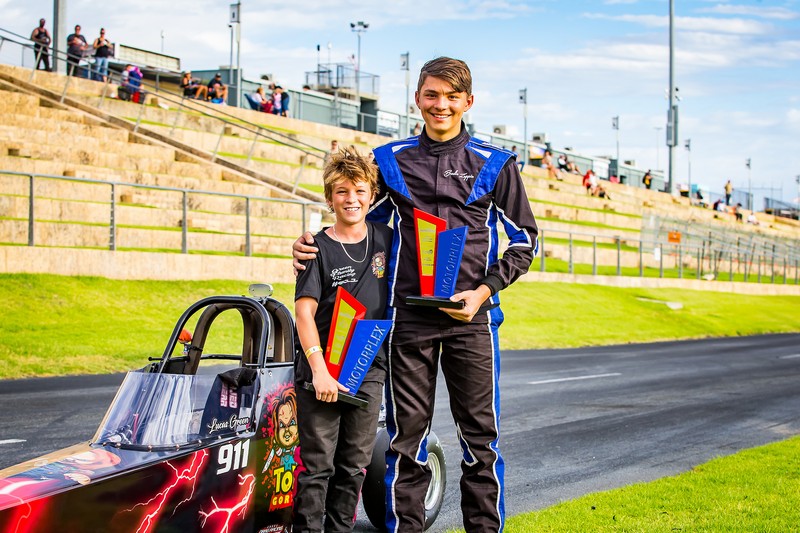 Green has a lot of people that he wishes to thank for their support of his racing.
"Firstly, I would like to thank my mum Corrinna, my dad Doug and my sister Caitlin for all of their support," he said.
"I would also like to thank all of my fellow racers for their comradery and support. I just love how in Junior Dragster racing we are all one big group – it does not matter who wins, we all cheer each other on and have fun and catch up away from the track as well and I think that is just great. Our bracket Marshall Gary McCann and his partner Alison Stalkey are just the best and ensure our race day experience is full of laughter and good times too, so as we say over here, #thankyouGary."
"The West Coast Junior Dragster Association (WCJDA) is also fantastic, supporting all of the junior racers.
"Through the WCJDA, Wayne and Lisa Keys of Keys Family Motorsport sponsor methanol for all of the racers. We all recently had an awesome day out at the Perth Aqua Park thanks to Matt Jarvis and Emily Ross at Perth Patios and Sheds. Other valuable supporters through WCJDA include: Stewarts Pest Control (Phil and Peta Stewart our life members) 89 Enterprises (Anthony and Jayne Begley), Southside Crane Trucks, Scruffy, Cajed Racewear, Nexus Insurance, ADR Race Engines, The Quarter Mile Experience and AK Cylinder Heads.
"Then there are our sponsors who I of course would like to recognise: Riverside Mechanical (Glenn and Jodie Smith), Cajed Racewear (Michael and Allana Harris), Scruffy, ACS Sports Images (Mike Sprylan), ADR Race Engines and MPrint for their awesome design work on my helmet.
"I also have to say thank you to the Perth Motorplex – the venue is world class and the volunteers on race day and in the office ensure we enjoy an amazing facility and safe race day experience – as well as ANDRA and the stewards and head office staff for the continuous improvement and support they provide in conjunction with Summit Racing Equipment.
"The Sunraysia Drag Racing Association is another I would like to recognise for their hosting of the Junior Nationals each year which is truly a standout event of the year I think if you are a Junior racer.
"And finally, thank you to everyone who races and puts a show on for the spectators!"
The 50th annual Westernationals will be held at the Perth Motorplex across February 27 and 28. For event info, go to www.motorplex.com.au
The 19/20/21 Summit Racing Equipment Sportsman Series season has been extended in the face of COVID-19 to not only deliver successful completion of the current competition, but also a record prize pool thanks to Summit Racing Equipment. The performance powerhouse has announced it will offer 50 percent extra end of season prize money for a total prize pool of more than $100k including $10k for the prestigious John Storm Memorial, creating the biggest prize pool in Australian Drag Racing history.
For more information, visit www.andra.com.au