Jason Arbery clinched not only an ANDRA Grand Finals victory and the 2017/2018 Summit Racing Equipment Australian Title in the Top Sportsman ranks at the weekend, but he also was awarded the prestigious John Storm Memorial Trophy.
Commissioned in memory of Mr John Storm, the first National Director of ANDRA, the John Storm Memorial Trophy is an annual national award made to the competitor in Group Two, Three or Four who scores the highest total overall points from all rounds of the Summit Racing Equipment Sportsman Series, including the final event.
Upon receiving the trophy, Arbery found it difficult to put into words what the acknowledgement meant to him on a weekend which already saw him on 'cloud nine.'
A few days later, and it is still sinking in for the Mount Gambier (South Australia) resident.
"I am still coming to terms with what has happened to be honest – to win the Championship was an absolute dream come true – it only feels like yesterday that we set off to round one in Darwin to begin this journey," Arbery said.
"And then to go on and receive the John Storm Memorial Trophy, it was just unbelievable. It is such an honour and even now I am still struggling to be anything but speechless when it comes to what that means to me.
"It is the Holy Grail of our sport, the drag racing equivalent of 'the Brownlow'…my name is now next to the greats of the past 45 years on this trophy – words really just don't cut it and it is going to be quite a while before it sinks in properly I think, I really just can't believe it."
While he may have made it look easy, Arbery said it was anything but all season-long.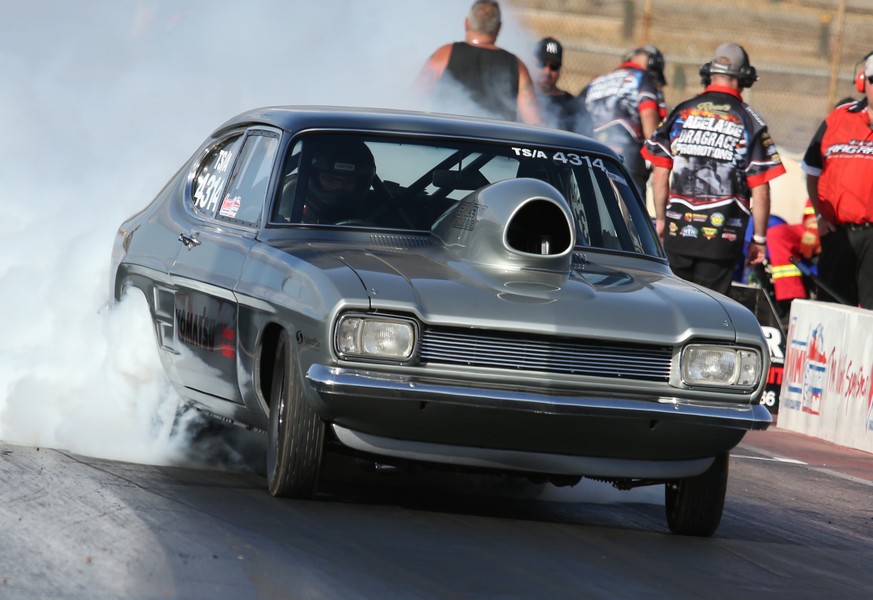 "There are so many tough competitors in the Top Sportsman ranks, it is just crazy! Every single time you go out on the track to run a pass, you have to have 100 percent commitment and focus, otherwise you are going to be going back on the trailer quick smart," Arbery said.
"My congratulations goes to Chris Theo and his team on the runner-up result, they are one tough outfit and I can't wait to battle them next year!
"Taking out the Grand Finals event, especially after winning the same event last year, is something I am really proud of and it was a great way to end the season.
"It came down to just .001s between me and Paul Russo in that final run, what an awesome race that was and it is pretty poetic really as he drilled me by .001 a few years back!" he laughed.
A winning effort like this is always a team effort, and Arbery has plenty of people that he wants to thank.
"My family and especially my wife Kristen are such a great support and the encouragement they give me is so incredible, I can't thank them enough for always being there for me and believing in me," Arbery said.
"I would also like to thank Craig Carrison who builds the best Engines in the country – I give this engine a hard time every time and it performs round after round, the guy really is a legend! Huge thanks also has to go to Paul Rogers Performance Transmissions; Paul backs his products like no other and delivers a bulletproof Transmission: if anyone was going to break one, it's me, and I'm still trying!
"I of course have to thank all of my boys, my mates that have crewed for me this year: Fitz, Brett, Simon, Andrew, Josh, Ken, Buzz, Big Pete, Benny, my bro Mick and Uncle John, and also Brett Henley, this is a team effort and I fully appreciate what each and every one of these guys have done to help me get this result."
"Finally, my sponsors who have backed me all the way – in my opinion I have the best sponsors on my side and I am so pleased to have won the championship with them," Arbery concluded, thanking Komatsu Forest, Trident Tyres, Henley Chassis, Shannons, Hyland Fox Signs, Tabeel Trading and Craig Carrison Racing Engines.
For more on the results from the ANDRA Grand Finals and the 2017/2018 Summit Racing Equipment Sportsman Series Championship, please click here.