The 2018/2019 Summit Racing Equipment Sportsman Series has gotten off to a great start at Darwin's Hidden Valley Drag Strip this evening, with another full day of Nitro Up North racing action still to come.
Perfect weather and an enthusiastic crowd greeted the Summit Racing Equipment Sportsman Series competitors for Friday's qualifying, with Jake Berias (Summit Racing Equipment Junior Dragster), Leith Darrach (Modified Bike), Gavin Pocock (Super Street), Ashley Smith (Super Sedan), Chris Farrell (Modified), Adam Murrihy (Supercharged Outlaws) and Darren Saliba (Top Sportsman) going on to set the fastest qualifying times for their respective brackets.
In recognition of their Top Qualifying efforts, each of these racers will tomorrow be presented with a Top Qualifiers Medallion thanks to TheTileCo-TheShowerPeople as well as a 25 percent off RRP voucher for any KC Tools outlet, and a Summit Racing Equipment pack. To the delight of the spectators, NT locals were well represented in taking the qualifying honours, with Pocock, Darrach, Smith and Murrihy all calling the Territory home.
For Tiwi's Darrach, tonight's result was hard-fought and unexpected.
"It was a bloody hard struggle, I have had trouble getting the bike to shift all day and I didn't think we were going to make the field to be honest. For that last run we made one last change and hoped that that would fix what the problem was, and it turned out it did!" Darrach explained while thanking Pure Performance Motorsports, EB Speed and Hi-Tec Oils for their support.
"I am definitely ecstatic, it was really good – it has been a hard slog with the changes we have made this year not really working towards what I ran last year and so we are still kind of changing it all around, it has been a bit of a bad run.
"I am really glad to be the Top Qualifier, to have one more round of 'testing' will be great for us tomorrow (Darrach will have a bye run in the first round) and we will just have to play the game and see what we run; we will try and make a number 'out of the door' and see where we stand."
The time-sheet topping efforts of South Australia's Saliba were a well-deserved reward for a crew that has worked hard to come back from a roll-over at last season's Spring Nationals event in Adelaide.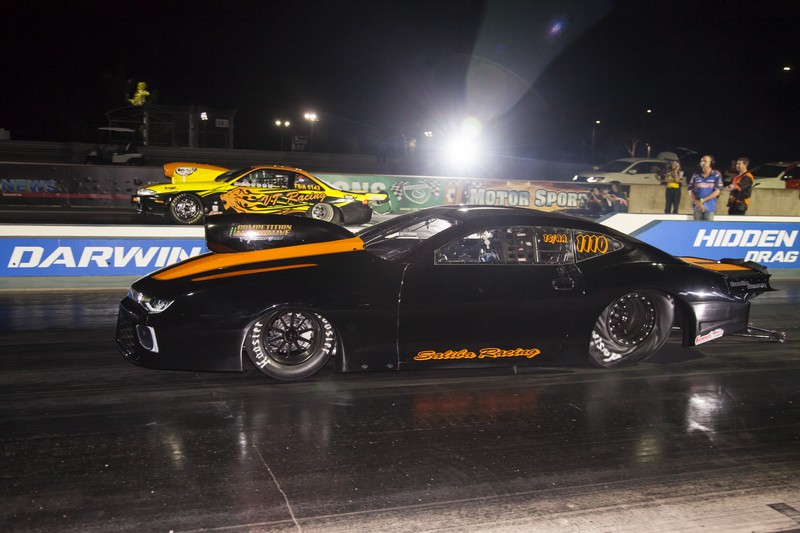 "We sat the whole season out last year after Adelaide and getting the new body put on was a lot of work and time and effort. The boys and the family have worked hard to get it all back together," said Saliba, who thanks Creative Concrete SA, Competition Automotive and Autobarn Elizabeth for their support of his racing.
"To come out here and start round one and qualify number one is just great, the car has run sweet straight out of the trailer.
"It was definitely a big effort and this is a great reward. Tomorrow we will see how we go, everyone is out there to win. Hopefully we will have a bye run and that would be a good advantage but it is what it is, we will just race and go from there.
"This is a great event, they do a good job here and it is excellent."
Victoria's Farrell not only top qualified for the Modified bracket but also has a head start on setting what could be a new national record tomorrow after running faster than the existing speed record today.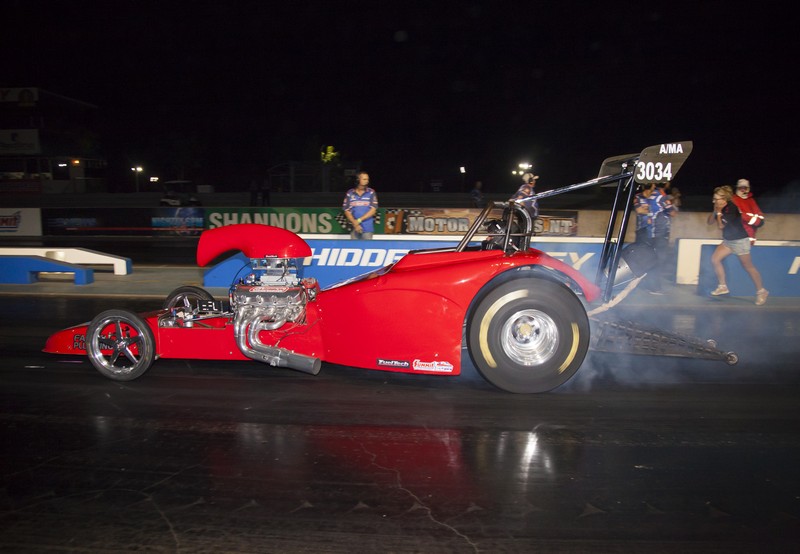 "It has been a fantastic start to Nitro Up North for us. The track is great, it has been a long planned process of around two years for us to get here after having raced at Alice Springs a couple of times," explained Farrell, while thanking Daniel Collings Auto Electric, Craig Carrison Race Engines, Matt Despirit Transmissions and his wife and family for their support.
"We have had a lot of upgrades to the car over the last year as well so it is great to see it all coming together.
"I am blown away to get up here and see what the NT Government has done, to come up here to a venue like this which is state of the art, it is just brilliant.
"We are feeling confident for tomorrow, the car is running really well and very consistently."
For full results from today's action, please click here.
The second and final day of Nitro Up North will kick off at the Hidden Valley Drag Strip from 4.00pm local time tomorrow, Saturday 14 July. For full event schedules, entry lists and more, visit www.hiddenvalleydrags.com
All of Saturday's action will be broadcast online live and free by Ovo Play, to watch the feed, go to https://play.ovo.com.au/ and register to access the broadcast.
IMAGES ABOVE (FROM TOP): LEITH DARRACH, DARREN SALIBA AND CHRIS FARRELL. ALL IMAGES CREDIT TO HIGHRPM.COM.AU
IMAGES BELOW (FROM TOP): ADAM MURRIHY, GAVIN POCOCK, ASHLEY SMITH, JAKE BERIAS. ALL IMAGES CREDIT TO HIGHRPM.COM.AU