Cue the music; it's the final countdown! In the red corner representing Rapisarda Autosport International, it's the eccentric, fire fightin' Allan 'Dobbo' Dobson. In the blue corner representing Lamattina Top Fuel Racing, it's the Carrot King, Phil Lamattina.
Are you ready? Lllllets get rrrready to rrrrrrrrumble!
The 2014 ANDRA Drag Racing Series Top Fuel Championship has been a slugfest between two premier Top Fuel racing teams and two of the most popular drivers on the circuit.
Allan Dobson and Phil Lamattina have swapped race wins and Championship leads throughout the year but it all comes to a head this weekend, October 31 – November 2 at Sydney Dragway in the Grand Final Australian Nationals.
"This year has occupied a fair bit of my thought process and I have been thinking about him (Dobson) a fair bit actually," said Lamattina.
"I wouldn't say I'm nervous because at the end of the day I know how to drive the car. I didn't unlearn that all of a sudden.
"I think I'm getting nerves confused with excitement because it's a big thing, it's big thing for us as a team and it's big thing for Dobbo to win it as well.
"It's a see-saw battle. We came out strong, looked like we were going okay. Then we sort of dropped the ball and all of a sudden Dobbo won three in a row, he's starting to look strong then we come back and wrestled the lead off him."
"It's been a good wrestle right from the start all year. It just hasn't been a dominant performance by anybody, which is great for the punters.
"John Zappia and Mark Drew, these guys have all wrapped up their Championships and here is poor old Dobbo and Phil Lamattina having a bit of a punch up at the Nationals, it's exciting."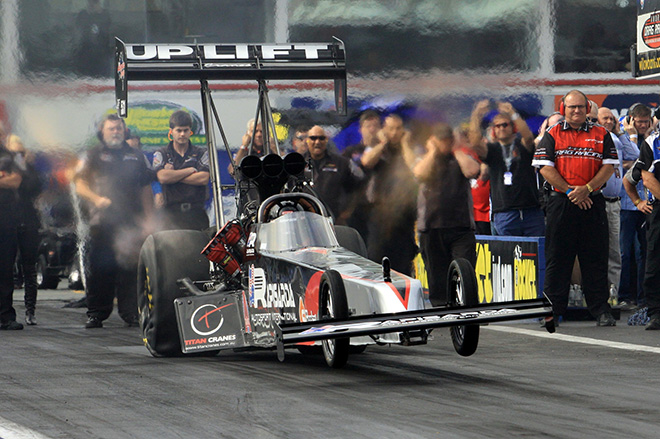 The rumour around the pits at the Fuchs Spring Nationals was this weekend could be Dobson's swansong.
But even with Top Alcohol racer Wayne Newby testing for the Rapisarda team this past weekend, Dobbo isn't quite ready to let go entirely just yet.
"No not yet, I'm not going to retire just yet," he said adamantly. "I was thinking of it but not just yet. I'll keep driving, I'll keep developing.
"Santo (Rapisarda) is going to run a three-car team next year and I might just end up doing meetings where they run the third car.
"I was thinking of retiring just so I can support the kids and go home and support the family and keep the family in racing.
"But I said to Santo I'd like to keep racing a little bit and he said; 'Well how about you just go in the third car?' And then I can mainly go race all the big ones."
With retirement rumours put to bed, Dobson is focussing solely on making up the 33-point deficit to win his first ever Australian Championship.
Dobson added; "It's a very healthy rivalry (with Lamattina) there's no doubt about that. But it's also a very serious rivalry going on.
"We obviously both want it equally as much though maybe since his team has already got one I want it a little bit more.
"Phil has already won a Championship and after seven years of racing for Santo Rapisarda I'd love to hand a Championship to him, his family and the race team after all that support.
"But also I'd love to have the honour and respect of winning the Championship for my own family who have been supporting me all these years.
"Jenny my wife, Renee and Kye have been backing me all those years. So that gives me the attitude to put everything into it 110 per cent."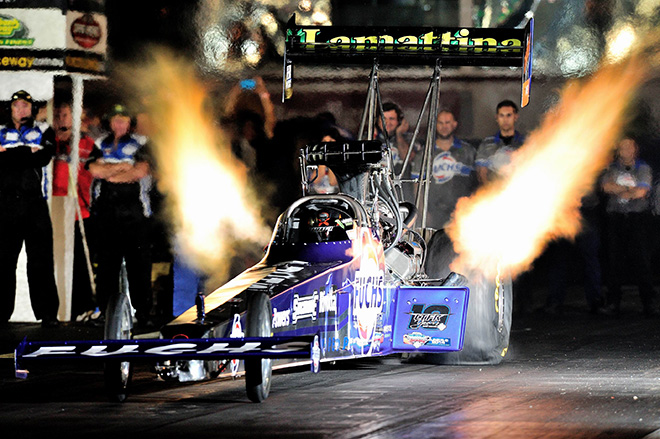 Without a win at Sydney Dragway, Lamattina will test today (Tuesday October 28) in an effort to improve his 60-foot time but more than anything else, consistency is the key for LTFR.
"We're going to test my car on Tuesday just to have a look and see if we can pick up a little bit on the short time, we've been struggling a little bit in the first 60 feet," he said.
"We don't want to change the whole process with what we're doing, we're very happy with the whole tune up. We just want to see if we can improve the short time, if we can that's great.
"If we can't we'll just go to Sydney with our proven tune up that we've slowly progressed from the Winternationals and just get the consistency of the car back, which we have.
"I think consistency is going to win the day, we don't want to be rotating the earth with any ETs or mile per hour, we just want to get the car from A to B to stay ahead of Dobbo and try take out this Championship."
Back in the Rapisarda pit, consistency has been problematic the past two race meetings with a first round exit for Dobson at the Fuchs Winternationals and a loss to Lamattina at the Fuchs Spring Nationals in Adelaide.
Recently the team identified an issue giving Dobson confidence they have found the problem and will be all guns blazing in Sydney.
"Santino (Rapisarda) found a glitch in one of the management systems and that's been sorted," he explained.
"That has been spontaneously coming up and held us back at in the last race meet and the Winternationals. So we've identified that, we've rectified it, and bought new parts.
"This week we really need to top qualify as well. We not only need to make the car a winning car but quick and fast.
"We've got to really pull out all the stops here and go all out. Just throw everything at it and hopefully it doesn't blow before the finish line.
"It can blow a nano-second after the finish line, it's all-good."
Don't miss the action as titles will be decided and Champions will be crowned when the season deciding Australian Nationals take over Sydney Dragway October 31 – November 2.
Qualifying for the Aerolfow Sportsman Drag Racing Championship gets underway on Friday October 31 from 9am with eliminations to commence from 10am on Saturday November 1 and continue through Sunday November 2 from 9:45am.
For more information including ticketing please click here.
Images courtesy: dragphotos.com.au (top left), High Octane Photos (top right), Joe Maday (right), Fred Dwyer (left)