Brenton Stuart is closing in on a return to drag racing following a third rebuild that began way back in 2004.
He was on the wrong side of the Adelaide International Raceway fence this past weekend for the weather affected SA Summer Nationals watching his counterparts qualify in the Summit Racing Equipment Sportsman Series.
But soon Stuart will campaign the Monza Red 1974 LH Torana – "Evil Twin" – following a third rebuild since debuting the car back in 1999 at the Spring Nationals.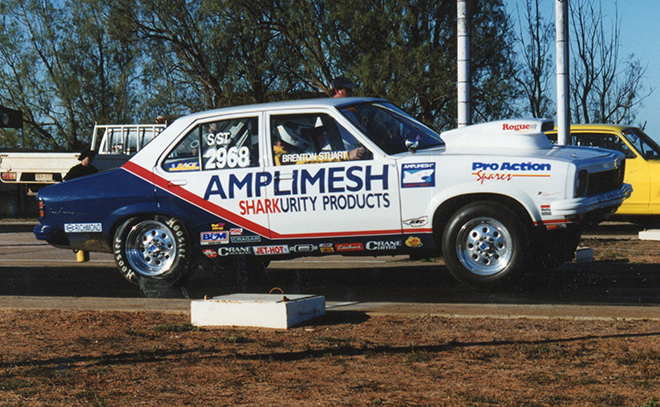 Originally running in Super Street until 2004, Stuart decided to make some "minor engine upgrades" resulting in the "usual story… a complete rebuild."
"We had some success back then, winning a round of Super Street in the 2000 Tri-Series at Coonawarra and eventually the Super Street title for the Tri-Series that year," said Stuart.
"The following year we backed that up winning the Super Sedan title for the 2001 Tri-Series.
"Progress on the rebuild was slow as I've learnt the art of balance…. I have done much work around the house and with two small girls it was never all my way.
"Not always easy to do everything you want when you want to.
"The other great lesson was to build to your budget – so it just takes longer to get what you want.
"Going out to the drags was always a mental kick in the pants to get moving again. Hopefully it's been worth the wait."
The Torana made an appearance at the recent Adelaide Motorsport Festival and forms part of the stable of cars under the watchful eye of West Torrens Dyno – the local Adelaide business synonymous with motorsport and drag racing in South Australia.
"I want to thank John Psarombas, Andrew Harris, Leigh Ashdowne, Cyndie Stuart, Dave Hope, Rosa Vaccaro, Top Class Crash Repairs, West Torrens Dyno, Outlaw Speed Shop, Sprint Auto Parts Morphett Vale, Woodcroft Car Care, Ryco Filters, Goss Products, Penrite Oils and Lonsdale Speed Shop.
"Without their support I wouldn't be able to have so much fun on the track."
Image credits: David Hope (top), middle supplied.