For 20 years Terry Dorrington has been playing an integral role for the Perth Motorplex as its drag racing chaplain and the 70 year old has no plans to slow down any time soon.
Terry brings not only his faith, compassion, and empathy to those in the WA drag racing community, but also the wisdom that comes from long and varied life experience which includes time as a policeman, a plumber and business owner.
"I was a plumber first, then spent nine years as a policeman in WA ending up on patrol bikes doing traffic and I had seven accidents!" he laughed.
"I found myself very challenged about the deaths, the serious accidents and the crime I was faced with. After we had children I started thinking there must be something better and that is when I decided to become a Christian.
"I went back to plumbing after the police force while attending Bible College and then I became a Minister for three years before I was asked to become a Chaplain, starting out at Claremont Speedway 25 years ago now.
"I began working with the Perth Motorplex when it opened in 2000 and over the decades since it has certainly become a lot busier, so today I essentially work full-time undertaking my duties both at the track and within the community.
"On a race day I arrive in the early afternoon, set up my caravan and people either come up and start talking to me or I will start moving around the teams and seeing how they are going.
"Often various people will have contacted me during the week asking to see me at the track, so I will go and see them to check on the concerns they have.
"A lot of guys will say to me 'Dorro can you pray for a win' and I do pray not necessarily for a win but for the racers' safety, and of course I also say an opening prayer at the beginning of every event.
"While we are at the drag strip and I am the 'drag racing chaplain', it isn't only drag racing matters that we talk about. It can be about anything and a lot of the time I talk with people about everyday living matters.
"If we unfortunately have an accident as happens from time to time I support and follow up with the families and if need be I will go to the hospital with the family.
"During the week I will spend a lot of time travelling and visiting around Perth and the country popping in to see people, follow up on things that have come up on the weekend, and see how people are going at their workplaces and I also officiate at weddings and funerals.
"To have people invite you into their homes is something that is very important and shows a lot of trust, and I am pleased I am able to support them the way that I do.
"It has been hard recently with the COVID-19 situation as I was not able to visit people in hospital like I would usually. However that is starting to change and in the meantime I am keeping in touch via phone, talking with the families and acting like a go-between where needed to keep people up to date.
"It is a seven days of the week job, but it is one that I love to do. At the end of the day I am here for the people. In drag racing we have every type of person and I respect them and believe they respect what I do and my stance as a Christian. I genuinely believe that talking to people and helping anybody is what being a Christian is all about – it is not about looking at the outside of a person but looking at the heart and everybody has a heart."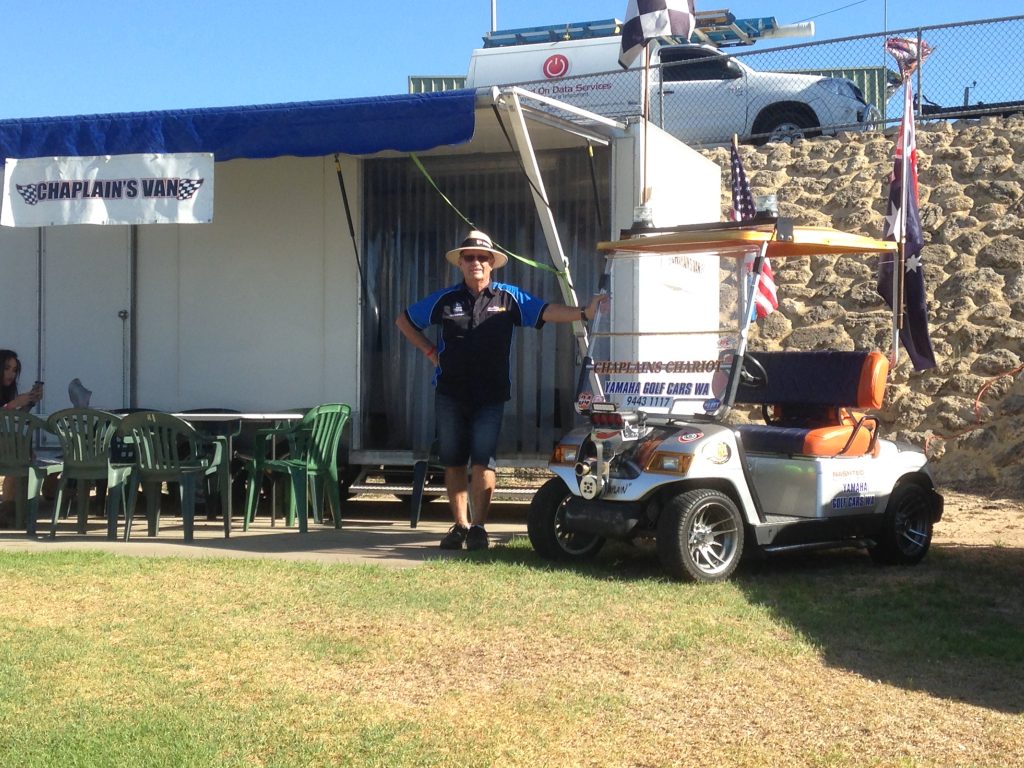 There is no doubt there have been difficult times in Terry's career as a drag racing chaplain.
"The hardest one for me has been Anita Board's death. It was just heartbreaking for all involved. It was a very sad time, but I was heartened to see the drag racing community and also the speedway community really come together. I am glad I was able to support Anita's family, her father Ian, mother Sonja and sister Zara, who I am now proud to call good friends," he reflects.
"I am fortunate that I have a very loving and caring wife, Irene, and I also have a couple of mates that I am able to sit down and talk to about it. I also have a real big group of people that pray for us and there were a lot of people praying through that time."
While he may not have ever raced a drag car himself, Terry clearly has a love of ANDRA drag racing and certainly enjoys the speed of the sport as well.
"I haven't raced a car but the Beat the Heat WA guys did take me down the track on a Wednesday night in their Tango 1 drag car and honestly it just blew me away," he said.
"I am hoping one day I can go in a bigger car! I really love the power. I have loved speed ever since I was a little kid.
"I really love the whole sport of ANDRA drag racing, it is a big family, both in WA and across the country. I really like ANDRA as a sanctioning body as well, they are incredibly supportive and if something does happen with racers they are the first on the ball to help. That is very special and important to me.
"The CEO Brett Stevens is a great friend, nothing is ever too much and in particular I thank him for the support he gave me and all concerned as we all dealt with the tragedy of Anita's death."
Alongside his passion for motorsport and people, Terry is also enthusiastic about fostering the next generation of motorsport chaplains.
"Like all chaplains, I am a volunteer and a lot of people probably do not realise there are 501 chaplains with Sports Chaplaincy Australia, including seven in drag racing and 50 in wider motorsport. One of the seven is a great friend, Pieter De Wit, who assists me at the Perth Motorplex and is also a Jet Car driver.
"I am excited to say we have 35 new chaplains currently in training through the online training courses offered by Sports Chaplaincy Australia and if there is anyone out there considering chaplaincy I really encourage them to get in touch with Sport Chaplaincy Australia about the training courses."
Alongside his wife Irene, Terry is appreciative for the support of Pieter and Inez De Wit, Sports Chaplaincy Australia, Mukinbudin Church of Christ and other supporters.
"I also want to thank the Motorplex and the drag racing community for allowing me to be a part of their family," he said.
"Finally I would like to thank The Lord Jesus for placing me in this position – I truly love it and I am so passionate about it."
To learn more about Sport Chaplaincy, visit www.sportschaplaincy.com.au