Round two of the 2019 Summit Racing Queensland Championships has been run and won at Benaraby Raceway on the weekend (August 31).
There is now just one event standing between the racers of the popular three-round regional series and being crowned the Summit Racing Queensland Champions with prestigious ANDRA Copper Christmas Tree Trophies.
Taking victory at round two were Rodney Hansen (Supercharged Outlaws), Nathan Thwaite (Sportsman), Brett Kelly (Super Street), Ronald Shaw (Street), Laeith Skinner (Modified Bike), Peter Johnson (Street Bike) and Skylah Wagensveld (Junior Dragster) all awarded for their efforts.
Runners-up were Michael Cameron (Supercharged Outlaws), Earl McCallum (Sportsman), Craig McVie (Super Street), Cameron Kaddatz (Street), Russell Bell (Modified Bike), Richard Culey (Street Bike) and Emma Wagensveld (Junior Dragster).
Cameron, Kelly and Kaddatz had their hands full at the presentations, also taking out the Top Qualifying awards for their respective brackets alongside Dave Roderick (Sportsman), Reegan Ward (Modified Bike), Ray Wiggett (Street Bike) and Jaidyn Seng (Junior Dragster).
Also competing at the weekend was the local Junior Bike bracket, with Hunter Oliver taking the victory over runner-up Rylan McKie while Charlie Houston took out the top qualifier honours.
Bundaberg's Nathan Thwaite was pleasantly surprised to take out the victory in the hotly contested Sportsman bracket.
"I haven't raced my car since the first round of the Summit Racing Queensland Champs at Roma earlier this year so I was doing a fair few changes and we had a bit of a problem on Friday night, so we were just trying to set up the car and everything," Thwaite explained.
"We were able to just creep up on it with each race which was good and it ended up going pretty smoothly actually with the car going well.
"We are really happy with the result. I didn't expect the win, it was a pretty big field and I am still trying to do a few things to my car as I go, changing a few things on the suspension and so on, but it turned out well!
"I would like to thank everyone at the HJ Racing Crew and also send a special thanks to Terry Seng from Paramount Performance in Toowoomba as well as all of the volunteers and track staff.
"I am definitely going to the final round and we will be making a few little changes between now and then. We will get up there early and do the Test and Tune before and have a bit of a play and go from there!"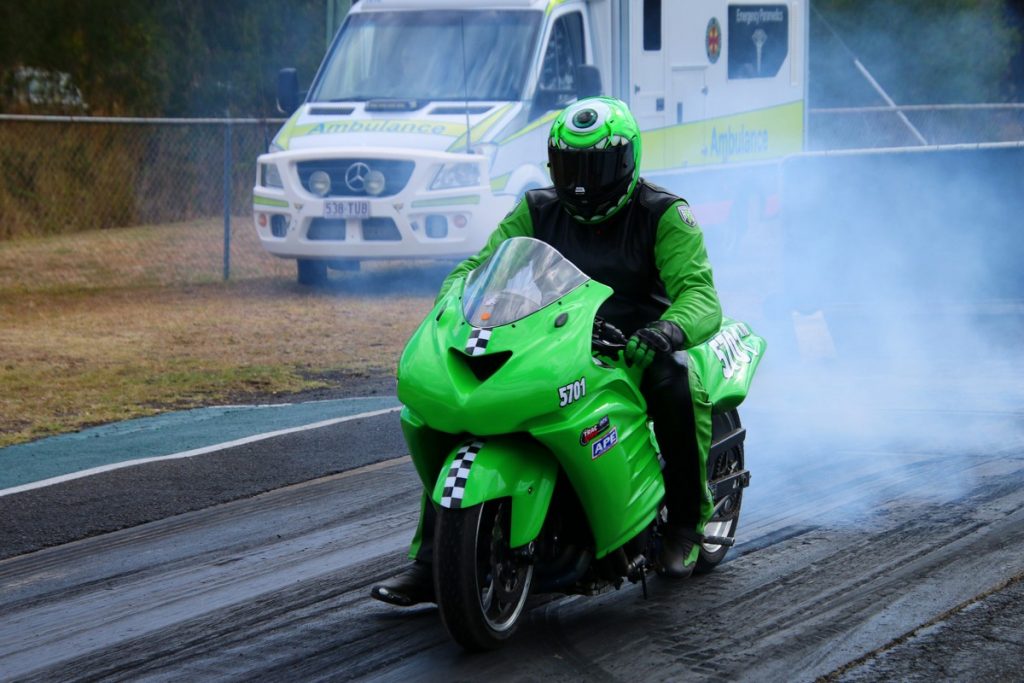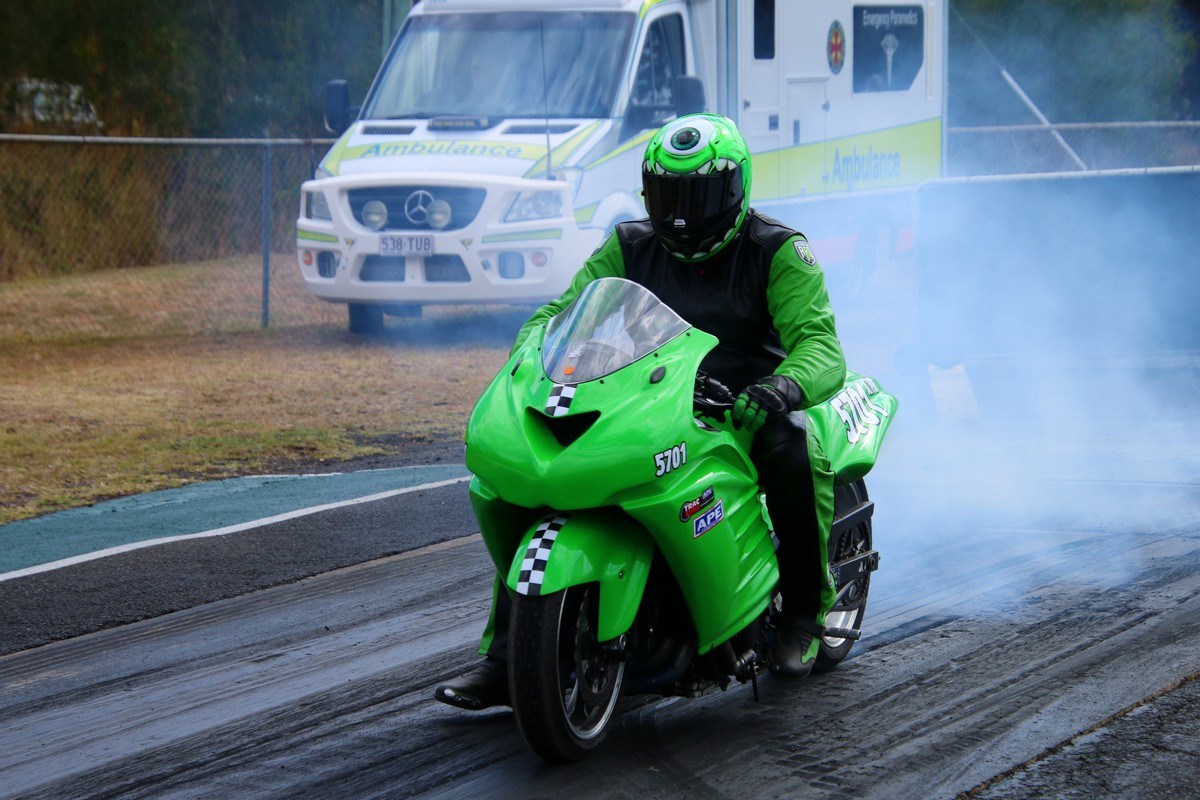 Laeith Skinner might have had a tricky run to the final at Benaraby but the Mackay racer made the most of it to clinch the Modified Bike victory in Gladstone.
"A win is always good, I am yet to have a bad win! This one came off the back of a final in the last round and a runner-up result at the Winternats, so the bike is certainly working and can do it if the rider can," Skinner chuckled.
"The whole group of us that travelled down from Mackay to race at Benaraby fought the track the whole weekend just trying to get the tuning right and I had a few slips off the line – I had a lucky win in the first round as I spun severely off the line and crossed the bike up, but unfortunately for Craig Oliver he broke out.
"I then had some good runs after that and in the finals it was a double break-out, I just happened to be closer to my dial-in.
"We have been at every Summit Racing Queensland Championship event so far since the series started and we know what to expect – it is always a good event, the Mackay one is always the best though in my opinion," he laughed.
"I want to thank Komatsu for being the bracket sponsors, it is good to have some corporate sponsorship, as well as my whole team that comes down from Mackay, my wife Lisa Skinner who was racing as well and Russell Bell for being the runner-up."
The third and final round of the three-round state-based Summit Racing Queensland Championships which develops and promotes drag racing in regional Queensland will take place at Palmyra Dragway across October 5 and 6.
For more information, visit www.facebook.com/andra.QLD.Champs/, www.palmyradragway.com.au/or www.andra.com.au