After three rounds of racing, the 2017 Summit Racing Queensland Championship winners have been awarded following the final round of competition at Ironbark Raceway (Roma) over the weekend.
Previously, the series had visited Palmyra Dragway (July 1 and 2) and Benaraby Raceway (September 3), employing a Chicago Shootout style of racing to the delight of racers and spectators.
A special Copper ANDRA Xmas Tree was introduced for the championship winners of the Summit Racing Queensland Championship, with these new awards handed out for the very first time at the weekend.
Hoisting these prestigious trophies on Saturday evening were title winners Geoff Everett (Modified – Palmyra), Anthony Spataro (Outlaws – Palmyra), Peter Johnson (Modified Bike – Palmyra), Harrison Thwaite (Junior Dragster – Benaraby), Gavin List (Super Sedan – Benaraby), Christopher Reick (Street – Palmyra), Ross Bryant (Super Gas – Palmyra) and Richard Dawe (Super Street – Benaraby).
Championship runners-up Tony Littlewood (Modified – Roma), Dave Carney (Outlaws – Roma), Ross Bryant (Modified Bike – Palmyra), Jake Riccards (Junior Dragster – Palmyra), Gary Hunt (Super Sedan – Benaraby), Gary Brett (Street – Palmyra), Tom Parry (Super Gas – Benaraby) and Brett Keirnan (Super Street – Benaraby) were awarded plaques for their efforts.
When it came to race-day accolades, many of the championship winners ended their pursuit of the title in the best way possible – by taking victory at Ironbark Raceway. Johnson, Everett, Thwaite, List and Bryant will all need to find extra space on the mantle as they claimed both the event and title win on Saturday evening. Joining them in the event's winners' circle were Rodney Hansen (Outlaws), Ronald Shaw (Street) and Craig McVie (Super Street).
For Everett, it is his first ANDRA Xmas Tree.
"We go there to support the event and whatever happens, happens you know. Winning it is not really in your mind, we just like going and enjoying it – drag racing for us is about the journey and about the friendships you make along the way, and if you happen to be lucky enough to score a win, that is all well and good you know," Everett said.
"We were pretty lucky in the last couple that we have done enough to get enough options to put us where we were and it was a pleasant surprise. We have obviously been doing this for a lot of years and this is our first ANDRA Xmas Tree – it makes it all worthwhile, especially when your whole family is involved.
"I have to thank my son Dallas and his wife Stacey – they own the car and have given me the opportunity to drive it this year for the Series."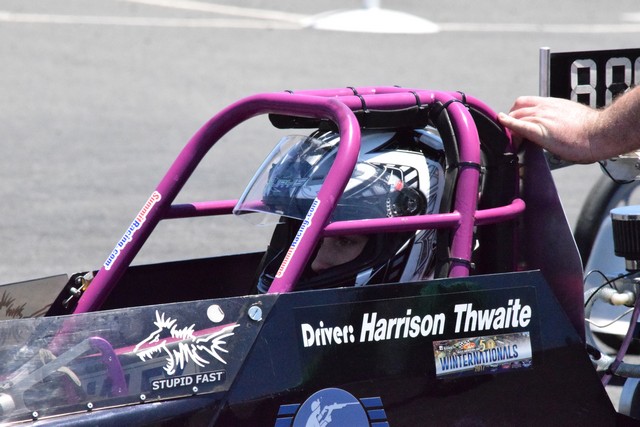 Harrison Thwaite was a popular winner on the weekend, taking out the event and championship victories in the Junior Dragster bracket.
"To hold and claim one of the first Copper ANDRA Xmas trees is a privilege, it felt really good," the 14-year-old grade 8 student said.
"It is a one of a kind thing, I have always wanted to win a Xmas tree, so it is pretty special. Once I knew I had won the final I knew I had won the championship, I was very excited.
"Special thanks has to go to my HJ Racing crew and also to my right-hand man Johnny Lewis.
"The car went really well, it ran right on its dial-in for each run and I won every race. I was really happy with it and it was good to race at Roma, the people are lovely and friendly, it is a lovely track."
ANDRA would like to thank the Palmyra Drag Racing Club, Benaraby Raceway and Ironbark Raceway for their running of the first Summit Racing QLD Championship and also all of the racers for supporting the series.
Full points from the Summit Racing Queensland Championship will be posted to www.andra.com.au shortly.
TOP IMAGE: GEOFF EVERETT – Credit: Stephen Edgley
SECOND IMAGE: HARRISON THWAITE – Credit: Stephen Edgley