More than 100 racers headed to Roma's Ironbark Raceway at the weekend for round one of the 2018 Summit Racing Queensland Championships.
Taking out victories were Warren Dun (Street Bike), Liam Holt (Junior Dragster), Michelle Roydhouse (Street), Craig Shelswell (Super Street), Dallas Everett (Modified Bike), Dan Morton (Super Sedan), Katie Cunningham (Modified) and Russell Grulke (Outlaws).
Runners-up were Matt Halpin (Street Bike), Tayla Kelly (Junior Dragster), Sonya Wagensveld (Street), Craig Williams (Super Street), Top Qualifier Phil Halpin (Modified Bike), Lorenzo Bonato (Super Sedan), Geoff Everett (Modified) and Rodney Hansen (Outlaws); with Peter Johnson (Street Bike), Harrison Thwaite (Junior Dragster), Roydhouse (Street), Phil Halpin (Super Street), Matt Halpin (Modified Bike), Col Gould (Super Sedan), Cunningham (Modified) and Hansen (Outlaws) taking out the Top Qualifying honours for their respective brackets.
For local racer and Outlaws winner Grulke, it was a very rewarding weekend indeed.
"I am a born and bred Roma boy and have been tied up in the drag club here for 20 years or very close to it," Grulke said.
"We are running an Outlaw car now – you start off in an old bush banger and work your way through as you can afford to do it! We put a new set-up into the car at the weekend with what was pretty much a whole new motor and electronics, so we could stop blowing it up!" he laughed.
"It was a six-car field and we were able to go the three rounds of qualifying with three wins and were the third top qualifier, and then we lined up against Rodney Hansen and managed to get the win over him for a change!
"He is a pretty tough competitor as they all are, and it was really good to win at our home track – now we look forward to doing the other two rounds in the series and see how we go with them!"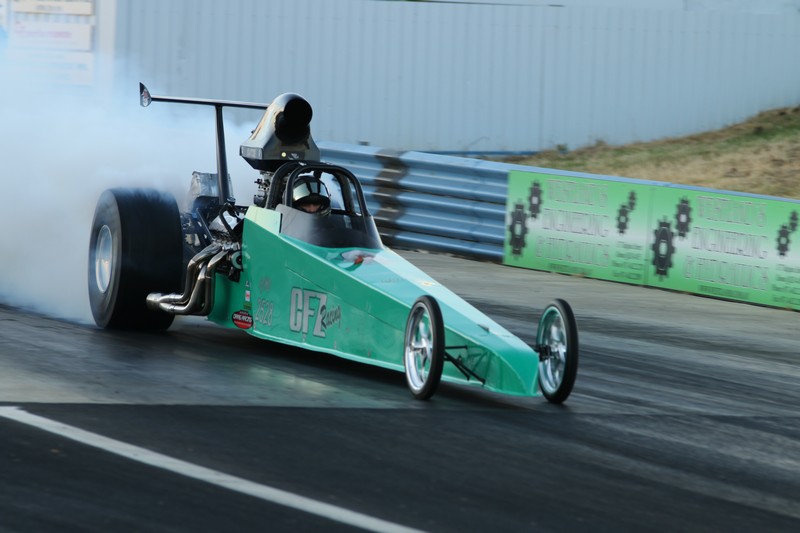 For Mackay's Cunningham, some issues early in the event could not derail what would become a winning effort in the Modified bracket.
"The first couple of rounds of qualifying went well and then we had a couple of issues with the oil pressure, we didn't know if we were going to be able to even run, but we managed to keep going for the rest of the day and ended up winning it!" Cunningham explained.
"It was a bit of a pleasant surprise, to go from not knowing if we were to run at all to winning all of our races and then the finals as well.
"There is a real thrill to it, when you have a really close race like that final was, it reminds you why you do it and it is just so much fun.
"I hope everyone comes along to the other rounds of the Series and helps support all of the local tracks, I think it is really great what these events are doing."
As it did in 2017, the 2018 Summit Racing Queensland Championship seeks to develop and promote drag racing in regional Queensland, taking in Ironbark Raceway (Round One – 31st March-1 April), Palmyra Dragway (29-30 June) and Benaraby Raceway (22 September) in 2018.
For more information on the Summit Racing Queensland Championship, please visit https://www.facebook.com/andra.QLD.Champs/
ALL IMAGES BY ROGUE SNAPPER PHOTOGRAPHY