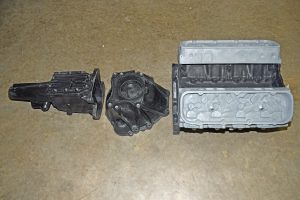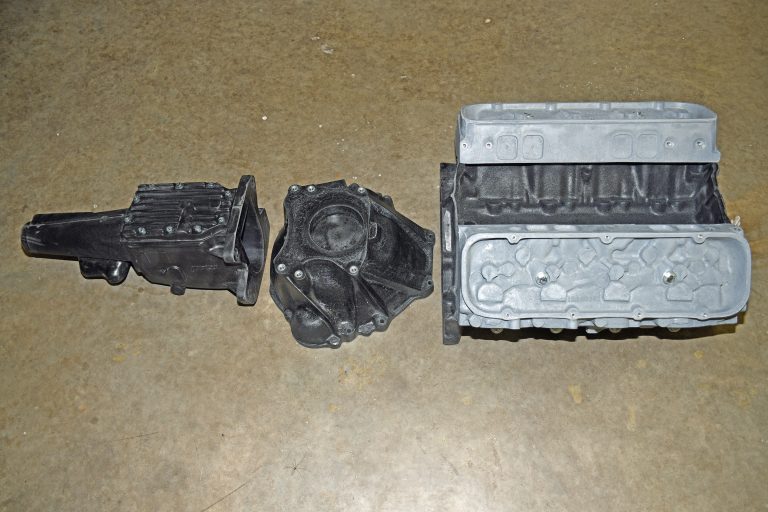 Story and Photos by Wayne Scraba
I once viewed mockup motors with a bit of disdain. But then I started working on my own Chevy Nova project. Here I was with a car that I had completed to roller stage, but the problem was, I needed an engine in the car to finish things like final fuel line plumbing, spark plug wire routing, oil pressure gauge plumbing, etc. The Brodix BB3 Xtra heads have the exhaust port raised a whopping 0.600 inch. Would my large tube adjustable headers designed for conventional exhaust port heads fit? I wouldn't know until I mocked things up in the car.
Then there were the accessories. I had an Edelbrock water pump, an OEM Chevy alternator, and an OEM style alternator bracket. Would they work with the Brodix heads and Weiand intake? They all had to be on the same page when it comes to dimensions.
There's more. I had fabricated a clutch linkage using rod ends and a combination of chromoly and swaged aluminum tubing. I wanted to use a Jerico four-speed, but it's a little taller than a Muncie four-speed, primarily due to the ribs on the top plate: more checking required.
The more I thought about it, the more a P-Ayr mock-up motor and transmission started to make sense. I could check that parts would fit and complete hours of sub-assembly work without having the real thing in place.
Summit Racing offers P-Ayr replicas for engines ranging from Hondas to Hemis. They are available as short blocks, long blocks with molded-on cylinder heads, and with removable heads like the engine in the photos. You can also get P-Ayr replica transmissions, bellhousings, cylinder heads, carburetors and even 6-71 blowers for early Hemi, 426 Hemi, small block Chevy, and big block Chevy.
The P-Ayr blocks incorporate steel inserts for all critical bolt holes, and all specifications are held to OEM tolerances. This means you can bolt any factory component or accessory to a P-Ayr engine and it should fit. And since the blocks, heads and transmissions are manufactured from a durable polyurethane foam, they're light and very easy to work with.
I got a P-Ayr mock-up engine and a mock-up Jerico four-speed transmission. I bolted them together using my Quick Time bellhousing.  I also added a set of solid motor mounts and ran into my first issue: the engine wasn't even close to fitting on the stock frame stands. Out it came and I swapped the solid mounts for a set of OEM rubber mounts.
I also discovered the Jerico case doesn't clear the transmission tunnel easily when using a stock transmission mount.  I dropped that idea and added a G-Force or Super Muncie gearbox to my shopping list.
I bolted the Brodix heads to the P-Ayr block and they fit perfectly. I installed the headers but they didn't fit. I determined that moving one tube on the driver side and moving or lightly denting a passenger side tube would make everything work. That saved me from having to buy an expensive set of customer headers.
The Weiand intake manifold wouldn't clear the stock hood, so I'll have to angle mill the top and relocate the carburetor studs. The alternator and bracketry fit nicely once one bolt hole in a support bracket was enlarged. My home brewed clutch linkage fits perfectly. The existing throttle cable is too short, but I had one on the shelf that's slightly longer. I'll replace it and see if it works. My tall valve covers clear the factory wiper motor and will work with the Jesel shaft rockers I have.
The P-Ayr block is designed to accept a distributor, which allowed me to make up the spark plug wires ahead of time. I can also check the oil pan dimensions and safely order a pan for the car. Once the headers are modified, I can fit and weld up the V-band clamp flange on the reducers and install the entire exhaust system.
As you can see P-Ayr mock-up parts make life a lot easier. When you're done with the parts, you can stack them out of the way – something you can't do with junkyard iron parts. They're "fabulous fakes" and I wish I would have considered them sooner.