With the Summit Series Equipment Grand Finals on his weekend (March 31 – April 1) the momentum has been building up. With championships on the line, the 2016/17 ANDRA season is coming to a close so the pressure is on to perform. The recent Goldenstates and Westernationals rounds at Perth Motorplex gave the locals an opportunity to shuffle the stack in both Group 1 and Summit Sportsman rounds.
We invited racers to tell us their stories and thanks to the following who took up the opportunity.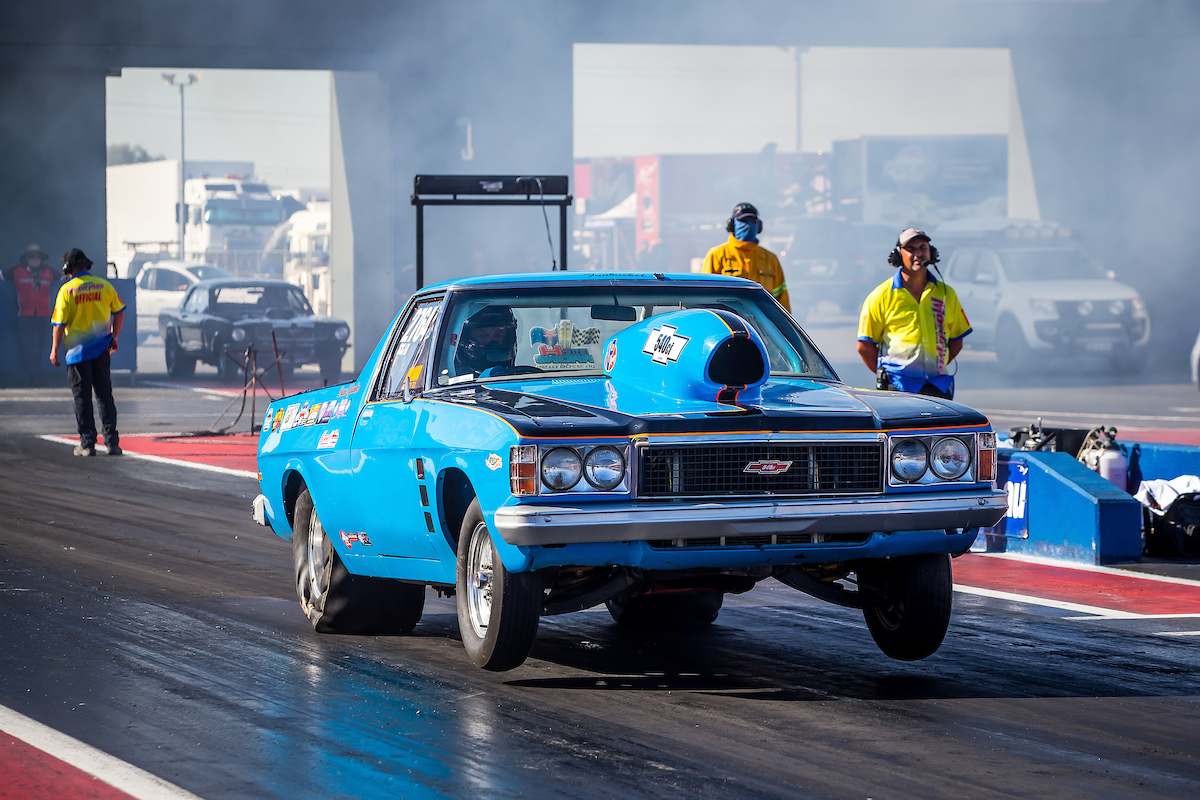 David Yanko – Super Sedan
Victorian David Yanko is a man with a plan. But as you will soon find out, he has a lot to thank his soon to be wife.
A trip to the Westernationals earlier this month saw Yanko pick up some points after going two rounds. Unfortunately, his luck ran out in the next round, losing a double breakout race against current points leader John Kapiris.
"My team manager is the lovely Rhonda Benbow," said Yanko. "At the start of the 2016/17 season, I asked her to marry me. This was done via an engagement ring delivered by her trusty Golden Retriever.
"However there was a catch, the marriage was conditional on Rhonda attending all of the Summit drag meetings, including Perth, and the wedding could not take place until after the final in Adelaide.
"Luckily she said yes, grinned David and we're getting hitched on the 8th April, one week after the Summit Racing Equipment Grand Finals."
What can we say, David, you're one very lucky man and on behalf of all at ANDRA and the Summit Sportsman drag racing community, we wish you and Rhonda a wonderful wedding and life together.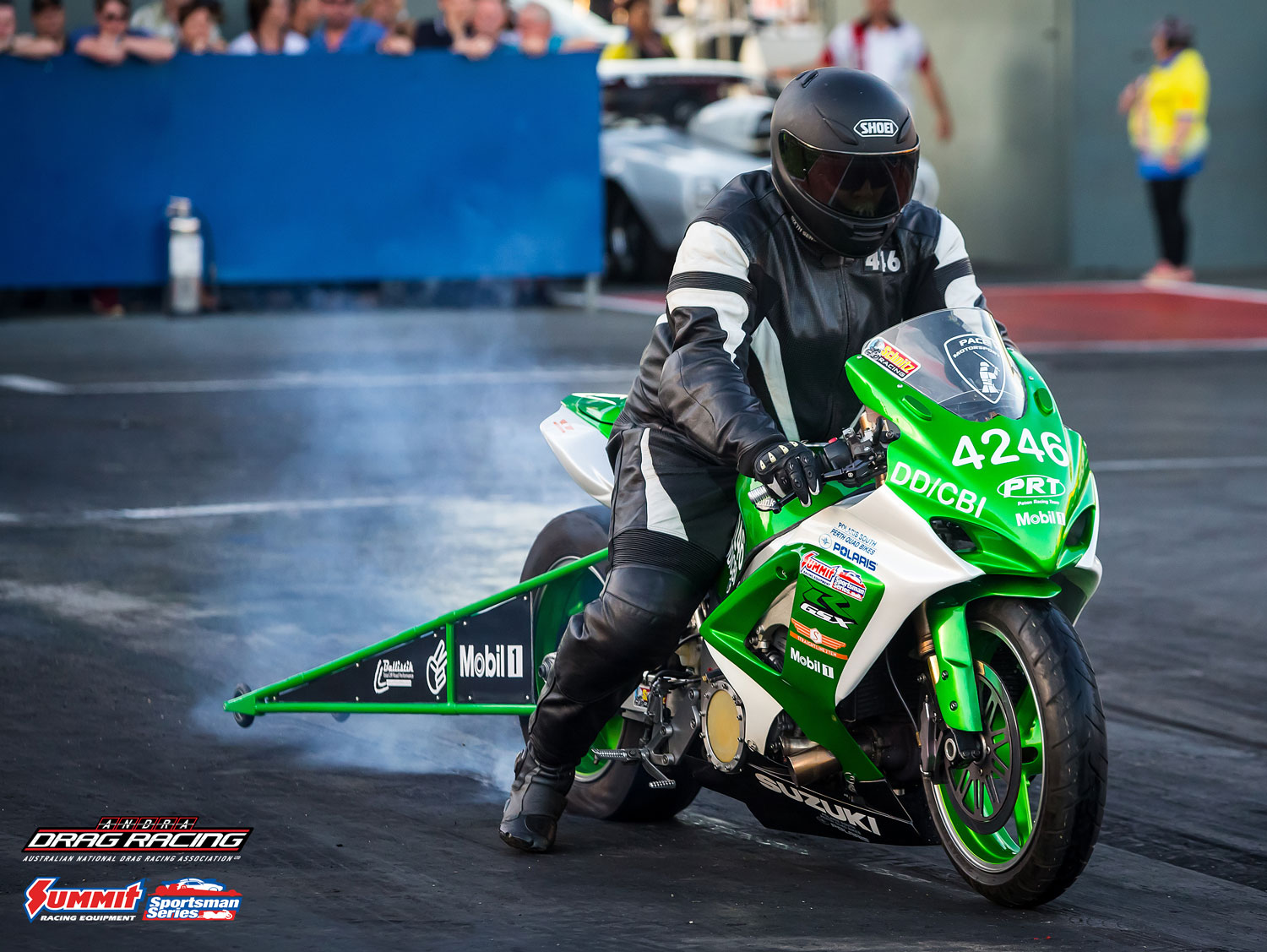 Paton Racing Team – Modified Bike
One of 10 WA racers to make the trek over to Adelaide is Chris Moore. Chris is a son of Competition Bike rider Phil Paton (pictured above).
"After resetting the DD/CB record at the Westernationals to 8.339 seconds and winning the bracket, the bike is ready to rock along with our second B/MB ridden by my son Chris Moore," said Phil.
"We would also give a special thanks to Gordon Crawford for helping with transport.
"At the end of the day we are here to win, but at the same time have a good time and just do the best we can. Please like our Facebook page – Paton Racing Team."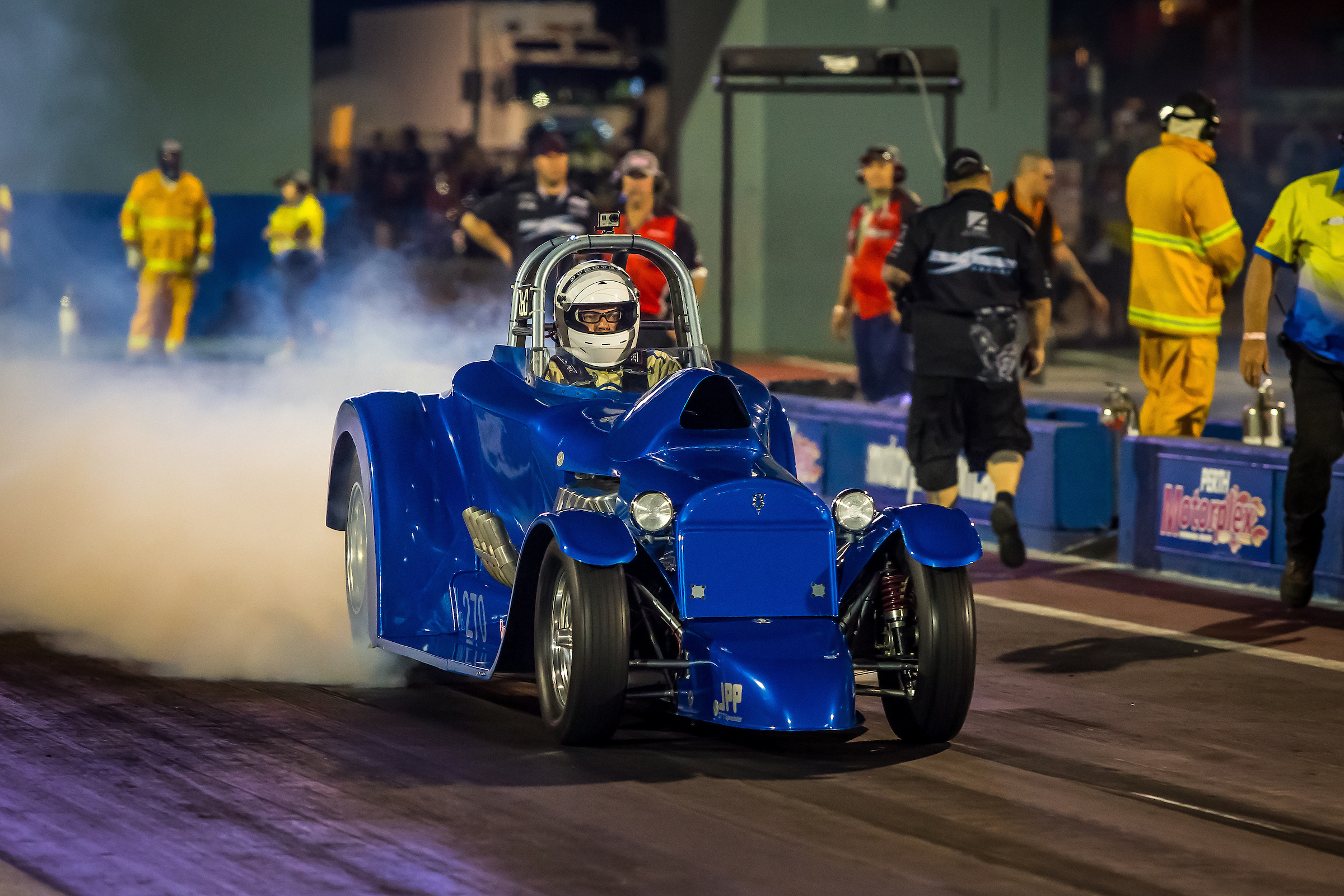 John Althuizen – Modified
For John Althuizen chasing points and a championship wasn't on his agenda following a lengthy layoff from the sport.
John explains, "Returning to the track after a five-year lay off I decided to change engine combinations after our win at the 2010 Westernationals in Modified.
"I was about to return in 2012 when I had an accident, resulting in a two year rehab. During that time I put together a new Ford Boss Hemi all aluminium combination, just to be different.
"The new combination may test our abilities to keep it calm out of the hole as we are still running a foot-brake C6 combination with a low first gear ratio of 2.46:1. With the increase in horsepower it could put reliability at risk but for the moment it's just great to be back out racing and catching up with all our racing friends and families."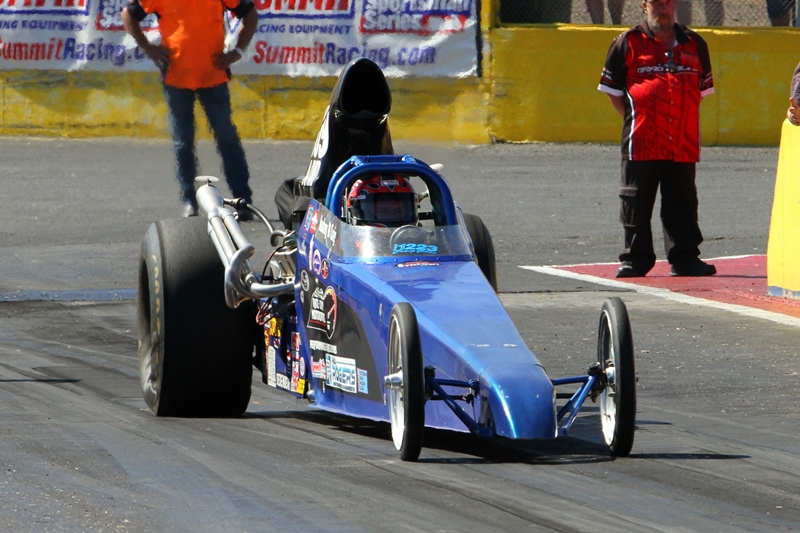 Craig Baker – Modified
"It's been a pretty good season for Team Baker in Modified Eliminator," said Craig Baker.
"Things didn't start out as planned with a few first round exits, but then during a team meeting (the drive home) we all decided to stop focusing so much on winning, and just go back to enjoying our racing.
"No matter how things turned out for the event, win, lose, or draw, we had to make sure we went home with smiles on our faces. That thinking seemed to take a lot of pressure off the driver, not thinking that if we didn't win then the team would be upset. And guess what? We started going rounds.
"We started getting back to enjoying things. We are never going to have the biggest and best of everything, we just make do with what we can afford.
"DYO is about levelling the playing field, no matter what your budget allows. I've got just as much respect for the guys getting things sorted and running 8's, 9's, or even 10's as what I do for everyone else out there, "said Craig.
"For this weekend we are looking to approach the Grand Finals as we have for every other race this season, and that is to go out there and have fun. As much as everyone wants to win, only one car can do it on the day. As long as you're happy with how things went and that you've had a good time doing it, then that's all that matters.
"My sister Jac (Jackie) has been our lucky charm at both Calder events this season, and she asked if she could come along to the Grand Finals – how could I say No? Having her there makes things a little bit easier on our regular crew of Audrey and Tim as well.
"It's really shaping up to be a great event and I can't wait to be part of it all and out there supporting the Pro Categories.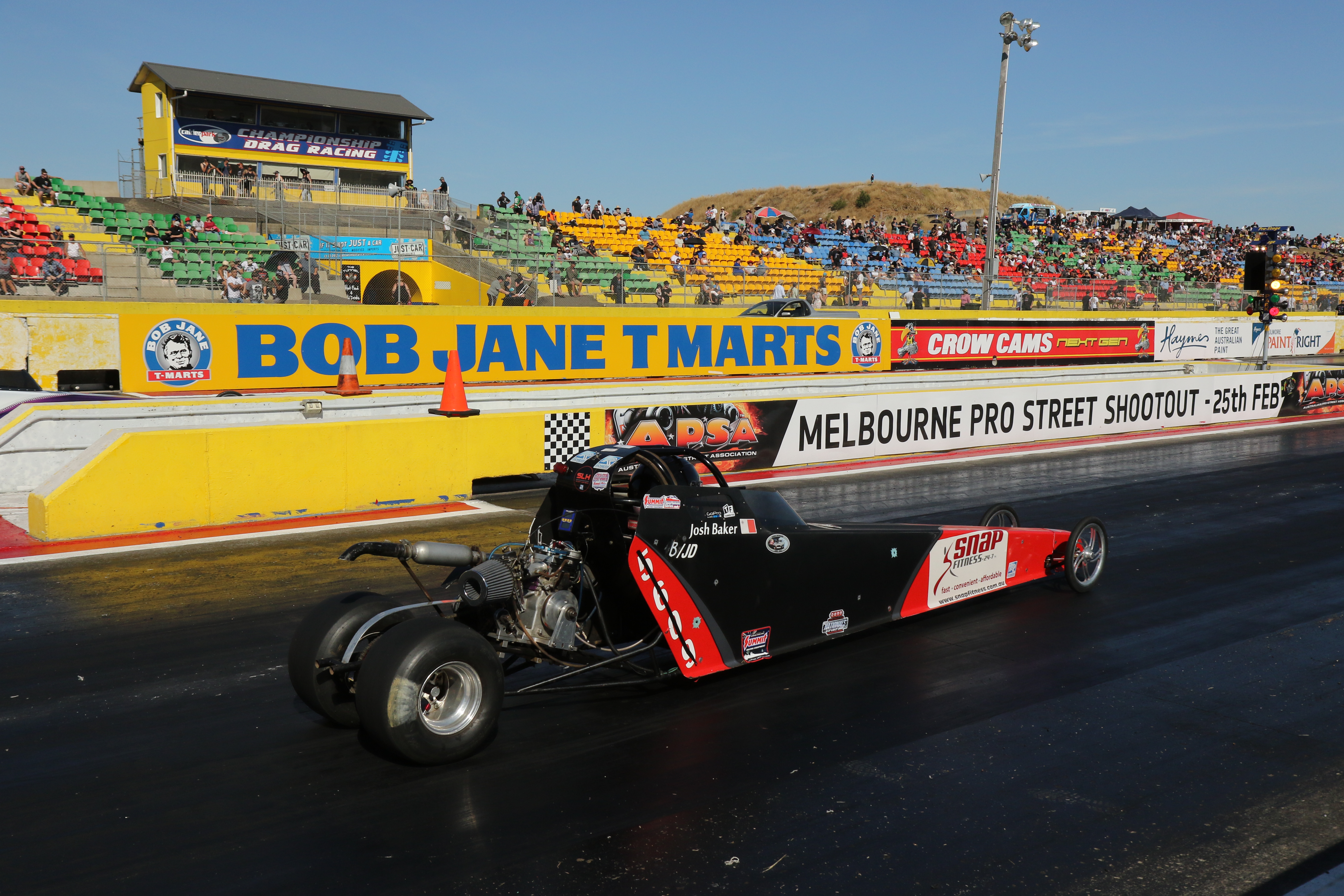 Josh Baker – Junior Dragster
"I probably didn't have the best season in 2016/17 but I'm hoping to turn that all around in the new season. We've been struggling with reliability at events this year, "said Josh.
"I'd really love to step up in performance and get an 'A' engine for the new season but this is probably outside my budget. At the moment we're doing the best with what we've got and I'm sure we'll still be having fun with all my JD friends.
"I've just re-signed with sponsor Snap Fitness Essendon for another 12 months. We are working on a new wrap for the car featuring Snap Fitness and will be aiming to do as many of the Summit Sportsman Series rounds as possible in the new season.
"We haven't been able to win many rounds of racing this year but it would be great to change that at the Grand Finals. We'll be just taking things one round at a time."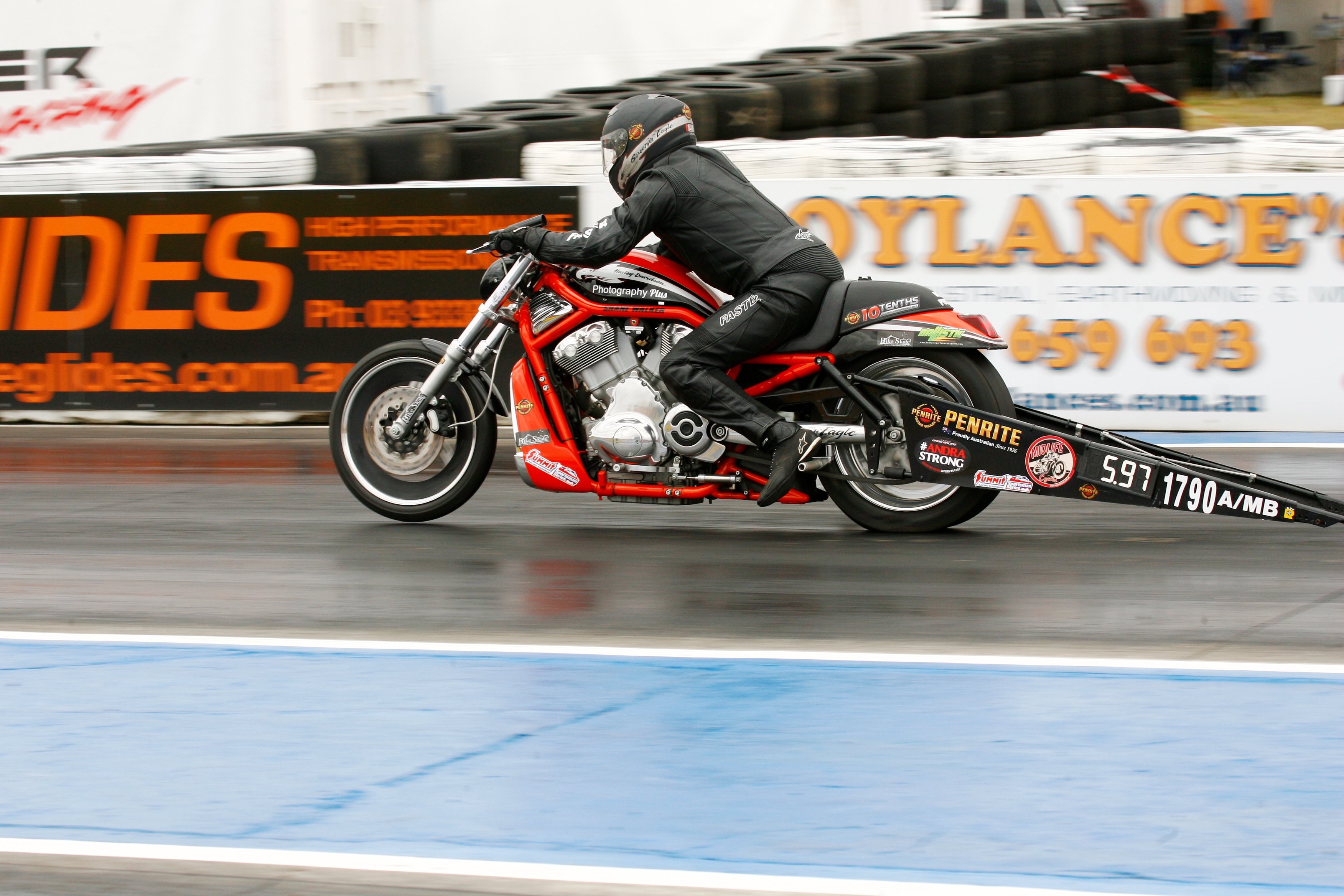 Shane Walker – Modified Bike
Shane is currently sitting in the Top 10 the Summit Racing Equipment Sportsman Series Modified Bike Championship.
"It would be nice to finish off an otherwise forgettable season, where at times I have struggled to ride consistently and to a lesser extent get the bike to be consistent, with a win.
"It is also the last event we will have long term sponsor Photography Plus on board so it would be great to end that chapter on a high.
"Photography Plus was one of my original Tassie sponsors that enabled me to base my racing in Melbourne to chase the National Series, and I am extremely grateful for the financial and moral support that has been awarded me.
"It would also be a fitting cap for Penrite Oils, Mid Life Cycles, Bikeskate and our newest sponsor Motolights Australia.
"I am very grateful for the support of our many fans it is quite humbling when you realise just how many people actually follow our exploits. Thank you all and we hope to do you proud this weekend at the Summit Racing Equipment Grand Finals. Please drop in our pits and say hello," said Shane.
Photos by Joe Maday/Drag News – Wayne Nugent, Phil Luyer/High Octane Photos