Drag racers from around Australia have staked early claims to top qualifying positions in the second round of the 2021/2022 Summit Racing Equipment Sportsman Series.
The Desert Nationals at Alice Springs Inland Dragway saw some impressive runs today ahead of final qualifying and eliminations tomorrow. Day one leaders in the pursuit of the Decoglaze Glass Splashbacks Top Qualifier Medallions included Vlado Turic (Top Sportsman), Rob Evans (Super Sedan), Michael O'Brien (Super Street), Ben Brusnahan (Modified Bike) and Brodie Zappia (Summit Racing Equipment Junior Dragster).
Turic's run of 7.929 seconds proved just enough to stay ahead of Kevin Mcivor's 8.026 in the Top Sportsman field, which has featured plenty of drama this weekend. Points leader Leon Davies had a fire in the pits which has so far seen his Camaro unable to make a run.
The weekend was going more to plan for the South Australian Turic, who took advantage of the improving track surface throughout the day.
"My first run was skatey, but the second and third were good," he said. "I swapped lanes after the first session and got into the sevens with a 7.96 in the second session. We took some RPM from the launch limiter for the last one and found our way down with a 7.92."
Turic has plans to contest as many rounds of the Summit Racing Equipment Sportsman Series as he can this season.
"I'm pretty sure I will chase the whole series, and I'd like to head to Benaraby next. Obviously we will take it day by day with everything going on and if we can travel."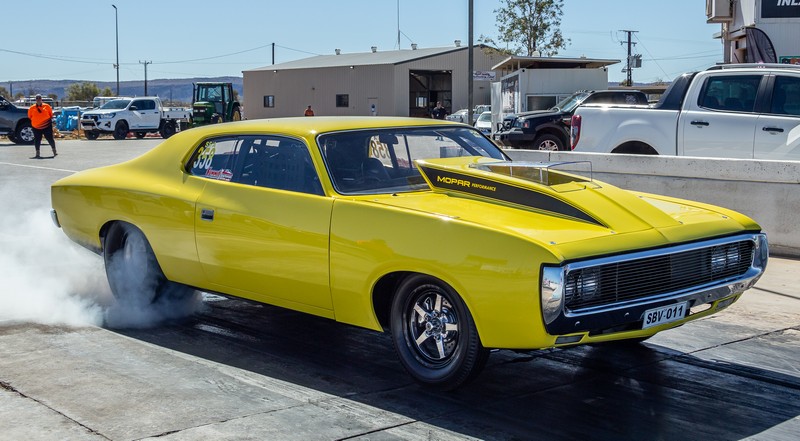 In Super Sedan, South Australia's Evans managed to tame some wild wheelstands in his hardtop Valiant to end day one as the qualifying leader with an 8.900. After taking the wheelie bars off his coupe in Darwin, Evans needed to tame his runs at Alice Springs.
"On the first run it just spun, and I thought the gearbox had blown up," he said. "I took the wheelie bars off for the second qualifier and it hooked, then on the third qualifier it went up into the air! I need some more track time with the wheelie bars to get them sorted out."
Ironically, Evans added the wheelie bars after a big wheelstand in Perth earlier this year.
"We ended up damaging the front end in Perth, but there were no problems with today's wheelstand," he said.
"We will need to see if we can get it consistent for tomorrow. I am not chasing the numbers because this is a track where the air conditions always make you a little slower, but as long as we have fun I will be happy."
Evans is currently being stalked by Peter Tzokas for the top qualifying position, with Tzokas ready to improve on his best of 8.928.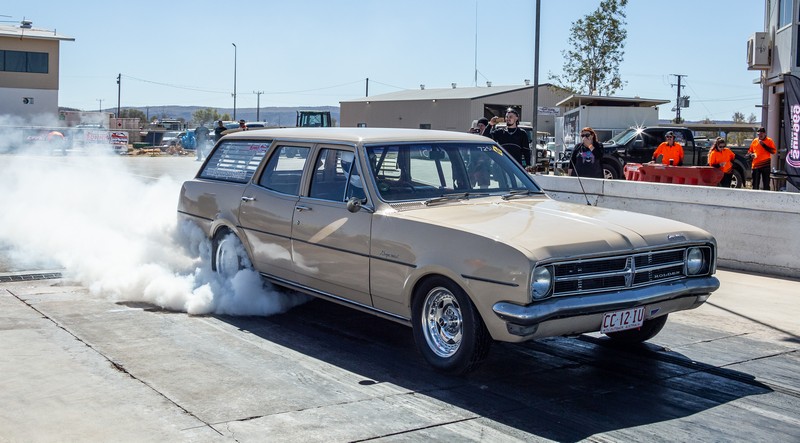 In Super Street, the Northern Territory's O'Brien has managed to secure some pride for the host state following a 10.055 run in his Holden HG Kingswood wagon. O'Brien normally uses nitrous oxide assistance on his motor but is this weekend running it without the horsepower-adding gas.
"The 10.05 run was a personal best for not using nitrous," he said. "I really wanted to see what it would do without nitrous. It's an LS motor with a Magnuson supercharger and we are giving it as much power as it will make."
O'Brien even drove his car to the track, a feat not many other Summit Racing Equipment Sportsman Series racers could match this weekend. For tomorrow's racing he isn't too concerned about reaction times or break outs, he just wants to see a quicker time slip.
"All we did was take the air filter off!" he said. "I am more about just trying for a nine-second run this weekend so if I break out on a 10.00 dial in I won't be unhappy."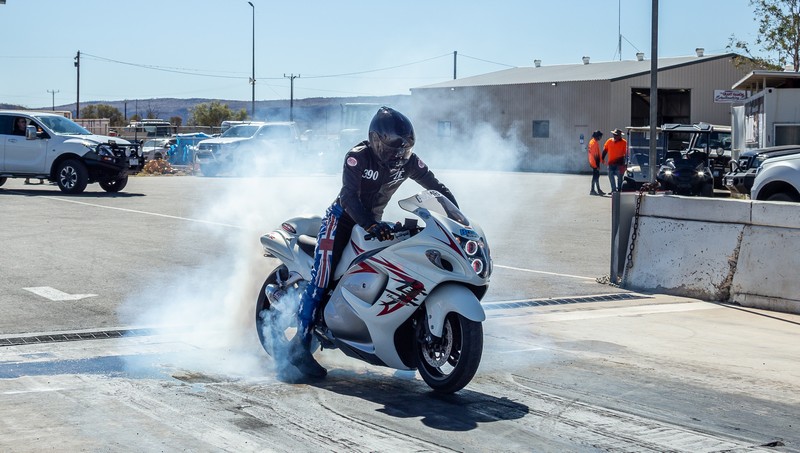 Modified Bike is being led by local racer Ben Brusnahan with his 9.822 effort at 147.80mph seeing him currently at the top of the time sheets ahead of fellow local, Dean Gunson (10.436).
The Summit Racing Equipment Junior Dragster bracket sees Western Australia's Brodie Zappia so far on track to repeat his Darwin top qualifying effort, with a best of 8.122 leading Aiden Abel's 8.171.

Also taking to the track at the Desert Nationals today was round two of the Australian Drag Racing Championship – for the wrap-up of the ADRC action, please click here.
Summit Racing Equipment Sportsman Series qualifying action resumes from 11am tomorrow at Alice Springs Inland Dragway, with eliminations commencing from 1.40pm and finals from 3.30pm. For more event information, head to www.cadra.com.au or www.andra.com.au.