The 2019/2020 Summit Racing Equipment Sportsman Series is officially underway following the successful conclusion of day one of the Desert Nationals, being held at Alice Springs Inland Dragway this weekend.
Four qualifying sessions were held for all brackets competing at the Northern Territory venue today. A fifth and final qualifying session will be held tomorrow to decide who will take home the Decoglaze Central Victoria Top Qualifier medallions ahead of eliminations racing Sunday afternoon.
Currently leading the way for their respective Summit Racing Equipment Sportsman Series brackets are Aiden Abel (Summit Racing Equipment Junior Dragster), Gavin Dohnt (Modified Bike), Tim Bryan (Super Street), Kevin McIvor (Super Sedan), Bronte Henning (Supercharged Outlaws) and Darren Saliba (Top Sportsman).
Nightcliff (NT) racer Tim Bryan is one racer who is happy with how things are going so far aboard his 1970 Ford XW Sedan.
"We have been very happy with the car straight off the trailer – all of our runs have been within four hundredths of each other. We are pretty happy with the track too, they have done a good job," Bryan said while thanking TLC Towing & Salvage, Darwin Lock & Key, Boscato Panel Works, AFA Insurance Brokers , Exide Batteries, Signtech and Mr Rigger Adelaide for their support.
"My reaction times have been a little off where I want them to be but we will have that ironed out by tomorrow. The event has been running smoothly and the Super Street crew and competitive have been helping each other out and it has been running quite well. I am looking forward to tomorrow."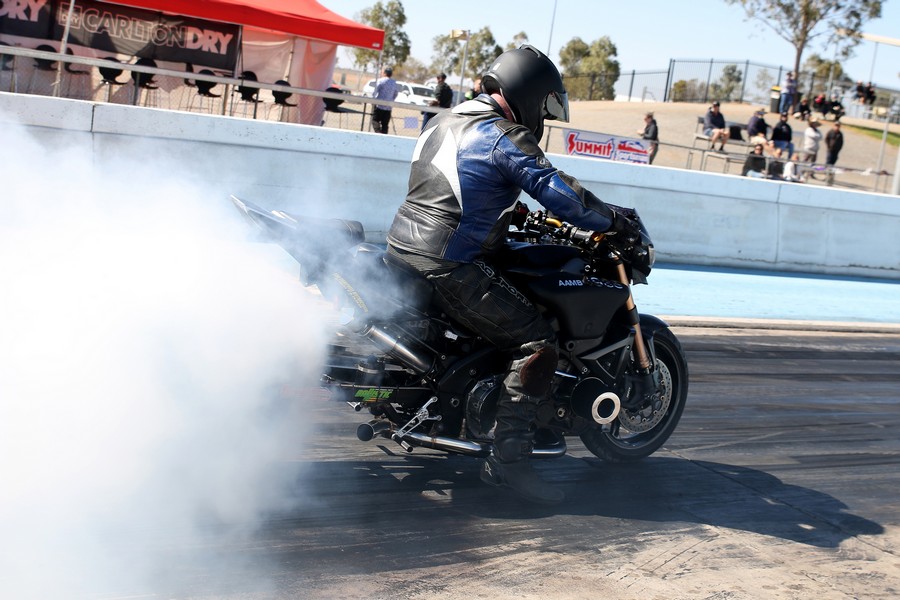 Victoria's Gavin Dohnt has some new bodywork on his 2008 Suzuki B-King and says it is performing well in the Modified Bike bracket.
"It has been a good day. We have changed the bodywork on the bike to help with the launch and it is doing what we want it to do and the track is good as well so it has been a good day all round," Dohnt said while thanking  Komatsu Forest Machinery, L.V.Dohnt Forestry and Porthaul Haulage as well as his wife Jodie.
"Hopefully there is a little bit more in it for the morning for the last qualifier. When it comes to tomorrow, we just want to make sure we do our best to maximise the 50 percent bonus points – we can't go to Darwin so this is an important round for us."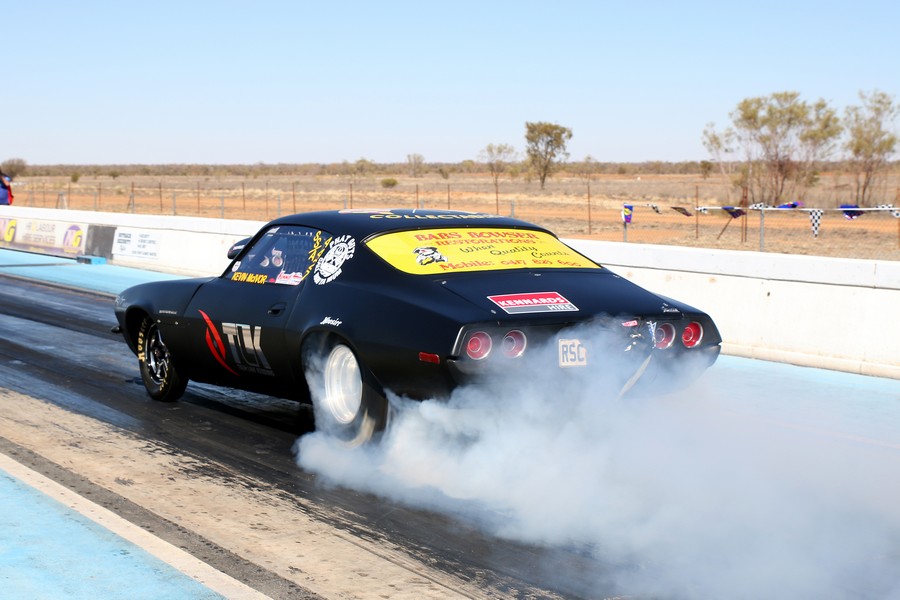 West Adelaide's Kevin McIvor says things are heading in the right direction for his Super Sedan steed.
"This is the first testing for our new engine and straight off the trailer it has been a bit of a tedious day, but it is going in the right direction," McIvor said while thanking FIRE Frank Intini Race Engines, RT Race Craft, True Line Kerbing, PHAT GUTS Custom Exhaust Fabrication and Performance Modification, SAWKA, Zauchi Civil, BABS Bowser Restorations for their support.
"I want to send a big shout out to my family and crew as well as Alice Springs Inland Dragway for a fantastic track. Let's see how things go tomorrow!"
Also on track today were racers from the track's Street Car and Street Bike brackets while a number of Top Fuel Motorcycle, Top Doorslammer and Jet Car racers put on exhibition passes for the race fans.
The Desert Nationals will continue tomorrow (Sunday) at Alice Springs Inland Dragway, with the final round of qualifying to be held at 11.00am local time ahead of eliminations racing from 12.30pm.
For further information, visit www.desertnationals.com.au or www.andra.com.au