Under another day of beautiful blue skies at South Coast Raceway, the 2019 South Coast 660 and round six of the 18/19 Summit Racing Equipment Sportsman Series drew to a spectacular close this afternoon.
The January 12/13 event hosted more than 150 racers who delivered race fans with plenty of exciting action from start to finish, but it would be Colin Griffin (Super Gas), Jake Berias (Summit Racing Equipment Junior Dragster), Paul Jennings (Super Street), Greg Oberti (Modified Bike), Chris Lioulios (Super Sedan), Craig Baker (Modified), Glenn Henley (Top Sportsman), Paul Stephen (Supercharged Outlaws) Rob Cassar (Competition Bike) and Craig Geddes (SuperComp) who ultimately took out victory in their respective classes.
Runners-up were Jason Wilson (Super Gas), Brodie Zappia (Summit Racing Equipment Junior Dragster), Tony Barbara (Super Street), Jake Hamilton-Moderate (Modified Bike), Alex Gkroidis (Super Sedan), Chris Farrell (Modified), Rick Smith (Top Sportsman), Jason Keily (Supercharged Outlaws) Danny Rickard (Competition Bike) and Mick Simic (SuperComp).
Also on offer today were two perpetual trophies which were introduced at this event last year – the Chris Stewart Memorial Trophy in Supercharged Outlaws and the Phil Parker Memorial Trophy for Modified Bike – with Paul Stephen and Greg Oberti obviously very pleased to take out the special accolades.
Thanks to his Supercharged Outlaws victory today, Raby (NSW) racer Paul Stephen not only takes home the Chris Stewart Memorial Trophy and an ANDRA Christmas Tree, but will also have his name inscribed on a special Chris Stewart memorial shield housed at South Coast Raceway's HQ. In addition, he also received the Top Qualifier's Medallion thanks to TileCo-TheShowerPeople and KC Tools as well as a Summit Racing Equipment pack after topping qualifying on Saturday.
Stephen completed a solo pass to clinch the victory after last year's winner Jason Keily was left stranded behind the start line when his car failed to start. Stephen had earlier dispatched Mark Hunt in the semis after enjoying a bye in the opening round, while Keily had taken a win from Mike Evans in round one ahead of a semi-final bye.
"The Chris Stewart Memorial Trophy is pretty special to me. I am proud to have that one in the trophy cabinet for sure; he was a good man, a genuine bloke, and it was a sad day, that is for sure," said Stephen.
"Overall, the weekend was great, I couldn't fault the car – it ran like it was on rails, we top qualified and went through the rounds and it was just spot on with not one drama all weekend, it was one of those great weekends.
"My thanks goes to the staff and everyone down there, this is fantastic: it has been a long time between drinks but I have my second tree now; the other one now has a partner!" concluded Stephen, while thanking supporters Atlantic Oils, Smart Fuels, Craig's Automatics and Macarthur Garages, as well as Flat Out Services for his chassis.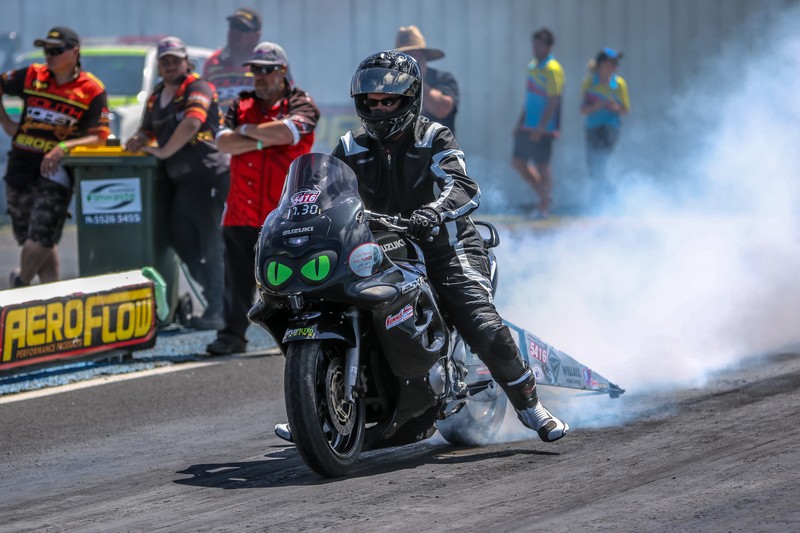 To take the Modified Bike victory, Oberti faced off against Jake Hamilton-Moderate in the final after having earlier defeated David McGinn (semi-final), Mario Baker (round two) and Levi Addison (round one) while enjoying a bye run in round three. Hamilton-Moderate meanwhile had booked his spot in the final with a bye in the semi-final following victory over Johnny Ireland, Edge Mallis and Bryan Finn. Last year's winner, Gordon Crawford, was the Top Qualifier for the bracket.
"I am stoked to win this event, I have been down here a few years, I haven't always raced but I have always crewed for Bradley Hicks and I am just over the moon," Oberti said of the win which not only saw him claim the Phil Parker Memorial Trophy, but also his first ever ANDRA Christmas Tree.
"I can't really describe how I am feeling at the moment (to win the event and the Phil Parker Memorial Trophy), this is an awesome feeling.
"I have to thank my beautiful wife Sonya for supporting me in everything that I do, as well as all of the track crew, staff and volunteers for putting on a great event; and also the competitors," said the Salisbury Downs (SA) racer.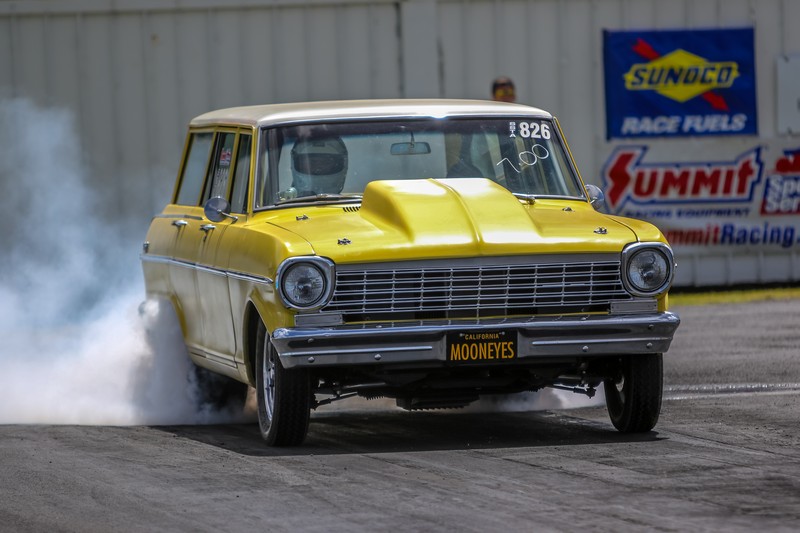 Another first time winner was found in the Super Street bracket, with Paul Jennings breaking through for his first ANDRA Christmas Tree in his 1965 Nova with victory over Tony Barbara following races against Rodney Kerr, Greg Holland, Garry Hutchins and Michael Bridges. Barbara benefited from a bye run in the semis, having earlier defeated Nikolas Karanovic, Des Jeffree and Craig Ferguson. Also recognised at the Sunday afternoon presentations was Malcolm Todd, who clinched the top spot in qualifying earlier in the weekend.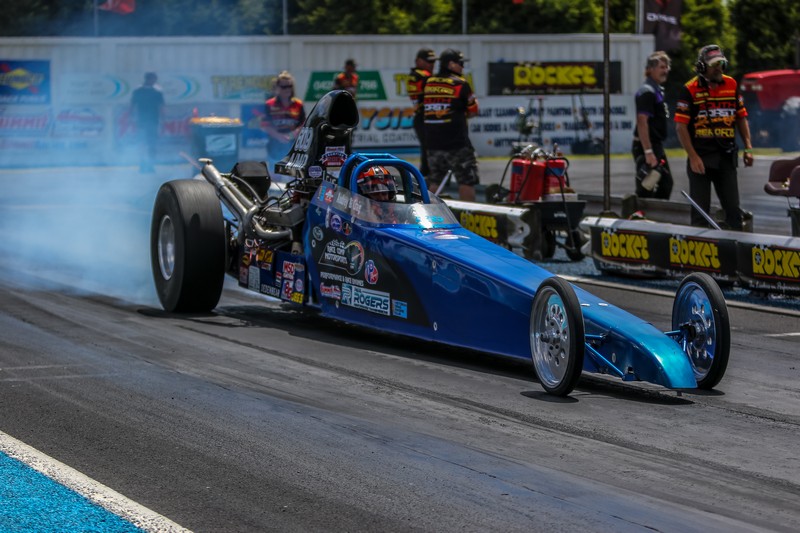 Emotions were also running high this afternoon for Modified racer Craig Baker, who defended his 2018 South Coast 660 event victory with another win today. The two-time Summit Racing Equipment Sportsman Series national champion (2017, 2013) fought back tears on-stage as he reflected on his victory this time last year which came as his wife Audrey battled breast cancer while celebrating the fact that this weekend's victory finds her having won that battle.
Baker took the trophy – which he presented to his wife – thanks to victory over Chris Farrell, who red-lighted in the final. The Gowanbrae (Victoria) racer had previously faced off against Jess Voigt (semi), Stewart Johnson and Bradley Hicks while Farrell booked his place in the final after a win over Top Qualifier Adam Mundy (semi) followed triumphs over David Willis and Davydd Estcourt.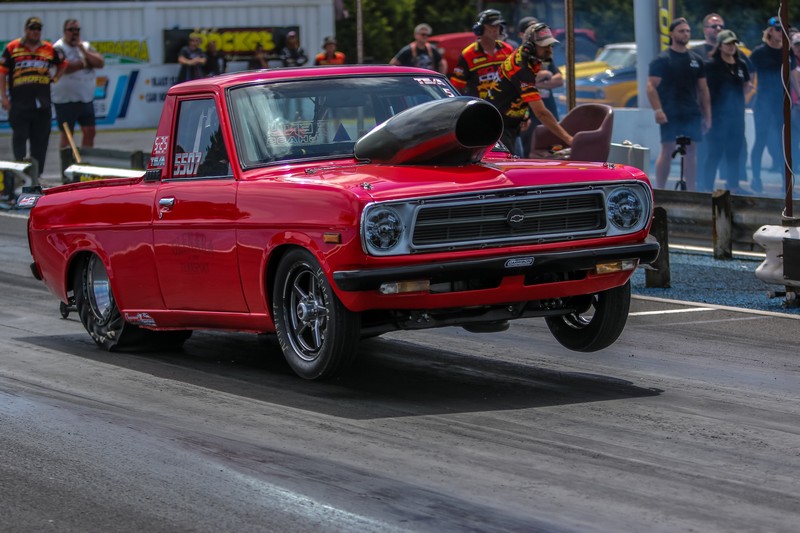 Glenn Henley was another racer who enjoyed a solo pass to his ANDRA Christmas Tree after runner-up Rick Smith was unable to front for the Top Sportsman final due to a broken rocker. Henley had earlier found wins over Chris Theo (semi), Julian Carafa and Daniel Jones while Smith had defeated Top Qualifier Darren Saliba (semi), Stuart McBain and Benny Phillips to secure his ticket to the final.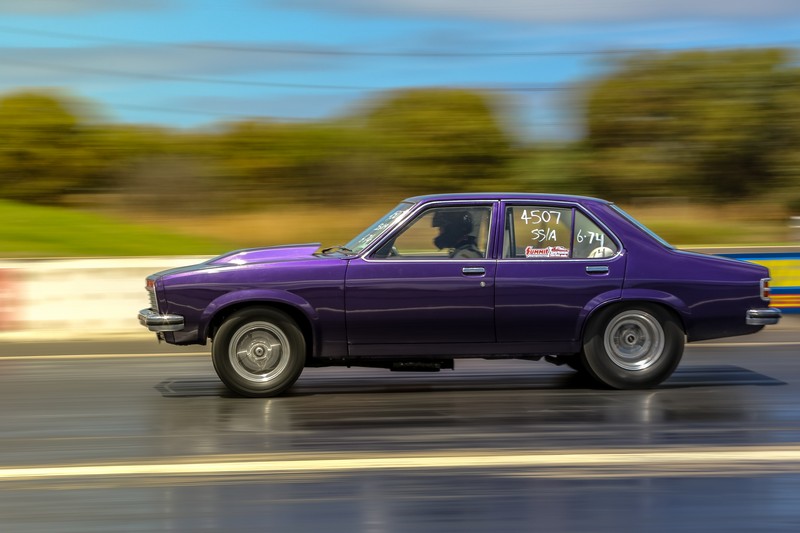 Super Sedan racer Chris Lioulios was another with a lot to celebrate today. By winning his bracket, the Roxby Downs (SA) racer not only went 'back-to-back' at the event after winning 2018's South Coast 660, but also made it 'three from three' at Portland as he also claimed the win at the 2018 South Coast Nationals in November.
On his way to the victory over Alex Gkroidis in the final, Lioulios took on Martin Mirco (semi-final), Ned Karanovic, Graeme Cooper and Peter Furlanetto while Gkroidis took on Stephen Griffin (semi), Enio Marrocco, Phillip Busbridge and Joe Carbone – setting a 'Perfect Light' along the way in his round three battle with Marrocco. Earlier in the weekend, as was the case at the South Coast Nationals, Rob Camilleri took out the top qualifying honours for the category.
"I am definitely very happy, it has been a great weekend even though we had some problems with the car with the trans brake – I ended up having to foot brake the car old-style which made the win even more rewarding," Lioulios said.
"Quite a few people jumped in to help and I have to thank them, including Steve Hunt who put in so much for us, as well as my whole crew, my mate Benny Phillips and my wife Natalie; we couldn't be happier with the result.
"I am hoping to be at Mildura, but Natalie is due to have our first child at any time – I was waiting for the phone call!" he laughed. "I would like to be there and I have entered, but we will have to see how it pans out."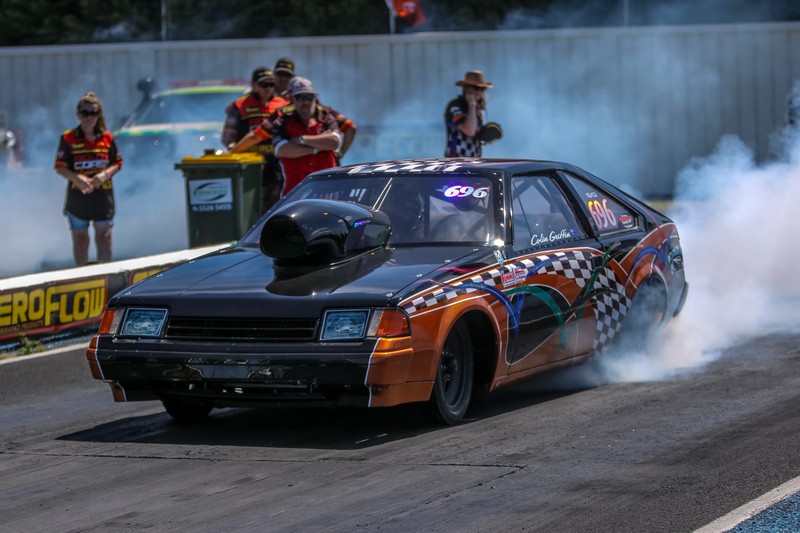 In the Super Gas ranks it all came down to Colin Griffin and Jason Wilson in the final, with Griffin taking victory in his Toyota Celica. The Mount Ridley (Victoria) racer had earlier faced off against Michael DeRose (semi) and Graeme Spencer while Wilson took on Top Qualifier Charlie Saraceno in his semi-final after defeating Anthony Panetta in his opening round.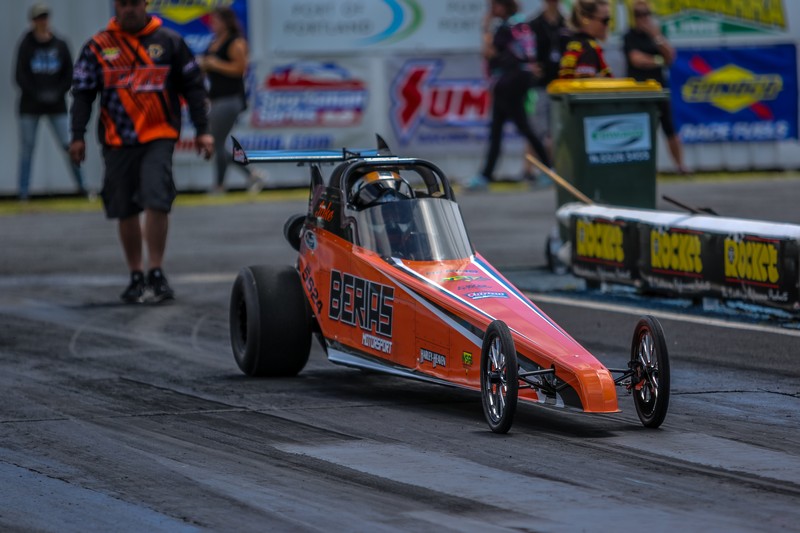 When it came to the Summit Racing Equipment Junior Dragster proceedings, a hard-fought day of racing saw current championship points leader Jake Berias pick up his fourth ANDRA Christmas Tree for the season with victory over West Australia's Brodie Zappia. The Werribee (Victoria) racer had earlier faced 2018 South Coast Nationals winner Zara Board in the semi-final after enjoying a bye in round three and victories over Allirah Kardum and Joshua Maggs. Zappia meanwhile secured his first finals appearance since 2017 and his first in his new dragster with a bye in the semis following victories over Daniel Carranza, Nathaniel Kuchel and Adrian Saliba. Earlier in the weekend, South Coast Nationals Top Qualifier Amber Young again topped the qualifying sheets to secure the Top Qualifier's Medallion and prize pack.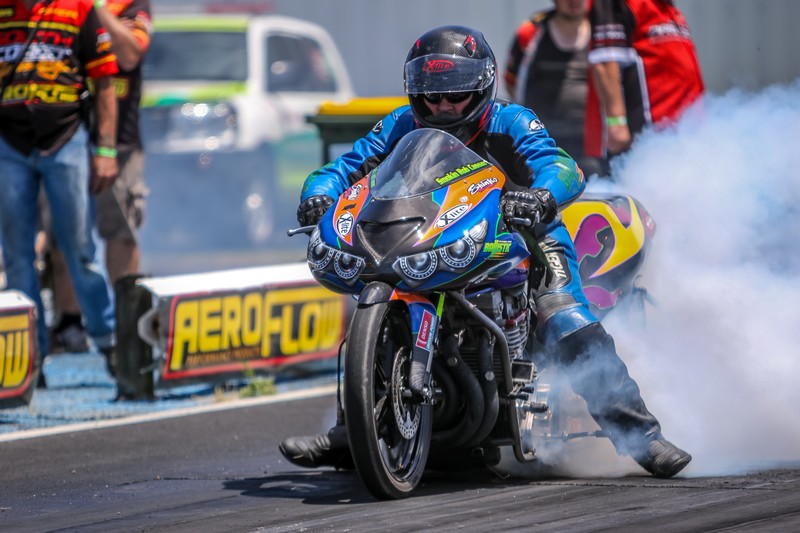 For the Competition Bike competitors, the new three-round format delivered plenty of racing action with Top Qualifier and South Coast Nationals runner-up Rob Cassar going one better this time around to take out the event victory over runner-up Danny Rickard.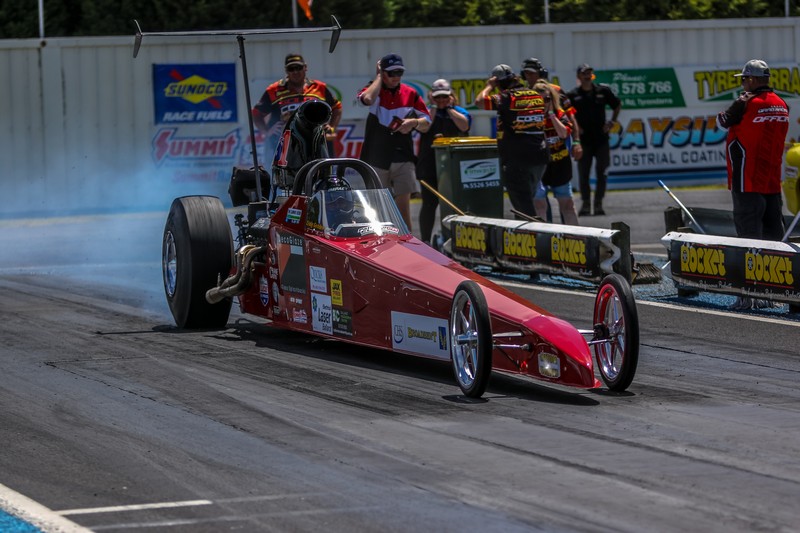 Like Cassar, Craig Geddes converted a Top Qualifying result into an event victory, taking the SuperComp win over Mick Simic in the final a day after being declared the Sunoco 260GT Plus Top Qualifier. Earlier in the day, he had faced off against Alex Panagiotidis (semi) and Steve Norman (round one) with a bye in round two, while Simic enjoyed a bye into the final following wins over Mark Newman and Jake Chaisty.
For full results from this weekend's Summit Racing Equipment Sportsman Series round, please click here.
ANDRA thanks South Coast Raceway and all of its volunteers and sponsors for an outstanding race track and a well-run event.
Round seven of the 18/19 Summit Racing Equipment Sportsman Series, the Twilight Nationals featuring the JD Grand Final, will be held at the Sunraysia Drag Racing Association's Sunset Strip across February 15 and 16. For more information on that event, please visit www.andra.com.au or www.sunsetstrip.org.au
FEATURE IMAGE: PAUL STEPHEN, CREDIT TO AUTOMOTIVE EVENT IMAGES