Following a big day of qualifying for a 170+ field at South Coast Raceway today, tomorrow's eliminations field is now set for what is round seven of the Summit Racing Equipment Sportsman Series.
After some tough qualifying battles, day one of the South Coast 660 ultimately saw the following racers take out the Top Qualifier Medallions - sponsored by The Tile Co-The Shower People, KC Tools and Summit Racing: Graeme Spencer (Super Gas), Samuel Perri (Summit Racing Equipment Junior Dragster), Bill Farrugia (Denso Super Street), Danny Rickard (Modified Bike), Daryl Dando (Super Sedan), Simon Barlow (Modified), Darren Nichele (Top Sportsman), Justin Russell (Supercharged Outlaws) and Jim Ioannidis (SuperComp). Ioannidis was one of four racers in SuperComp to run under the current national eighth mile record for the bracket.
The action from the Portland venue will continue tomorrow (Sunday January 21) – racers set to be on-track from 10.00am local time, while the Finals are scheduled to begin from 2.00pm. For further event information, please visit www.southcoastraceway.com.au
For Nichele, the top qualifying result in Top Sportsman is his third in a row after previously claiming the top of the qualifying sheets at Adelaide International Raceway in October and Calder Park in November (he missed the Perth round).
Now, he hopes this third top spot will help him on his way to a maiden event win.
"We are extremely happy to have three in a row – in all hindsight though, the big picture focus is tomorrow and hopefully having a maiden win, that is what we are working towards," Nichele said, while thanking SDPC Race Shop Texas, Protrans and VP Racing Fuels Cavallo Racing for their support.
"I couldn't ask for the car to be better, it has been absolutely fantastic. We have been playing with it for some time and just now we are starting to see the results from all the people that have helped and contributed to all of the efforts that go on behind the scenes."
For Summit Racing Equipment Junior Dragster Top Qualifier Perri, his top time of 8.001s – run on an 8.00 index in the final qualifying session for the bracket – was a pleasant surprise.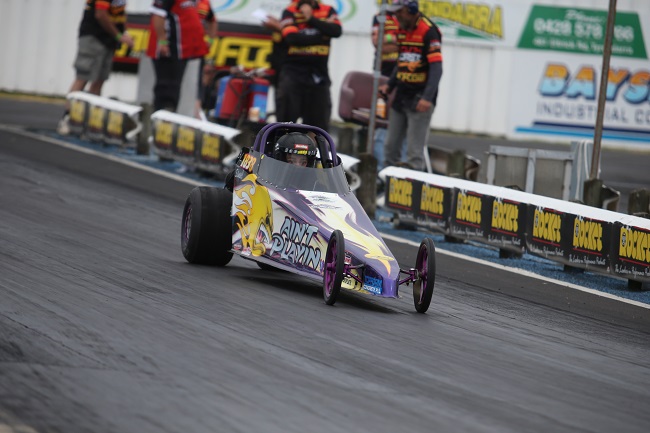 "Today we have had some fun, the car was running pretty consistently, but we weren't expecting a '001'!" said Perri, who thanks his Uncle Gino, father Ralph, his brothers – particularly crew chief Max – as well as Topform Concrete, Marco Steel, GMP Mechanical, Scott's Panel and Paint and SCM Race Engines for their support.
"Then out of nowhere comes this '001' and were very happy to take that and the top spot! We were happy with how we had gone before, but to end up with the 001 time was cool!"
For Super Sedan Top Qualifier Dando, unfortunately this is where his South Coast 660 exploits for 2018 come to an end.
"We needed to do some testing on the car as we have been chasing some issues, and we had a really good day with some great people, but unfortunately due to some pre-existing work commitments we are just not in a position to race tomorrow," Dando explained.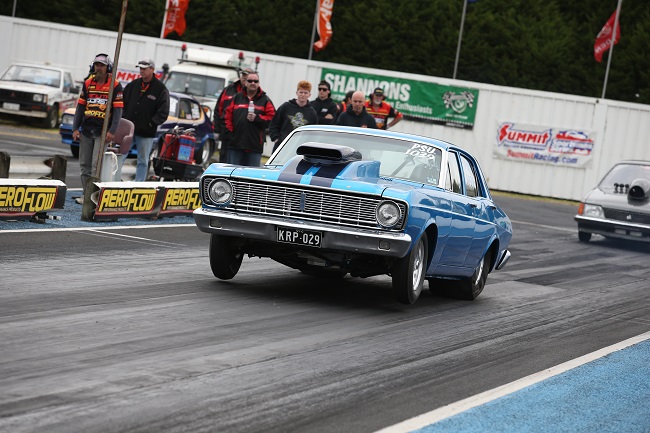 Round seven of the Summit Racing Equipment Sportsman Series, the South Coast 660 at South Coast Raceway, will continue tomorrow (Sunday 21 January). For more information, please visit www.andra.com.au and www.southcoastraceway.com.au
For results from this weekend's Summit Racing Equipment Sportsman Series round at South Coast Raceway, please click here
Images from top: Darren Nichele, Samuel Perri and Daryl Dando, all images by Outlaw Images