The return of the extended 19/20/21 Summit Racing Equipment Sportsman Series to South Coast Raceway for the South Coast 660 this weekend has gotten off to a roaring start today, with qualifying for 10 racing brackets now complete.
Ahead of tomorrow's eliminations racing, Adrian McGrotty (Super Gas), Sarah Donnelly (Summit Racing Equipment Junior Dragster), Chris Naughton (Super Street), Gavin Dohnt (Modified Bike), Keith Hards (Super Sedan), Kenny Stewart (Modified), Dean Cleary (Top Sportsman), Tim Stewart (Supercharged Outlaws), Steve Norman (Super Comp) and Edge Mallis (Competition Bike) have all claimed the DecoGlaze Glass Splashbacks Top Qualifier Medallions for their respective classes.
The action at South Coast Raceway will continue tomorrow (Sunday January 24) from 10.00am, with the finals expected to be held from approximately 3.00pm local time.
The Supercharged Outlaws championship is one that has been exceptionally hotly contested this season and contender Tim Stewart was able to get one over rival Christine Steffens today to get his title campaign restarted with vigour.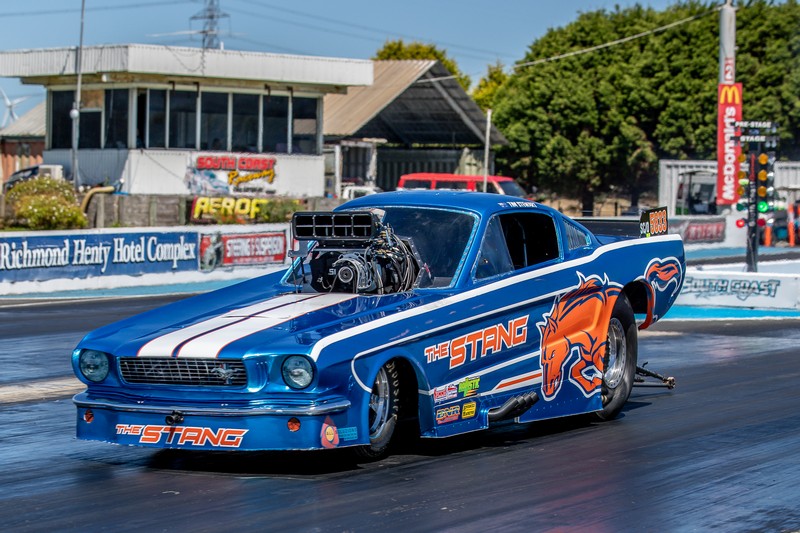 "It most definitely feels good to get the weekend off to a good start," Stewart said.
"We came down and tested last night – we have been chasing something with our gearbox for a while and the signs were finally showing it was okay. We were able to put down a personal best 60-foot time last night and then that followed into today.
"It was pretty much neck and neck with Christine throughout qualifying today. She was ahead of us earlier and then we put in a good second pass which just got under her and then unfortunately she broke in the last pass.
"This is something we have been chasing for a long time and it is now all there and coming all together. Tomorrow will be about just getting through the day – you want to get through that first round to start with and then we will just see how the day pans out. There are some good competitors here, so we will just do our best.
"I want to do a shout out to our sponsors – Fire Fighting Systems, BNR Engines, Advanced Magnetos, All Soluzins and Ballistic Performance Parts – and also the crew who travel from Adelaide and elsewhere to spend the weekend down here with us.
"Finally, I would also like to say a big thank you to ANDRA for keeping up with a Sportsman Championship that means something."
For Keith Hards, the Super Sedan top qualifying honours may be the best he can hope for this weekend with troubles aboard his Chevy Impala SS possibly bringing his South Coast 660 adventure to a premature end this afternoon.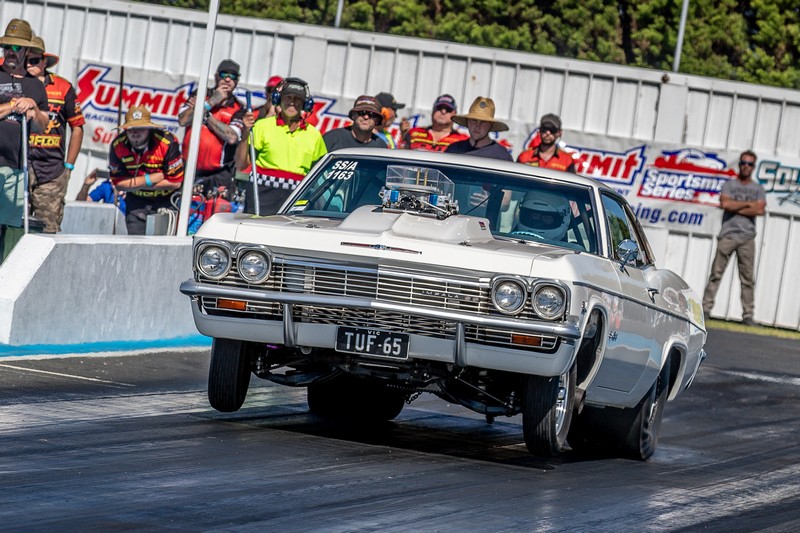 "We ran the test and tune last night, and the car wanted to turn right while right up on the wheelie bars, so we changed some stuff in the back end and changed our program up and got it sorted out today," said the racer from Allansford (Victoria).
"We shook the tyres bad in one pass today and made a few more adjustments, and I actually haven't had it flat out yet, so I am pleasantly surprised that we were able to top qualify in the passes we managed.
"Unfortunately, now it is broken, as we have done a lifter in the motor. We have the motor apart now as we look to try to fix it, but I am not confident we will be out there tomorrow at this stage.
"I would like to thank my wife Andrea, my engine builder Frank Marchese of Dandy Engines, my son Jake and my good friend, Wayne May, for all of their support."
For Chris Naughton, it was a much smoother day on his way to the top qualifier spot for Super Street.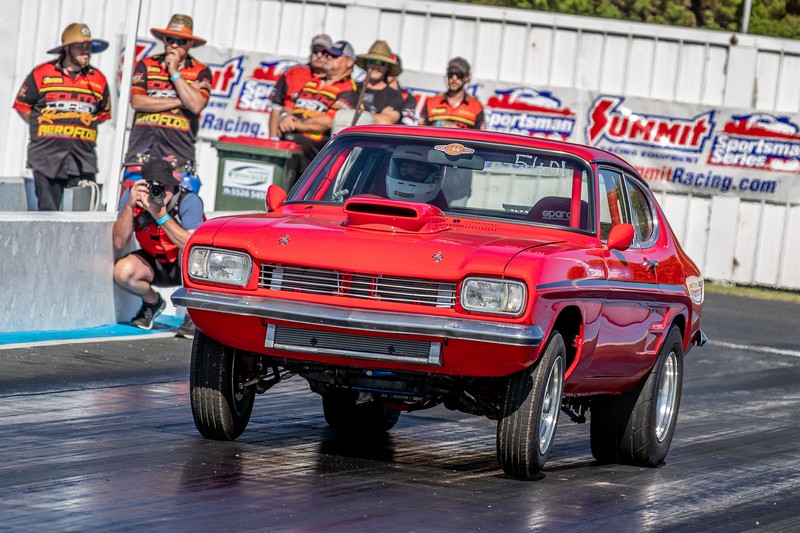 "It was a very, very smooth day – we didn't put a spanner on the car once and didn't open the bonnet all day, but in saying that, a lot of prep goes into it to make that possible, you don't just turn up to the track unprepared!" said Naughton, from Langwarren (Victoria).
"I am absolutely very happy with the result today. This is a reasonably new car for me and having not sat in the seat for the last 18 months through COVID-19 and what not, I am absolutely wrapped with the result and wrapped with the performance of the car today.
"We have our fingers crossed for a good day tomorrow. Hopefully, it goes as smoothly as today and if we can get past round one, then we will see what happens after that.
"In the meantime, I would like to thank my one and only crew member, my wife Tina. She has come along this weekend and is being a great help and doing all the right things," he grinned.
Round ten of the 19/20/21 Summit Racing Equipment Sportsman Series, the South Coast 660 at South Coast Raceway, will continue tomorrow (Sunday 24 January). For more information, please visit www.andra.com.au and www.southcoastraceway.com.au
For results from this weekend's Summit Racing Equipment Sportsman Series round at South Coast Raceway, please click here.[/vc_column_text]