The return of the Summit Racing Equipment Sportsman Series has delivered plenty of exciting action all weekend long at Portland's South Coast Raceway, with the South Coast 660 coming to a successful conclusion today.
Hotly contested racing was held across 10 brackets today, with Michael De Rose (Super Gas), Jake Berias (Summit Racing Equipment Junior Dragster), Paul Garbellini (Super Street), Shane Walker (Modified Bike), Stephen Griffin (Super Sedan), Kenny Stewart (Modified), Glenn Henley (Top Sportsman), Shane Baxter (Supercharged Outlaws), Levi Addison (Competition Bike) and Steve Norman (Super Comp) ultimately taking out the South Coast 660 bragging rights and the ANDRA Silver Christmas Tree trophy for their respective brackets.
Claiming the runners-up plaques were Renee Cockerill (Super Gas), Chelsea Sammut (Summit Racing Equipment Junior Dragster), Paul Tabone (Super Street), Michael Cristoforo (Modified Bike), Robyn Phillis (Super Sedan), Josh Baker (Modified), Greg Damiani (Top Sportsman), Tim Stewart (Supercharged Outlaws), Edge Mallis (Competition Bike) and Craig Geddes (Super Comp).
After such a long lay-off due to the impacts of COVID-19, the prevailing theme all weekend long has been gratitude to be back on-track with racers, track staff and volunteers unable to wipe the smiles off their faces.
One racer who had a particularly wide grin at the close of Sunday's action was Modified racer Kenny Stewart. The Tarneit (Victoria) racer not only took out victory over Gowanbrae's Josh Baker, who red lit in the final, but also clinched the DecoGlaze Glass Splashbacks Top Qualifier Medallion yesterday. On his way to the final, Stewart took on and defeated Davydd Estcourt (round one) and Fiona Crisp, while Baker had earned his place in the final thanks to wins over Shane Wynd and Derek Wills, setting a Perfect Light along the way.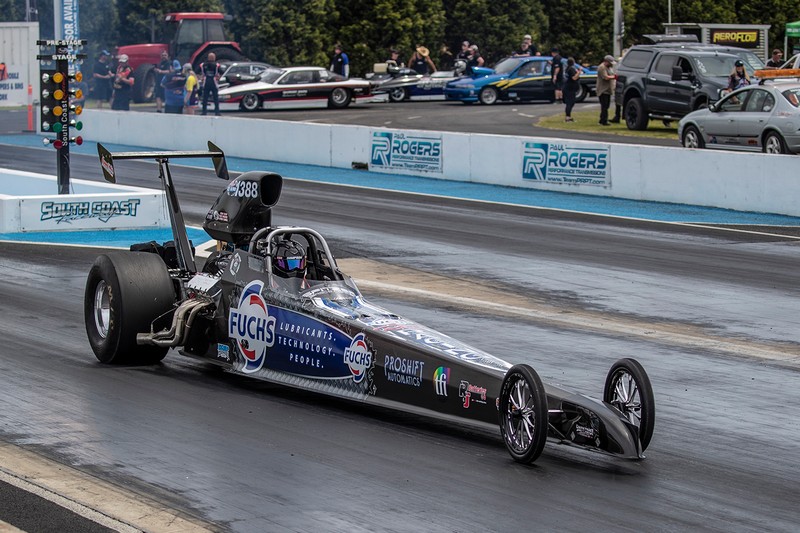 "I am just over the moon. It is so good to be back, and especially to be back at Portland. This is my favourite track and to be able to catch up with everyone has been just great. We have spent a lot of time in the off-season doing maintenance and it gets to the point where you just want to get back in the car and you are really hanging out for it. It is so great to be back, I can't even describe it properly how good it feels to be back racing," Stewart said.
"I would like to thank Summit Racing Equipment for their continued support of sportsman racing, ANDRA, and everyone involved with South Coast Raceway. They do a fantastic job here and every time we come we feel so welcome, it is a fantastic facility and the track was amazing.
"It was great also to have all our crew here supporting us and also some of our sponsors too. My thanks goes to my wife Amanda, Jerry Michelon, the lucky Leanne Braggs – every time she has helped us we have won so hopefully she comes to the Grand Final – Doina and Peter Day and William Berry.
"Thanks also to our sponsors, Fuchs Lubricants, Proshift Automatic and Gene Cook Race Engines who have all supported us for 28 years now, as well as R and J Batteries, Swarf King and Jerry's Ski Shop."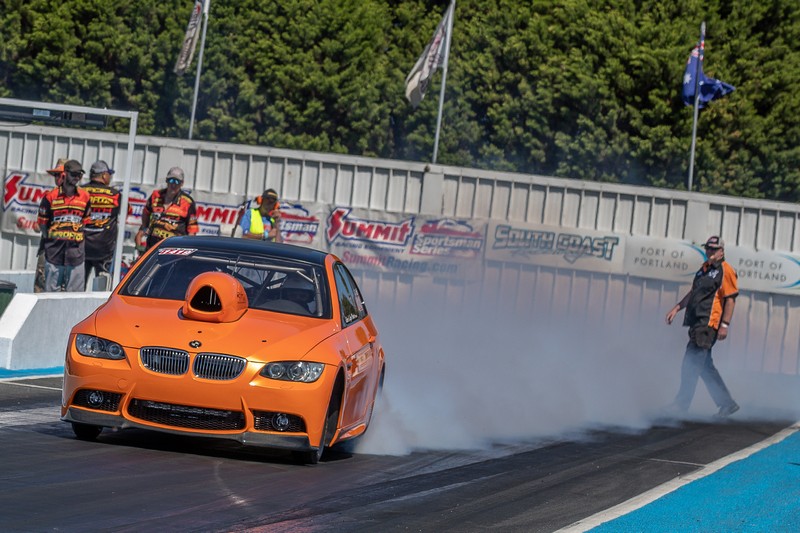 Another racer who had his hands full at presentations was Super Comp racer Steve Norman, with the Whyalla (SA) competitor joining Stewart in clinching both the event win and the Top Qualifier Medallion for his class this weekend, while resetting the national B/SMA ET record to 5.326 along the way.
Norman took the win over runner-up Craig Geddes after having earlier faced off against Adrian Vella (round one) before a bye in the semi-finals. Geddes meanwhile had taken on Terry Waterman and Michael Caroscio on his way to the final.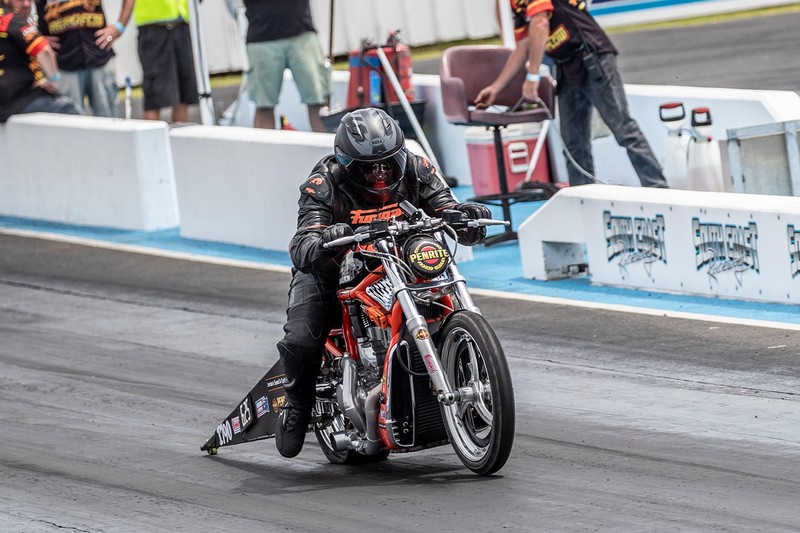 In Modified Bike, Shane Walker was very happy to walk away an ANDRA Christmas Tree and the Phil Parker Memorial Award following the long lay-off. He hoisted the trophy after taking the win over Michael Cristoforo in the final following wins over Dean Jamieson (round one) and Bryan Finn – who defeated Top Qualifier Gavin Dohnt in the opening round – ahead of a semi-final bye. Cristoforo meanwhile had emerged victorious from earlier battles against Levi Addison, Jason Addison and Lucas Neagoe on his way to racing Walker.
"It is absolutely fantastic being back and catching up with everyone again. We have been really looking forward to this weekend," Walker said.
"It was very hot and sticky, and everyone has been rusty and had a few dramas, me included, but it was a good day. It was nice to get a win in the first round and then we had 'Finny' in the second round and he is no easy beat, so once we got past him, I thought well now we have a bye in the final so win, lose or draw, this is going to be a reasonable day!
"When we won in the final, I was absolutely stoked. I do not think I have needed to win a race more than I needed to win this one. I was really pleased. Of course, I would have been happy with second, but there is nothing like winning and it is just so great to be back.
"My thanks goes to Summit Racing Equipment and the South Coast Raceway track staff. It was absolutely filthy weather out there today at 36 degrees and 90 percent humidity, but they did a great job. Thanks also to all of the other guys in Modified Bike as well – it has been great to see some new faces as well.
"I also would like to thank my wife Monica, I couldn't do this without her, and Tony Frost Racing – we pit with them and it always makes for an entertaining weekend! Finally, I must also thank my sponsors, Penrite Oil, Jordan's Speed and Custom, Motorlight Australia and Burson Auto Parts Geelong."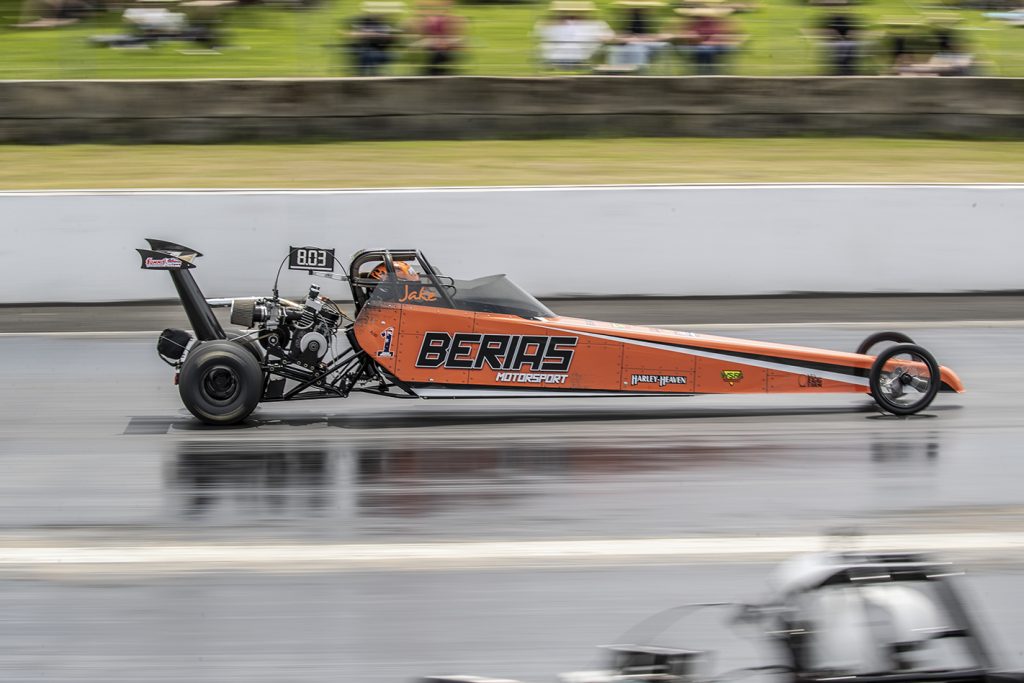 In the Summit Racing Equipment Junior Dragster ranks, reigning champion Jake Berias ensured he remains in contention to defend his title with victory over Chelsea Sammut. The Melbourne racer had earlier taken on Lachlan Walker (round one), Dylan Knezevic – who earlier set a Perfect Light – and Ayden Lanciana, while Sammut had earned her place in the final thanks to wins over Zack Knezevic and Allirah Kardum – who defeated Top Qualifier Sarah Donnelly in the opening round – ahead of a semi-final bye.
"It was a hot day today, but everything went smoothly. It is good to be back racing. It obviously felt quite a bit different to start with as I haven't been in the car for so long, but after a couple of passes, I felt back to normal," said Berias, who thanks his family, Harley Heaven Melbourne, Werribee South Farm Supplies, D Berias and Sons and LT Egg Farms for their support.
"We sort of came here because I hadn't reached the cap of the points yet in the Summit Racing Equipment Junior Dragster title, so we wanted to come here and get to 300. But now that I have won, we are going to start thinking properly about the championship again."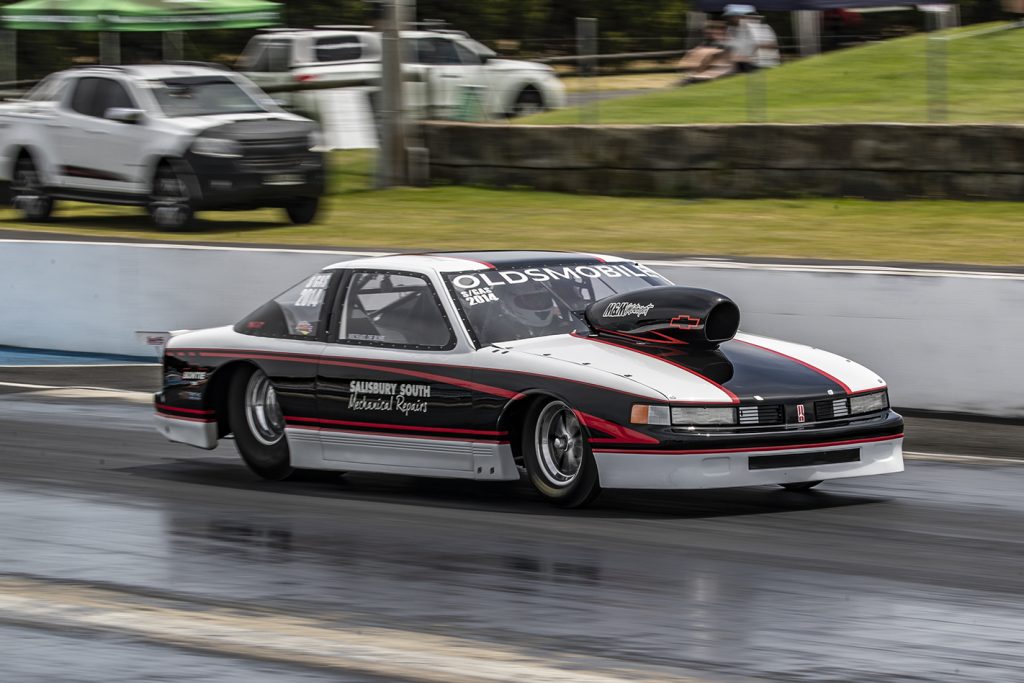 In Super Gas, Michael De Rose's victory over Renee Cockerill was an exceptionally close one with identical reaction times for the two racers. De Rose's eventual win followed earlier triumphs in his Oldsmobile Cutlass over Justin Wilson (round one) and Murray Rogers before a semi-final bye, while Cockerill had earlier successfully taken on Colin Griffin, Top Qualifier Adrian McGrotty, and Graeme Spencer in her Ford GT500 Mustang.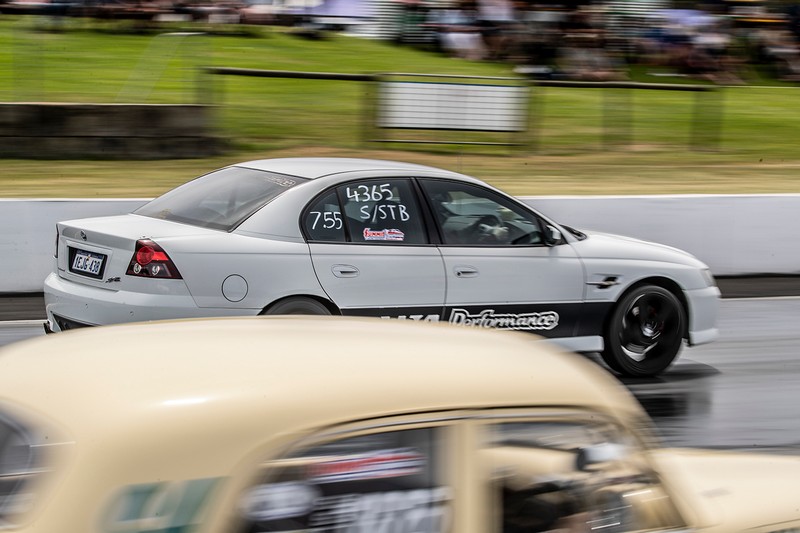 Super Street was another hotly contested bracket, with Paul Garbellini making sure his trek all the way from Western Australia was well and truly worth it with victory over Victoria's Paul Tabone, who broke out in the final. On his way to the final, Garbellini defeated Ben Newman (round one), Michael Jennings, Matthew Smart and Michael Bridges in his Holden while Tabone and his VH Charger had faced off against Robert Forte (round one), Jake Hards, Scott Cleary and Top Qualifier Chris Naughton.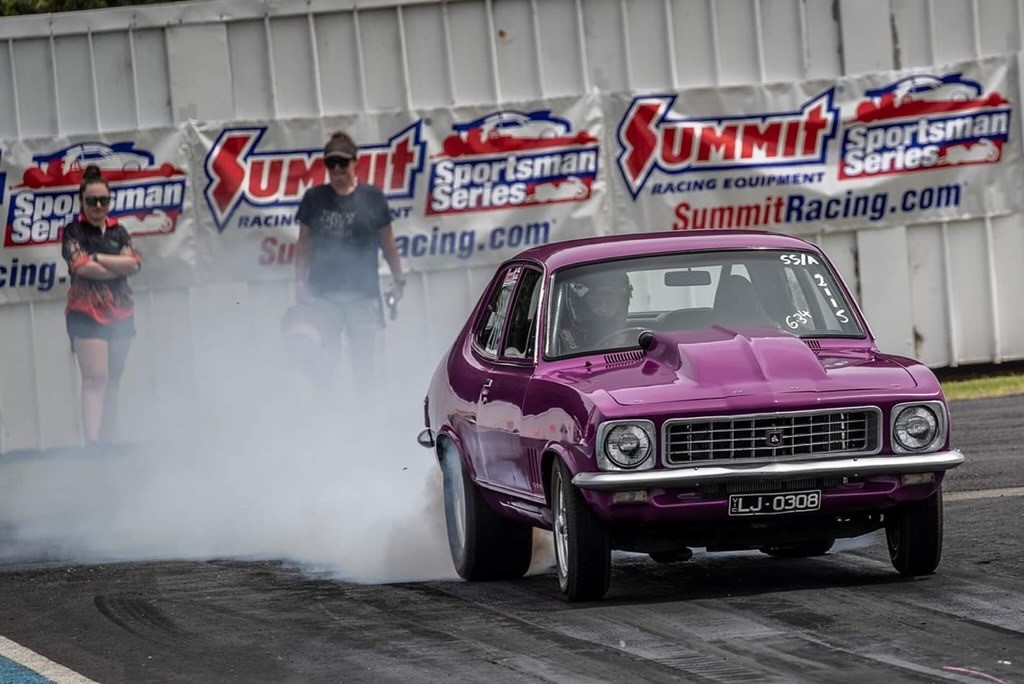 In Super Sedan, it was Stephen Griffin who took the victory in his Holden Torana LJ, with the Warrnambool racer's earlier wins over Dave Todd (round one), Graeme Cooper and Peter Tzokas propelling him to the final against Whyalla's Robyn Phillis, who had earlier defeated Des Jeffree, Mark Busscher, Joe Carbone and Enio Marrocco in her LH Torana. Top Qualifier Keith Hards was unable to contest today's running after damaging his motor yesterday.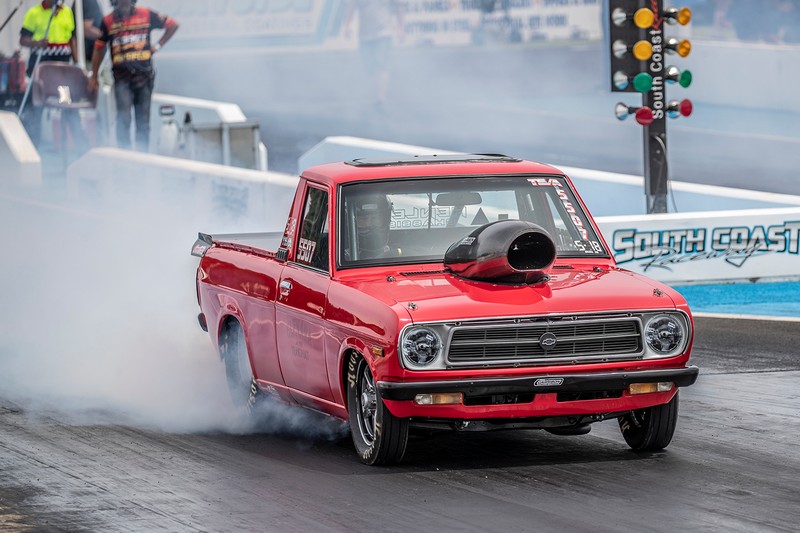 In Top Sportsman, Mount Gambier (SA) racer Glenn Henley took on and defeated Gawler River's Greg Damiani to take out the Silver ANDRA Christmas Tree today. Henley and his Datsun Ute had earlier faced off against Stuart McBain (round one) and Benny Phillips ahead of a semi-final bye, while Damiani and his Holden HG Monaro had taken on Leon Davies, Top Qualifier Dean Cleary and Sam Cardinale on his way to claiming the runners-up plaque.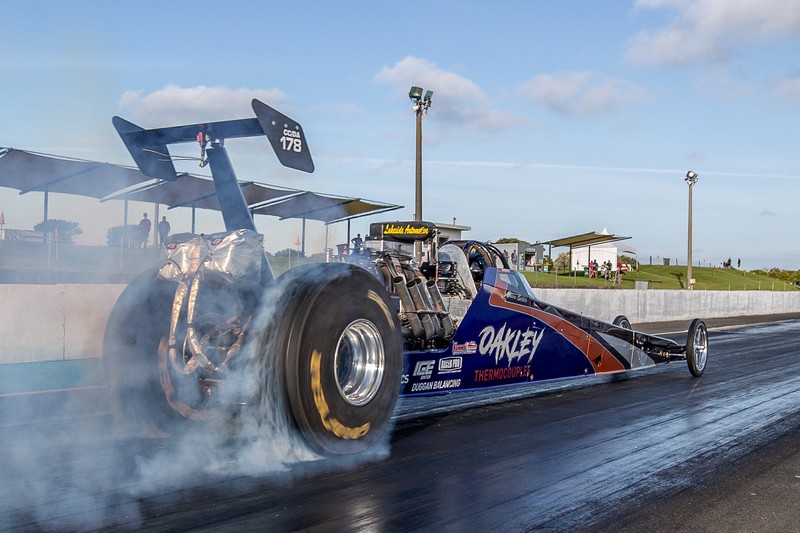 When it came to the Supercharged Outlaws bracket and its tight championship battle, title contender and South Coast 660 Top Qualifier Tim Stewart logged some valuable points with a runners-up result against winner Shane Baxter after breaking out in the final. Baxter's victory saw him claim the Chris Stewart Memorial Trophy in what was an exceptionally close race came following earlier wins over Julian Carafa (round one) and Jason Keily – winner of the Vinyl Wraps and Graphics Best Presented Award – in his Neil & Parks Dragster. Stewart and his 'The Stang' 66 Mustang Funny Car enjoyed a bye in round one before taking on and defeating David Thornton and Greg Angus.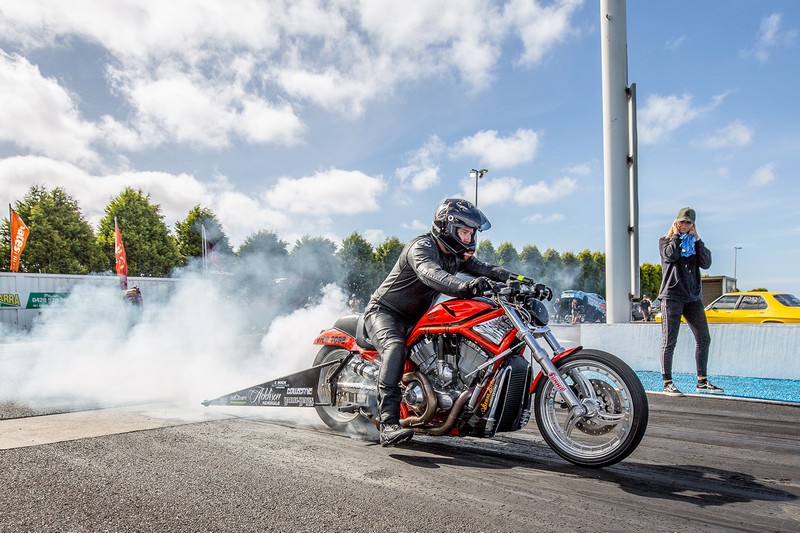 The Competition Bike victory was claimed by Levi Addison, who faced off against Top Qualifier Edge Mallis in the final for the bracket which employs a Chicago Shootout racing format, only for Mallis to be unable to proceed down the track after greeting the starter.
The Summit Racing Equipment Sportsman Series will now travel to the Perth Motorplex for the Westernationals before returning to Victoria for the Twilight Nationals at Mildura's Sunset Strip across March 12-13. Confirmation about the dates and venue of the ANDRA Grand Final is expected to be confirmed in the coming days.
The 19/20/21 Summit Racing Equipment Sportsman Series season which has been extended in the face of COVID-19 to not only deliver successful completion of the current competition, but also a record prize pool thanks to Summit Racing Equipment. The performance powerhouse has announced it will offer 50 percent extra end of season prize money for a total prize pool of more than $100k including $10k for the prestigious John Storm Memorial, creating the biggest prize pool in Australian Drag Racing history.
For more information, visit www.andra.com.au