(TEAM RELEASE) Daniel Gregorini and the Scratch & Match Motorsport team are celebrating their first Australian Top Doorslammer Championship after racking up enough points to clinch the ANDRA title on Saturday night at Perth Motorplex.
"I guess it's a relief," he said. "We started this points chase back in July in Darwin, where we won the opening meeting. The last few weeks have been very stressful making sure everything is perfect and that we had a perfect car and crew ready to head to the ANDRA Grand Finals.
"For 13 years we have been competing with this Gforce Racecars '68 Camaro in both Competition Eliminator and Top Doorslammer, with half a dozen different combinations of engine, supercharger and transmission. We got there in the end. To win the Australian Top Doorslammer Championship by a massive 79 points shows the dominance and consistency of our team."
Qualifying began positively for Gregorini with a 5.742 run off the trailer on Friday night. With rain cancelling one qualifying session and postponing the other to Saturday, it was arguably the key moment in the championship chase.
"This season we have made over 20 5.7 runs, so we have a pretty good 'safe' tune-up locked away that just needs a few tweaks depending on track conditions. Our plan was to go out safe but strong, as we knew the weather was going to play a part in qualifying."
Gregorini had his Camaro in the staging lanes for the Saturday session, but with none of his rivals making a quicker pass and staying as top qualifier, he elected to not make a pass and focus on the first round of racing.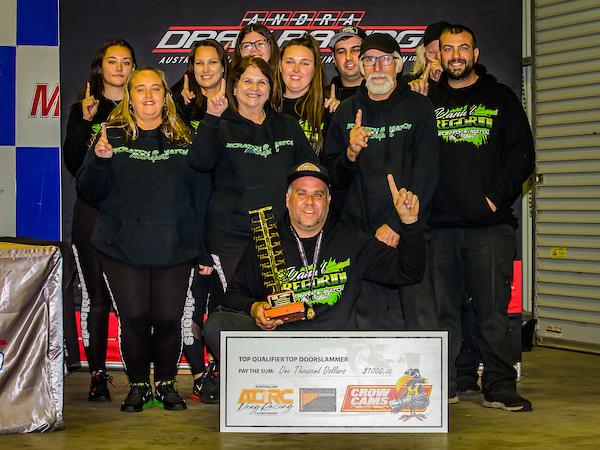 "To be honest, after the Westernationals we had the crank crack tested at Applied Automotive and discovered a fairly decent crack in the 7/8 cylinder journal, so we had to limp it home and do what we had to do. Having a qualifying session just a few hours prior to round one isn't ideal as if something went wrong it may have played a part in the championship. We saw both John Zappia and Stu Moresby hurt their engines in that session, so they had a mad thrash to make it out in time for the next round," he said.
"Top qualifying is always a good place to be and thanks to Decoglaze and Crow Cams for supporting the top qualifier's award."
The first round was critical for the championship, with the points still open depending on results. But when Zappia lost, the title was decided, and it was an emotional moment for Gregorini.
"I was strapped into the car, but once I found out the results I screamed with excitement, and I even had a tear in my eye," he said.
"This is something you dream of as a kid. Not long afterwards I had ANDRA CEO Brett Stevens knocking on my window to shake my hand and congratulate me. I only had about one minute to celebrate because then I had to get back to business for my round one pairing with Matt Abel."
The wait to run was extended after Steve Aldridge had a bad crash in his Plymouth Barracuda. The team from Scratch & Match Motorsport wish Steve a speedy recovery after the nasty incident. Gregorini eventually took the round one win on a 6.377 after spinning the tyres at half track, setting up a semi-final against Mark Chapman.
"Against Mark the car instantly drove out left, and I gave it two or three pedals, but I wasn't going to bin my car just for the win light. We had come to the ANDRA Grand Finals to get one job done and we did that. We had no more to prove," Gregorini said.
So, what comes next for Scratch & Match Motorsport? The immediate focus is to get Lisa Gregorini's licensing finished in her car, with both Camaros hopefully on track in Darwin in June.
"Lisa has been doing a lot of testing and progressing well, and as for me, I'm getting a handle on this new Stawicki Engines/Resolution Racing cam shaft that went in for the Westernationals," Daniel said. "We want to make my car a consistent 5.6 car on every lap, and from there we plan to run into the 5.50 zone."
Scratch & Match Motorsports' Daniel and Lisa wish to thank everybody who has helped the team over the last decade and more. Firstly to the crew: Peter Gregorini, Neil Bruce, Chris Petruzzo, Graham Bruce, Tony Petruzzo, Maria Gregorini, Renee Simms, Hannah Johns, Mikayla Tipper and Melly Howard. Along the way, thanks to Liz Johns, Adam Stewart, James Rowland, Matt Gullotto, Ryan Learmonth and Wayne Keys. There are many more that have helped over the years, and this reward is for the past and present.
Daniel and Lisa would like to thank ANDRA, ADRC, and Perth Motorplex along with all the staff and volunteers, and their major sponsors: Scratch & Match Autocolour, Kerb Doctor, Westcoast Siteworks, Kendall Oils, Oil & Energy, S & S Industries, Dalisa Estate Winery.
Thanks to our supporting sponsors: Signbiz WA, Go Print, Dirty Detailing, Final Drive Engineering, Gforce Race Cars, Resolution Racing Services, DMPE, Applied Automotive, Kinetic Engineering.