Photo by JB
---
It's been a while since we have seen the Supercharged Outlaw dragster of Victorian Ryan Van Dyk. His last appearance was the 2017 Australian Nationals at Calder Park, and now he's back for some more excitement in his first points round of the 2017/18 Summit Racing Equipment Sportsman Series.
"Since we last raced at The Nationals at Calder in January we found we had broken a lifter in the final," said Van Dyk.
"Unfortunately that put the team out for the remainder of the season so we set our focus on the 2017/18 season.
Van Dyk and his crew have spent the time going over the car from front to back in an effort to be as prepared as they can be for Rd 3 of the Summit Racing Equipment Sportsman coming up at Sunset Strip in Mildura on September 23-24.
"Whilst we would have loved to travel to Darwin and Alice Springs, it just wasn't feasible. So we've had to give our opposition a bit of a head start, but I'm confident we can still get to the 300 point maximum before the Grand Finals in Adelaide next March.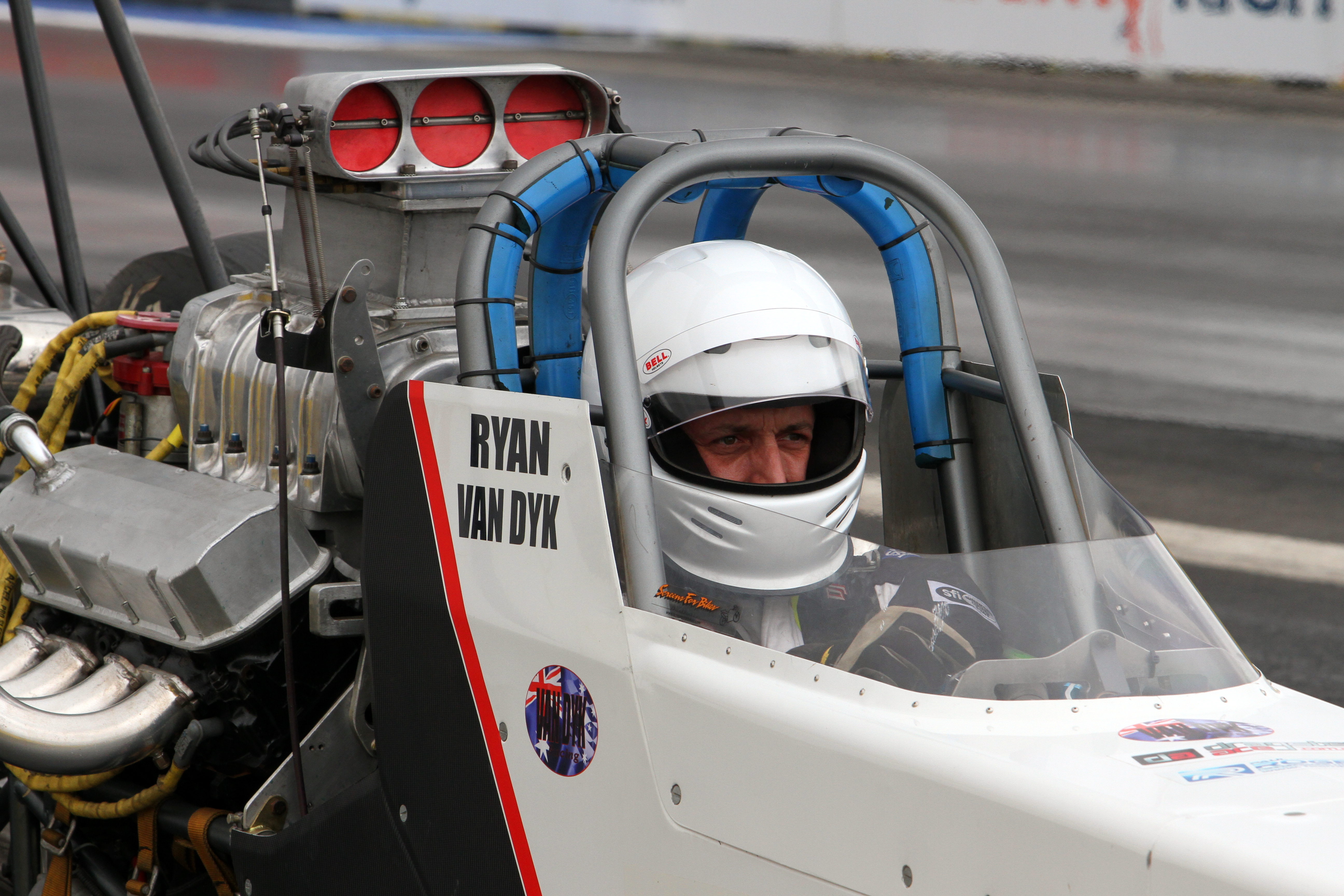 Photo by Joe Maday
---
"The last couple of seasons haven't really gone to plan with a few parts breakages and driver errors hampering our attempts to compete for a championship," said Van Dyk.
"However this year I'm extremely confident the car will be reliable and I can use the Pro Tree start to my advantage. I've got a great teacher when it comes to playing the game on the startline. Dad was one of the greats in Pro Stock so he knows all the tricks of the trade," grinned Van Dyk.
"I must thank the people who helped get us back out there – Paul Rogers Performance Transmissions, Marshall Custom Cams, and Dominator Torque Converters and Paul Turner from Kavanagh Auto Parts.
In closing, Van Dyk said, "Also huge thanks to my dad Hans for all of his tireless work and continued support of my racing, and my partner Hannah for her unwavering support. Without them, I wouldn't be able to get out there and race.
---
Sunset Nationals Info
What: Artworx presents the Sunset Strip Nationals – Rd 3 Summit Racing Equipment Sportsman Championship Series
Where: Mildura, Victoria
When: September 23 & 24
Brackets – Top Sportsman, Supercharged Outlaws, Supercomp, Modified, Super Sedan, Super Street, Modified Bike, Junior Dragster and Super Gas
Times: Saturday and Sunday 10am to 5pm
Cost: Adults $10.00. Kids under 16 Gold Coin
Website – Sunset Strip CLICK HERE
Facebook – Sunraysia Drag Racing Association Facebook CLICK HERE
Facebook Event Page – CLICK HERE
Summit Racing Equipment – CLICK HERE
END