Organisers of the Red CentreNATS 06 have celebrated the event as a great success with 750 car and bike entries making the trip into the heart of Australia for a one of a kind automotive festival across September 4-7, 2020.
Despite the current climate, enthusiasts from South Australia, Northern Territory, Queensland, Western Australia and even Tasmania attended the event.
With COVID-19 management in place and support from the Northern Territory Government, Red CentreNATS provided numerous venue control measures to keep the event as safe as possible.
The event would not have been possible without the outstanding effort from all the volunteer officials. Their dedication and contribution to the team is one of the things that makes Red CentreNATS so special.
This year Red CentreNATS saw the introduction on digital scrutineering, which organisers say not only reduced the use of paper but also shortened the time for each vehicle. This streamlined approach was said to be an amazing experience for staff, officials and spectators watching at Lasseters Casino. It also made the biggest difference to the entrants of whom were able to sign in, get their packs and permits and be cruising the streets sooner.
Red CentreNATS 06 also saw some new and improved changes at Blatherskite Park with the Great Northern 4WD Course be re-created to be bigger and better with more challenges for those keen to take on the track. Thrifty Grass Driving also saw more entrants participate through with a larger field of play available for two different runs.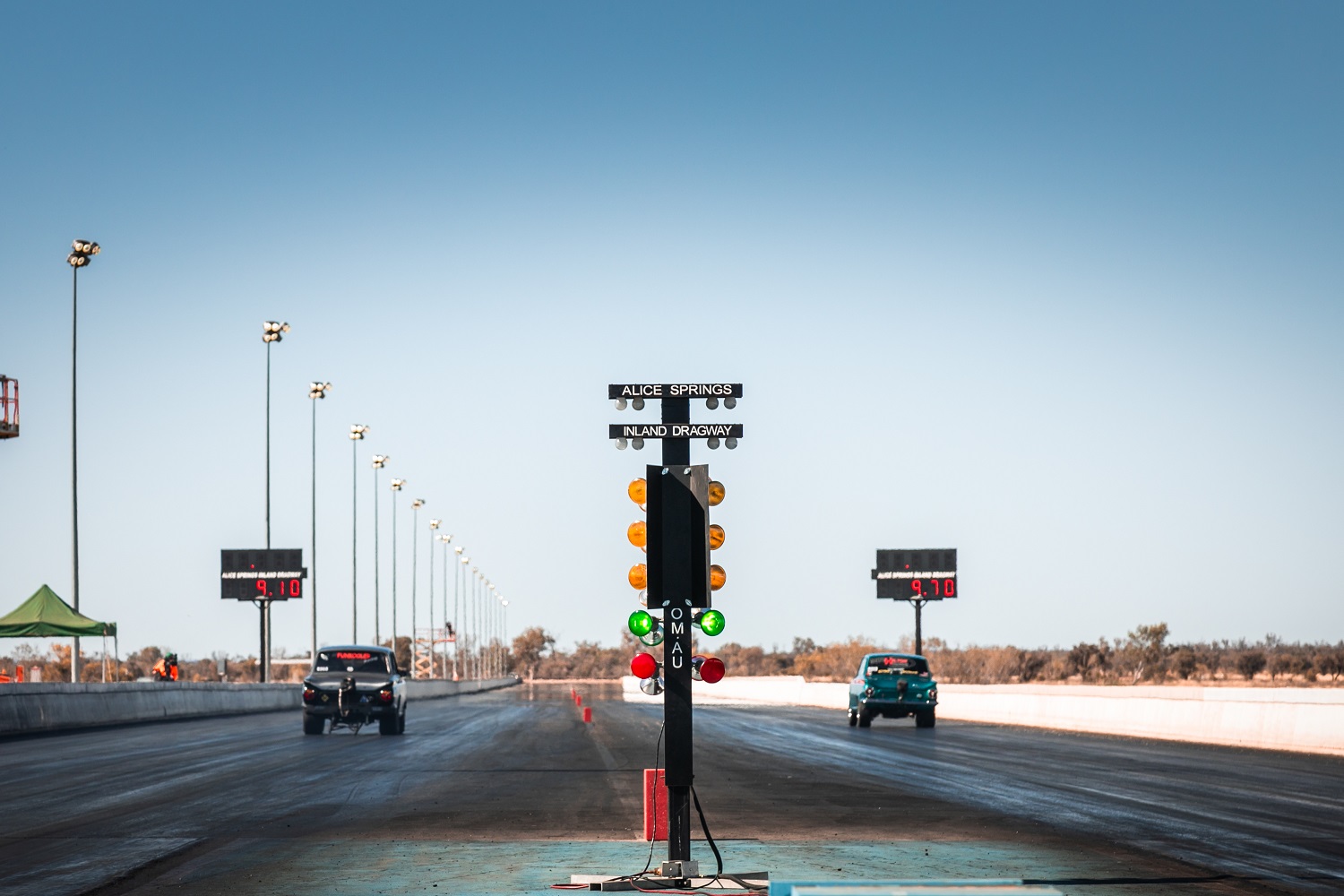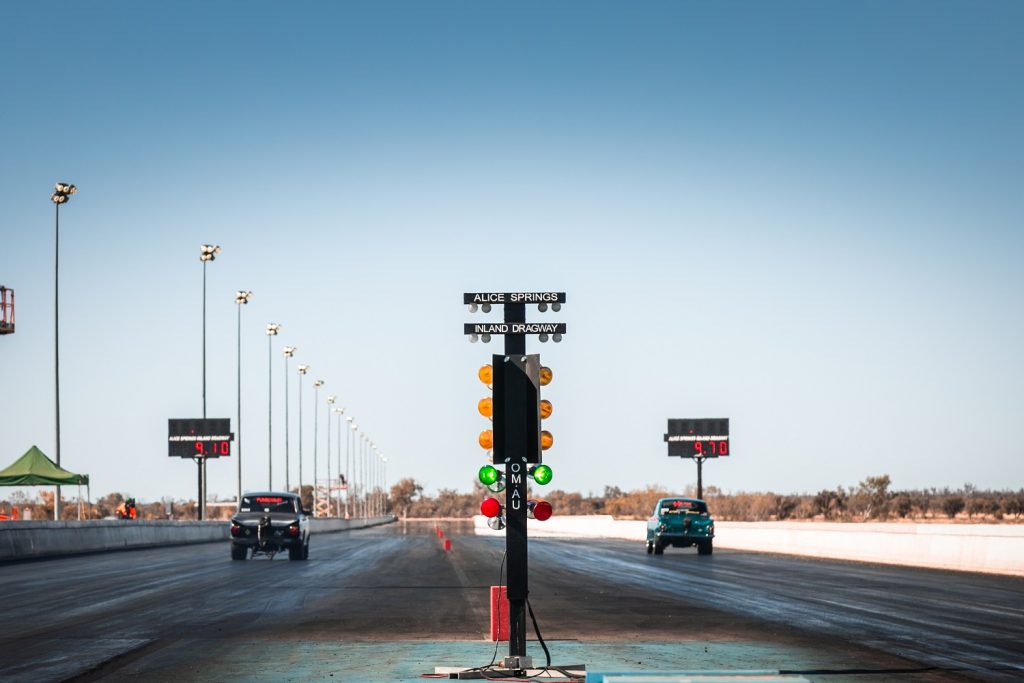 Alice Springs Inland Dragway featured ANDRA-sanctioned drag racing, burnouts and for the second year in a row, Heavy Hitters Drag Racing (see below for results).
In addition to the Burnout Champion and Masters Competitions, the Heavy Hitter categories provided some outstanding cars and bikes racing for over $20,000 in prize money. An awesome display of everything from heavy hitter bikes, six second cars, colourful burnout smoke and shredded tyres resulted in an outstanding performance of power and speed.
Wal Gersekowski in 1TUFHG was the back to back winner of the Red CentreNATS Burnout Masters Competition for both last year 05 and this year 06.
Lasseters Centre of Entertainment also saw Pre-Judging during Scrutineering and then Motorkhana on Saturday. Both teams had outstanding vehicles attend and display true showmanship for the officials and crowd involved.
It wouldn't be Red CentreNATS without the Road to Grand Champion taking entrants through the Shannons Show 'n' Shine, Motorkhana, Drag Racing, Thrifty Grass Driving and the Street Parade all to determine the best performing car and driver skills. This year's Red CentreNATS 06 Grand Champion was Graham Miller from Queensland.
Of course, a highlight for the town was the Yeperenye Shopping Centre Street Parade where locals and visitors lined the streets of Alice to watch hundreds of cars and bikes cruise through and celebrate with the community all things automotive.
Red CentreNATS 07 will take place from the 3rd-5th of September 2021. Entries are open now and event organisers cannot wait to see what next year brings.
For more information, visit www.redcentrenats.com.au
HEAVY HITTER DRAG RACING RESULTS:
WINNER
RUNNER UP
NOTES
6 SECONDS
N/A
N/A
Both cars broke before the final.

7 SECONDS
Craig Davis (#472)

Ford Mustang Coupe

7.271 secs

N/A
Solo pass in the final as Brian Smith's (#438) Ford Escort broke.
8 SECONDS
Vlado Turic (#406)

Nissan S14 Sedan

8.267 secs

Rick Shelton (#466)

Holden LJ Torana 2 door

9.220 secs

9 SECONDS
Craig Hodge (#506)

Chevy Nova Sedan

9.075 secs

Lance Larcombe (#365)

Chev Camaro Coupe

9.299 secs

10 SECONDS
Luke Matthews (#029)

Ford Cortina Sedan

10.205 secs

David Bonetti (#458)

Ford Hotrod Coupe

10.513 secs

11 SECONDS
Andrew Sutton (#076)

Holden HG Ute

11.163 secs

Allan Applebee (#066)

Holden Commodore Sedan

11.178 secs

BIKES
Ben Brusnahan (#719)

Suzuki GSX1300R Hayabusa

10.168 secs

Jack Kypreos (#407)

Suzuki Hayabusa Modified

24.176 secs

PRO
Darren Mallison (#408)

Ford Cortina Sedan

9.147 secs

Craig Hodge (#506)

Chevy Nova Sedan

9.116 secs

STREET
Lee Povey (#344)

Holden VH Wagon

12.222 secs

Anna Cruse (#069)

Nissan Patrol Wagon

14.388 secs