No less than three racers reset national records during the recent South Coast 660, with Chris Soldatos, Alex Panagiotidis and Jim Ioannidis all setting new markers in the Group Two Super Stock Eliminator record books.
Panagiotidis bowed out in the quarter-final against eventual event Super Comp winner Ioannidis, but not before resetting both ends of the E/GA record to 5.562s and 122.51mph in his Camaro.
"We were pleased with the performance of the car. We had a great time at the track, it is a really nice facility. We had never been to Portland before and we just enjoyed the weekend a lot and we had a great time," Panagiotidis said.
"It is a fairly new combination and we are still sort of finding what it likes, we weren't surprised (by the record) but we were happy –we have only raced this season with this combination so we are pleased we have made some gains with the car from the first couple of races we have done, and we are getting somewhere with the car.
"I hope so, I definitely hope so!" laughed Panagiotidis when asked if there was 'more in it'.
"It is a new combination and we are still just learning what it likes but it is definitely improving as we go along. We are going to go to Perth next month and we hope it goes a little bit quicker again!"
For Pro Stock regular Soldatos, who was driving Craig Geddes' Cavalier at the event, resetting the D/GA speed record to 129.25mph was the icing on the cake of a fun weekend.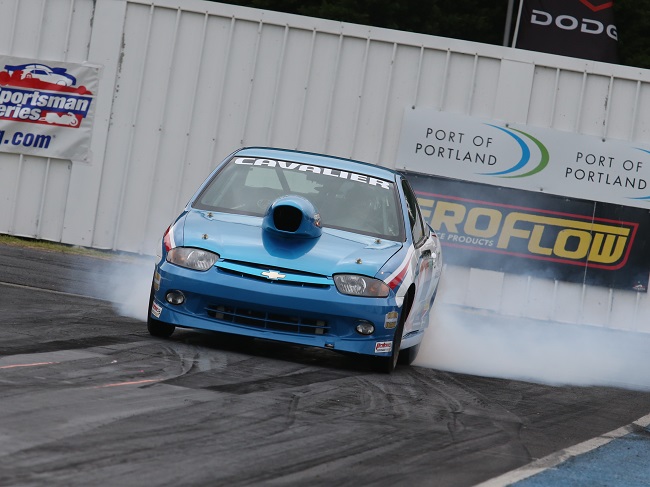 "It was a really good weekend, it is a pretty good little track down there with a good set up and I quite enjoyed it – to set the record was a bit of the icing on the cake!" Soldatos said.
"I only did three runs (in the Cavalier) but it is a nice little car to drive – with a few more runs in it we would have gone pretty well I reckon, I hadn't driven an automatic car for a lot of years, and it is a bit different to driving a Pro Stock car, but I got the hang of it allright and overall it was a really good weekend and I had a great time."
Ioannidis reset both ends of the C/MSA record to 6.050s and 112.17mph in his Commodore as part of a clean-sweep of the weekend – first taking out the Top Qualifiers Medallion – sponsored by The Tile Co-The Shower People, KC Tools and Summit Racing, before going on to claim the event win in Super Comp.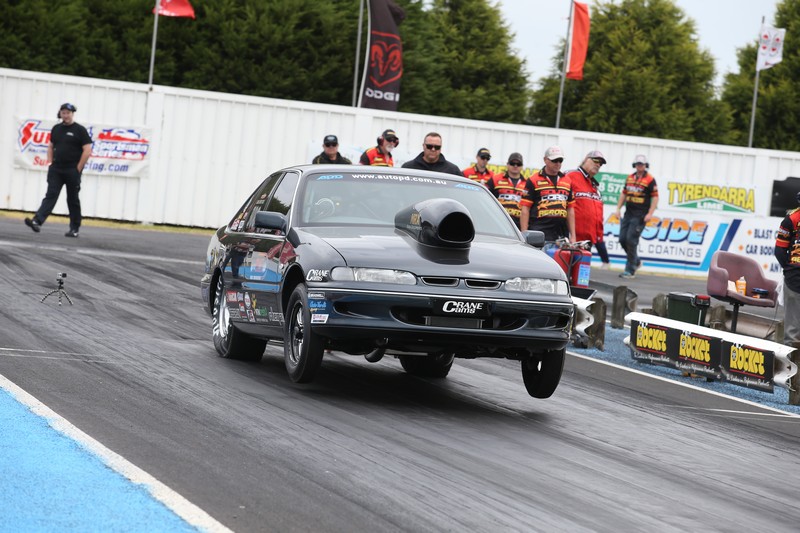 "I am really happy with the weekend's results, and with the car's performance. The car did everything it was supposed to do and we still have a bit in reserve which is just great," Ioannidis said after collecting his trophy at the South Coast 660.
"Also to take the clean sweep with top qualifying, taking the round win and both ends of the record while maxxing out on the points which puts us in the championship lead – it is just great and we will see now what the future holds! I have to thank my crew – they are amazing and without them we don't race, we race as a team – I drive it, but it is a team effort."
For a full listing of all the 660ft records following the South Coast 660, please click here. For full results from the event, please please click here
Round eight of the Summit Racing Equipment Sportsman Series will be held at the Perth Motorplex across March 3-4. For more information, visit www.andra.com.au and www.themotorplex.com.au
IMAGES FROM TOP: Alex Panagiotids, Chris Soldatos, Jim Ioannidis. All images by OUTLAW IMAGES