Day one of the South Coast 660 has hosted plenty of exciting qualifying action for more than 150 event entrants at Portland's South Coast Raceway.
The event marks round seven of the 2019/2020 Summit Racing Equipment Sportsman Series and will conclude tomorrow (Sunday 12 January) with a full day of racing for the 10 brackets.
Claiming the DecoGlaze Glass Splashbacks Top Qualifier Medallions today were Sarah Donnelly (Summit Racing Equipment Junior Dragster), Gavin Dohnt (Modified Bike), Peter Jephson (Super Street), Brendan Carr (Super Sedan), Simon Barlow (Modified), Dean Cleary (Top Sportsman), Rob Cassar (Competition Bike), Christine Steffens (Supercharged Outlaws), Jason Wilson (Super Gas) and Craig Geddes, who was also awarded as the Sunoco Evo 10 Race Fuels Top Qualifier for his efforts in Super Comp.
After a wheel-standing start to his qualifying, Brendan Carr from Bushfield (Victoria) was ecstatic to hear he had taken out the top spot in qualifying in Super Sedan this afternoon.
"The first run was very, very interesting as the front wheels lifted up higher than I was expecting!" he chuckled.
"After that we went back to the pits and altered the car set up for the last two runs. In the second run I did a PB and then for the third run we adjusted a couple of things to slow the vehicle down a bit to stay in our bracket and it seemed to work well.
"I was actually blown away (to top qualify), I never expected that and we are super excited to get back and try and get some more seat time and have some great times.
"I am probably feeling a lot more confident about tomorrow now after getting the three runs done today. Obviously Sunday is a new day and we are looking forward to working alongside some good people and fast cars," he said, while thanking Carr Concrete Constructions, Peter Baulch Bridgestone Warrnambool, Premium Paint Works, the Bad Bee Racing Team and his wife for all of their support of his racing.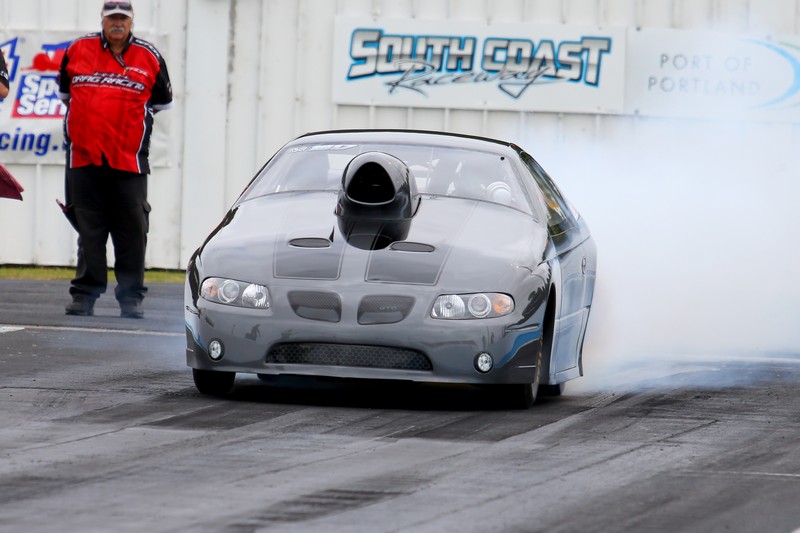 For Portland's Dean Cleary, the result marks a turn in performance for his Pontiac GTO.
"I just changed the torque converter, it hasn't been quite right so far so I sent it back to get changed and today it launched and 60 footed like it was supposed to," Cleary said.
"On the first run it went 1.04 to the 60 foot and then turned left, so we came back and made a suspension change and in the second run it went straight and set a personal best of 4.63s at 158mph.
"In the third run it still went left a little bit so I have to do another slight bar change and we will see what happens tomorrow, but I am really happy with the PB so far – the car has had this potential for a while so it is great to finally be getting it to where it should be.
"It is hard to say (how tomorrow is looking) at the moment as we haven't had three consistent runs, but we will just go out there, come up with a number and send it and see what happens!" he concluded while thanking his crew – made up of his dad (John), his Uncle Peter and his son Chad as well as Chad's girlfriend, Lara – for their support.
For Jason Wilson in Super Gas, today's result was a pleasant surprise.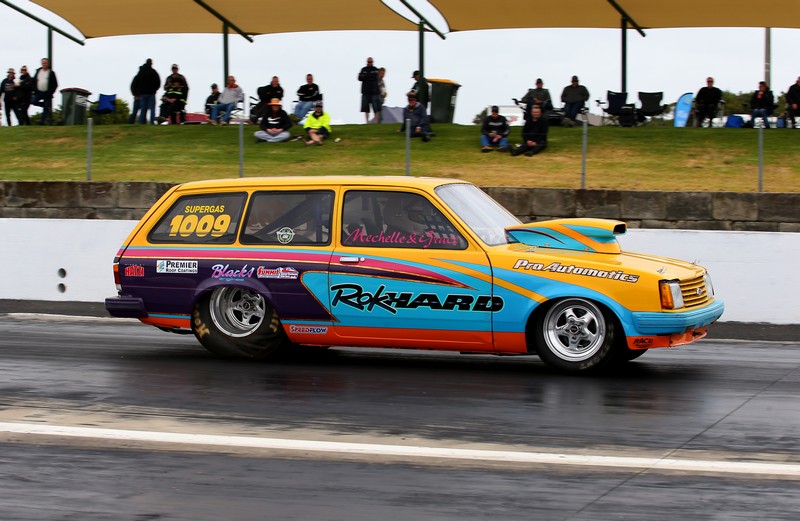 "I couldn't believe it to be honest! Those guys are a good group of racers and normally a 6.31 wouldn't be enough to get it, but I will take it! And it is a bye in the first round so that is even better!" laughed Wilson while thanking his family and Graham from Top Notch Race Cars for their support as well as South Coast Raceway.
"The day did go pretty smoothly – we made a few changes to the car during the week to get it to react a bit better, and it paid off for us, that is for sure.
"Like last time I am feeling pretty confident (ahead of race day) because we have a consistent car and I have improved the reaction times a bit, I am starting to cut a light okay. And having a bye to the semi, you sort of have half a chance you know. We will just see what happens."
The South Coast 660 action will continue tomorrow, Sunday 12 January, at South Coast Raceway from 10.00am. For event information, visit www.southcoastraceway.com.au