With two wins from the first two championship events of the season, Gary Phillips and his Lucas Oils team head to Sydney Dragway on May 2-3 for the Nitro Champs, looking to continue the strong form that has seen them catapult to the top of the Top Alcohol championship standings.
"We've had a great season so far in our Lucas Oils Funny Car," Phillips said. "From the time the car rolled out of the box in Perth, it has been near perfect, with top qualifying and top speed performances at both events, in addition to bracket-car like consistency".
Phillips has amassed a points tally that is only 10 shy of a perfect season so far, and knows the importance of continuing this level of performance if he wants to keep ahead of the competition.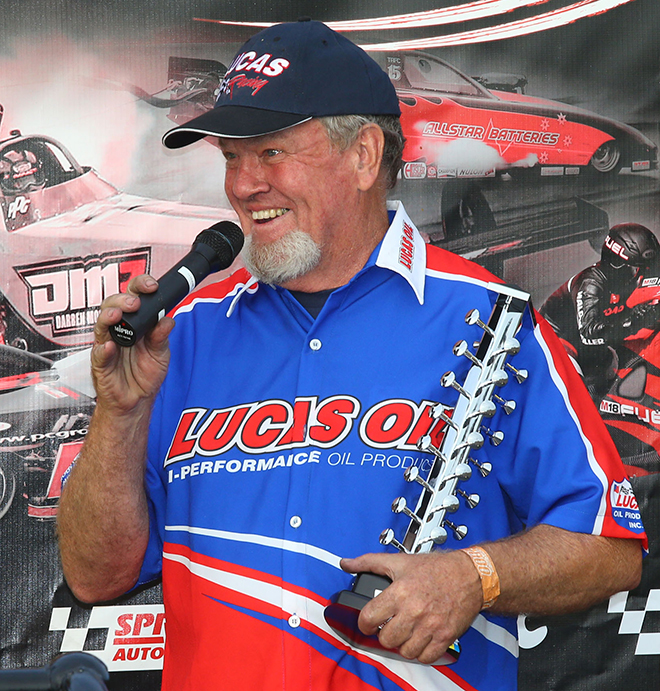 "We know there is a big target on our back with how well the car has been performing [running 5.40s on an extremely consistent basis], and a couple of teams have even hired some big name tuners for the event to try and stop us. We're only leading by 68 points, so we know that we have to be on our A-game from the very first qualifying run".
"The Nitro Champs is known for fantastic weather conditions, and with the early onset of cooler conditions on the East Coast, there should be some very quick and fast runs at the event. To help us capitalise on this, we'll be trying some new products that have been added to the outstanding range that Lucas Oil offers".
With the Easter event at Willowbank being rain affected, it has given the team extra preparation time for their assault on the Sydney Dragway quarter-mile.
"We were devastated that we didn't get to race at our home track on the Easter long weekend, but it has also afforded us the opportunity to become more prepared for Sydney. We are extremely comfortable with the current car set up, and hopefully we can try to improve on the 5.43 at a national record setting 267 mph that we ran in Perth. The weather will be there to do it".
"We're knocking on wood that the deluge of bad luck we had last time in Sydney is behind us, and we can take full advantage of the points on offer at the Nitro Champs for Lucas Oil Products, Speedflow, Leanders Clutches, J Payne Metalcraft, Champion Spark Plugs and Odyssey Batteries".
To follow all the progress of Gary & Debbie Phillips Racing, head to www.facebook.com/GaryPhillipsRacing
Images courtesy: Grant Stephens / Drag News Australia