At the recent South Coast 660 at Portland's South Coast Raceway, Modified racer Josh Baker not only went all the way to the final, but also ran a Perfect Light in the process with a 0.000 during the semi-final round.
"The South Coast 660 started off perfectly for us in qualifying, with the car running 5.46s, 5.45s and 5.46s across the three runs," Baker explained.
"The track was perfect, and all was set for an amazing Sunday of racing.
"This event is a huge one for us as a family as four years ago, my dad (Craig Baker) won the event only a week after his mother passed away – which was huge for him to win – and then he came back a year later and won it again.
"I have managed to make it to the final two years' straight now to make it a total of four years in a row the car has made it to the final. Unfortunately, I have had to settle for the runners-up position both times, but we will definitely be back out and ready next year to hopefully go one further!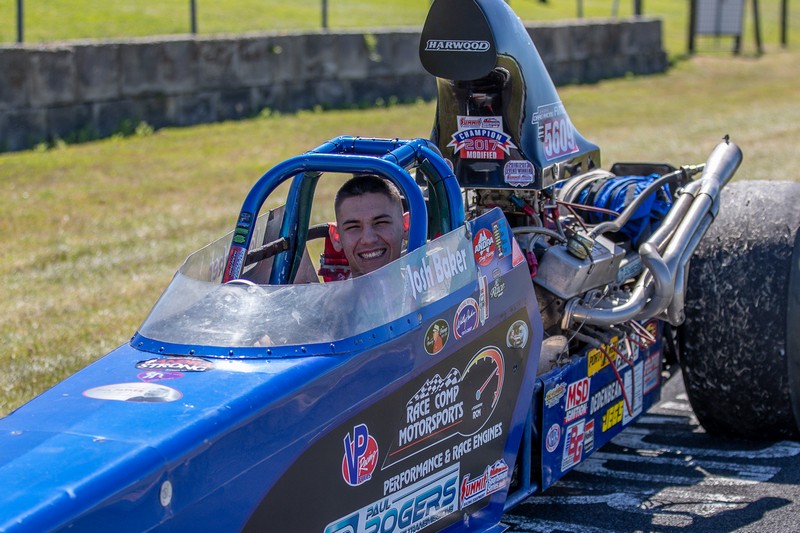 "When it came to the Perfect Light run, the run was like any other. It was the semi-finals, and I really needed that advantage of a better reaction time because the car ran a little off our dial in. So, it actually won me the race.
"After I released the trans brake button I was a bit worried about how close it would come to a red and once I saw the green I knew it had to have been close to a perfect light.
"When dad came to pick me up down the bottom end and showed me the ticket I was very proud of myself to be completely honest! I have cut a 0.000 twice before in qualifying but to do it in racing and in the semi-final and when I really needed it was just great – this is my first time claiming the Perfect Light award with a 0.000 in racing."
Baker is full of praise for the South Coast Raceway event, which was the first Summit Racing Equipment Sportsman Series event held since COVID-19 forced a stop to proceedings in March of last year.
"In my opinion, the event was perfect. It was so smoothly run, they were on schedule and the track was amazing the whole weekend," said the 19-year-old, who has been racing since starting out in the Summit Racing Equipment Junior Dragster bracket in 2014.
"I didn't hear one bad word about the track all weekend – the team at Portland always know how to put on an amazing event!"
When it comes to Baker's plans for the rest of the season, he is unsure at this stage on what events he will be appearing at for a very exciting reason.
"My partner and fellow racer Nicole is due to pop with our son any day now, so it will be interesting to see how we play out the rest of the season," Baker explained.
"Even if I cannot get to another Summit Racing Equipment Sportsman Series event this season, I am sure we will be back out next season hungrier than ever and with one more little one there to support us!
"In the meantime, I would like to thank my father who takes the car to all of the events for me and is always my number one supporter; Nicole and her father Chris for helping out the whole weekend; and my mum Audrey and brother Tim sitting on the beach cheering me on with the live stream.
"I would also like to thank Paul Rogers Snr and Paul Rogers Jnr of Paul Rogers Performance Transmissions for giving us a great product and support, as well as Wayne Cartledge from Race Comp Motorsports for their ongoing support with the motor."
For full results from the 2021 South Coast 660, please click here.
To see the current points tally ahead of the next round of the extended 19/20/21 Summit Racing Equipment Sportsman Series, please click here.
The Summit Racing Equipment Sportsman Series will now travel to the Perth Motorplex for the Westernationals before returning to Victoria for the Twilight Nationals at Mildura's Sunset Strip across March 12-13. Confirmation about the dates and venue of the ANDRA Grand Final is expected to be confirmed in the coming days.
The 19/20/21 Summit Racing Equipment Sportsman Series season which has been extended in the face of COVID-19 to not only deliver successful completion of the current competition, but also a record prize pool thanks to Summit Racing Equipment. The performance powerhouse has announced it will offer 50 percent extra end of season prize money for a total prize pool of more than $100k including $10k for the prestigious John Storm Memorial, creating the biggest prize pool in Australian Drag Racing history.
For more information, visit www.andra.com.au