The Palmyra Drag Racing Club played host to a successful running of round two of the 2018 Summit Racing Queensland Championships on the weekend.
Claiming the event honours after two great days of on-track action at the Mackay race track were Anthony Walker (Super Street), Matt Halpin (Street Bike), Earl McCallum (Super Sedan), Rodney Hansen (Supercharged Outlaws), Dale Sonogan (Modified/Top Sportsman, Tayla Kelly (Junior Dragster), Sonja Wagensveld (Street) and Laeith Skinner (Modified Bike).
Runners-up were Richard Dawe (Super Street), Rachel Wilkins (Street Bike), Gavin List (Super Sedan), Randall Mohr (Supercharged Outlaws), Michael Obst (Modified/Top Sportsman), Sarah Brett (Junior Dragster), Sarah Langridge (Street) and Peter Johnson (Modified Bike).
After coming home as the runner-up for round one in the Outlaws bracket, Hansen was happy to go one better at Palmyra Raceway for round two.
"It was a good weekend, it is always good to turn up at a race track and see huge improvements, that is always a great thing," said Hansen, who thanks Gilroy's Automatics, Paigepower Race Engines and Hansen's Automotive for their support of his racing.
"We were happy with where we qualified and then went into racing and unfortunately there were a few guys with some breakages which left a few bye runs and so forth.
"All in all though the car went well, and my crew Jason Page and Cory Hess did a great job – it makes my job easy when we have the car doing everything as it should.
"You never expect a win – it is always a tough bracket to race in and we all have to race to the same conditions and be able to adapt to the conditions of the day. The Palmyra club and its guys and girls have got that pretty well down-pat now and they gave us a good surface to race on. They also did a great job with the BBQ for the racers on the Friday night followed by breakfast on the Saturday morning – it is great to see stuff like that which brings everyone together and adds a social aspect to the event too.
"The Summit Racing Queensland Championships is a great series, we all need to get behind it and keep it moving forward and evolving so the brackets and the series can grow."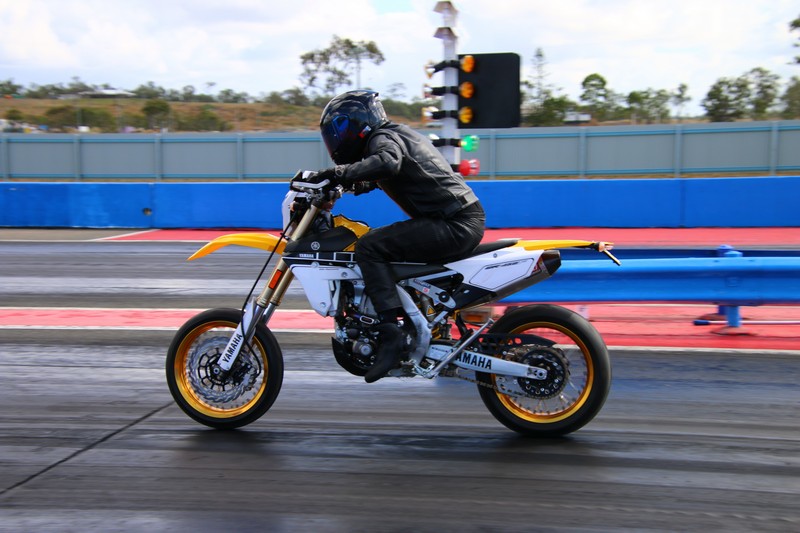 Another racer going building on their round one efforts to take the win at the weekend was Street Bike racer Matt Halpin, going all the way to the win after taking the runner-up honours at round one.
"It was a good weekend for us, everything went smoothly. It was our first trip up to Palmyra and we were really happy with the track and how it all went, it was a well-run show," Halpin said, while thanking Yamaha dealership Halpin Motors for their support of his racing.
"I ran both of the bike classes at the weekend, Street Bike and Modified Bike. We had a bit of luck I think in the Street Bike class and in Modified Bike I just wasn't quite as good as a few of the others on the day.
"It was certainly busy racing two bikes, we did it at round one and will be doing it again at round three too – it will be good to go up there and have some more fun; Benaraby is always a fun track and I love going up there."
The third and final round of the 2018 Summit Racing Queensland Championship will be held at Benaraby Raceway on the 22nd of September, 2018.
For more information on the Summit Racing Queensland Championship, please visit https://www.facebook.com/andra.QLD.Champs/
IMAGES ABOVE: RODNEY HANSEN, MATT HALPIN. IMAGE CREDIT: ROGUE SNAPPER PHOTOGRAPHY
IMAGES BELOW (IN ORDER TOP TO BOTTOM): ANTHONY WALKER, EARL MCCALLUM, DALE SONOGAN, TAYLA KELLY, LAEITH SKINNER, SONJA WAGENSVELD. ALL PHOTOS CREDIT TO ROGUE SNAPPER PHOTOGRAPHY