Grant O'Rourke has got his 2015/2016 ANDRA Top Doorslammer season off to a strong start at Hidden Valley Drag Strip over the weekend, setting down three personal bests before securing himself a place in the final against eventual winner Paul Cannuli.
The Friday of the season-opener was an emotional day for O'Rourke Motorsport, marking 12 months since the downing of MH17 in which close personal friends of Grant and wife Debbie lost three children and their grandfather.
"Friday marked twelve months since the tragedy of MH17 which shattered families worldwide and personally touched close friends of ours," said Grant O'Rourke. "While a year has now passed, the pain remains, and everyone on our team took time out on Friday to think of those affected and remember Mo, Evie, Otis and Nick and their fellow victims – may they rest in peace."
While emotional, the team still had a job to do on Friday – with three rounds of qualifying for both Grant's Top Doorslammer bracket and wife Debbie's Top Alcohol class ahead of Saturday's racing.
For Grant, qualifying would bring three personal bests – a 5.866 second pass, 5.82 second pass and a 5.794 second pass – seeing him qualify second behind eight-time champion John Zappia and become one of only four drivers to have run a '5.70s' pass during official ANDRA competition (alongside Zappia, Robin Judd and Peter Kapiris); while race day Saturday would see him make it all the way to the final.
In the final, both racers suffered tyre shake at about 60 foot, with Cannuli recovering fastest to take the win after O'Rourke had earlier taken victories over Peter Kapiris and Mark Belleri.
"This is really a team effort and I am only one part of the team. Trust me, when I make a mistake the boys are very quick to let me know and at the end of the day I get in the car and I do what they tell me to do, so my success is in every way their success," said Grant O'Rourke.
"They worked exceptionally hard all weekend with a late night Friday pulling the engine down to make sure all was good and the supercharger and cylinder heads having to be taken off and the main bearing changed before the final when cylinder seven got very hot thanks to me having to pedal a few times in the semi-final against Mark Belleri.
"While we didn't take out the overall event win we made it all the way to the final and took home three personal bests in the ANDRA season-opener and we are happy with that."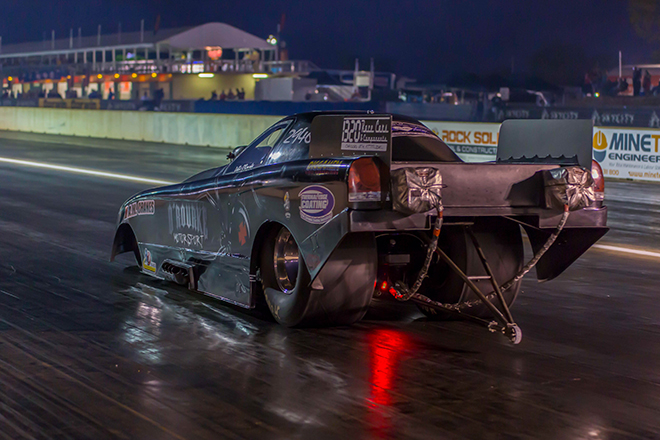 For Debbie, Hidden Valley was a tough weekend at the office.
"In the first round of qualifying the clutch pulled me through the beams, in the second I under-powered the track and shook the tyres, and in the third I shook hard towards the centre line," said Debbie.
"I managed to make the field as seventh-fastest before an airline popped off during my burn-out for round one seeing me have to shut down on the start line.
"I was happy to be able to come out later in the night for a grudge match with Aaron Deering, and while I might not have won the race I was able to put down my best time of the weekend (5.782) and the crowd certainly appreciated our burnout!
"While the weekend may not have gone to plan for me it was still a great event and I am really proud of Grant and the boys, and also of the event staff themselves for putting together a great event.
"Santo Rapisarda and his team put on a great Top Fuel match race with four side-by-side full side passes including a new track record by Damien Harris and the event overall was just great – congratulations have to go to Hidden Valley Drag Racing Association President and Top Alcohol Funny Car driver Scott MacLean on a great event, and also the win in Top Alcohol!"
The O'Rourke Motorsport team will return to Hidden Valley in just under a month for the next round of the ANDRA Top Doorslammer championship across August 14-15.
Images: O'Rourke Motorsport