Ben Bray aims to build on the steady progress made in his new Corvette last month when the ANDRA Drag Racing Series gets underway this Friday and Saturday at Hidden Valley Drag Strip.
Making his debut in the brand new Century Batteries 1979 Corvette Stingray three weeks ago, the two-time Top Doorslammer champ qualified in sixth position ensuring race day action against Mark Belleri.
Despite the early exit from eliminations, the team were happy to make the field following "wholesale changes" on every pass made that weekend.
"We were very happy to make the field in the first event as the pre event testing hadn't gone too well," said Bray.
"It's hard to say (how we will go) at the NT Titles as there were a few cars at the first event that had much more potential than they showed there.
"We'll just keep working on it and hopefully in a forward direction. New cars can take quite a while to get right.
"We haven't really seen any figures that would suggest an (aerodynamic) advantage over the Monaro and we don't expect to see too much difference in that area but lets hope it slips through the air easier than Dad's 57."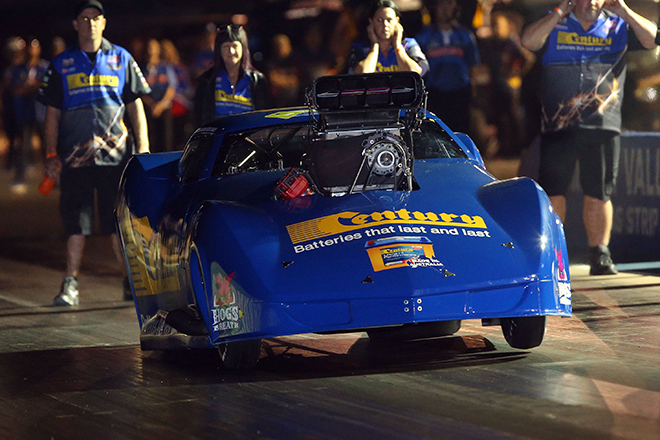 The Bray Family are crowd favourites in Darwin with father Victor Bray a regular visitor to Hidden Valley for approximately 20 years, many of those with Ben at his side.
Having witnessed the evolution of the facility, the younger Bray says Hidden Valley is now a world-class venue with the management to match.
"Hidden Valley is a fantastic place to race especially nowadays with the new surface," added Bray.
"Me and Dad have been racing here for many years and Dad for many years before that as well. I think he said nearly 20 years as well as performing here with our demo cars at the V8 race ever since its inception.
"The old surface was very tricky due to its age but this new surface and the ever increasing facilities at Hidden Valley along with the current management make it a world class facility with a bright future as a go to place for the Series."
The brute force of Top Doorslammer returns to Hidden Valley Drag Strip for Round 2 of the ANDRA Drag Racing Series as part of the NT Titles this weekend August 14-15.
Qualifying will begin at 6pm on Friday and will continue for local Sportsman brackets 4:00pm Saturday afternoon. Feature racing begins at 6:00pm.
For more information please visit www.hiddenvalleydrags.com
Images: Grant Stephens / Drag News Australia