There is always something about a fresh start, and Nitro Up North V3 was the perfect event to kick off the 2017/18 Summit Racing Equipment Sportsman Series.
The Nitro Up North team headed by Scott and Rachel MacLean certainly worked hard to lift the bar up from last year, and with static displays and nitro fire-ups around town, the excitement levels were high leading into the biggest drag racing show in the Northern Territory. Maclean also acknowledged the support for the event praising the NT Government in conjunction with Motorsport NT for their help and assistance for the event.
With four nitro Top Fuel dragsters in the pits, including star attraction Kelly Bettes – Australia's Quickest and Fastest female racer, plenty of media for Nitro Up North was assured, including the front page of the NT News.
The overall car count was over 120 with racers coming over from Melbourne and Perth, ready to open the season and earn championship points in the first of a 10-event series.
In Supercharged Outlaws qualifying local racer, Adam Murrihy was ready to defend his title from last season, nailing the top qualifying position with a 6.58 ET in his AM Cranes Altered. In second place was fellow Northern Territory racer Bronte Hennings driving his Corvette to a 6.732 ET, while Victorian Justin Russell put in a 6.78 run for third!
Top Sportsman was lead by Humpty Doo racer Todd Knight's 6.58/209.26 mph run in his Pontiac. Joining him in second spot was Dieter Herrmann in 7.44 seconds. The Trans-Am of West Aussie lady Amanda Martin sat in third with a 7.85.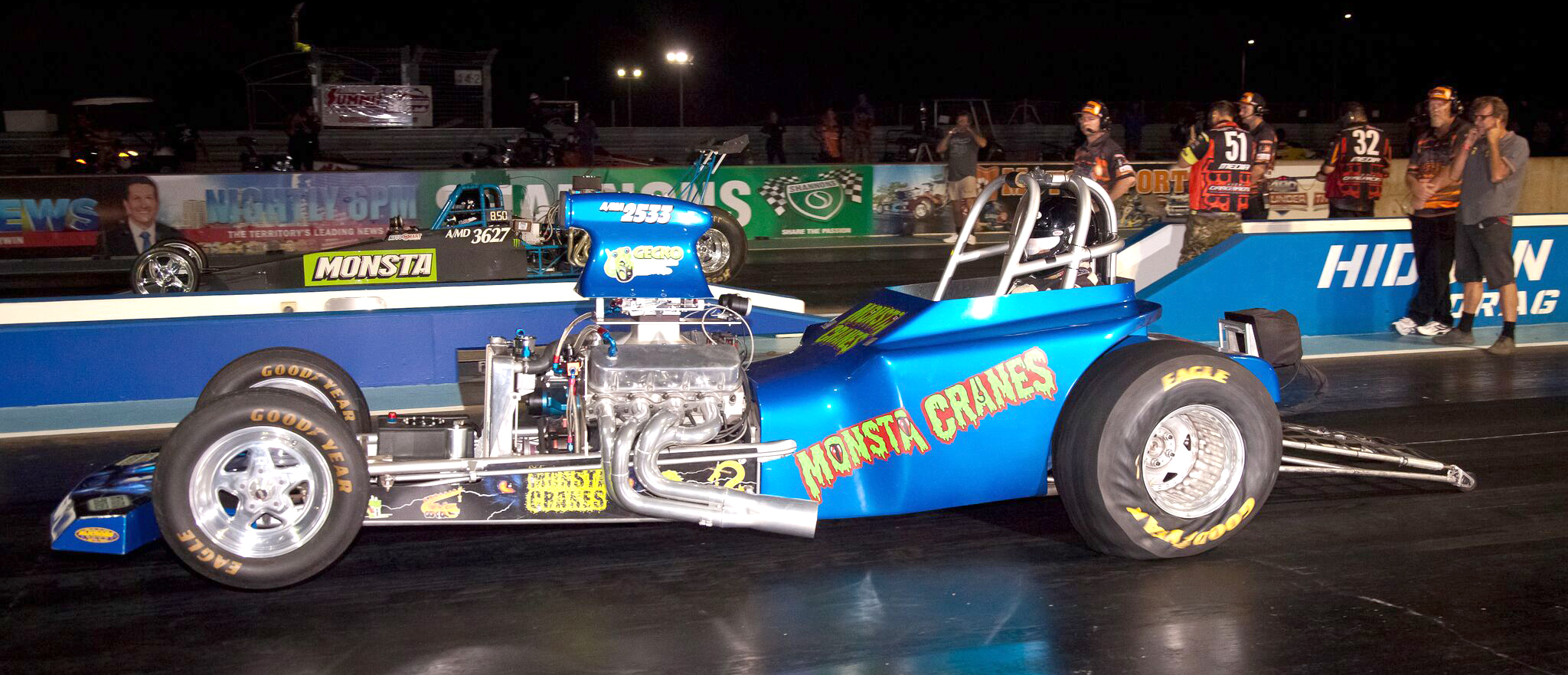 Grant Radcliffe photo by Edmund Forman
The Modified class was lead by local racer Grant Radcliffe who pushed his 23 Altered to a 7.86 at 163 mph. David Bonetti from South Australia sat in second place with a time of 8.05 and Victorian Matt Czerny ran his dragster to a time of 8.54 seconds for third.
Ashley Smith put his Camaro on top of the Super Sedan list with an 8.608 that was just ahead of South Australian Leon Davies' 8.609. Rob Evan, also from SA filled third place in his Chrysler.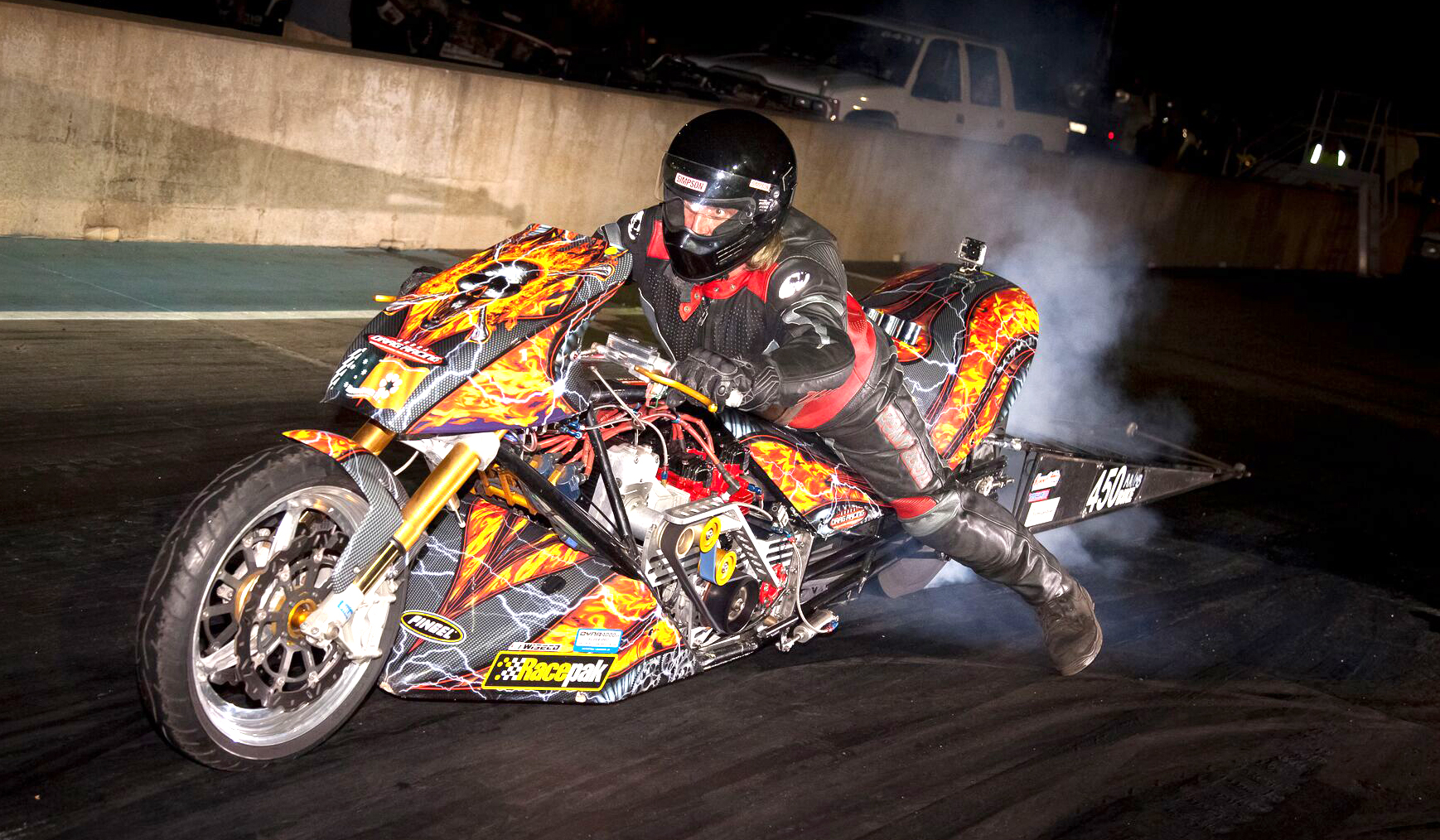 Clive Mainland photo by Edmund Forman
Modified Bike was the biggest sportsman bracket at Nitro Up North with 18 riders. Clive Mainland repeated his pole from last year with an 8.08 ET at 168 mph. The Harley Davidson of Heath Costello went 8.46 for second place and South Australian Danny Rickard put his Harley in third place. Two-time ANDRA Champ Bryan Finn qualified 16th with a personal best 10.874.
Tony Wood from WA had a frightening fall on his Yamaha in the braking area and spent the night in hospital for observation.
The NT based Commodore of Theo Karamannidis recorded a run in 11.03 seconds to finish No.1, while Tim Bryan clocked an 11.10 for second place. The HX Monaro of Craig Caton from Western Australia sat in third spot with an 11.17 ET.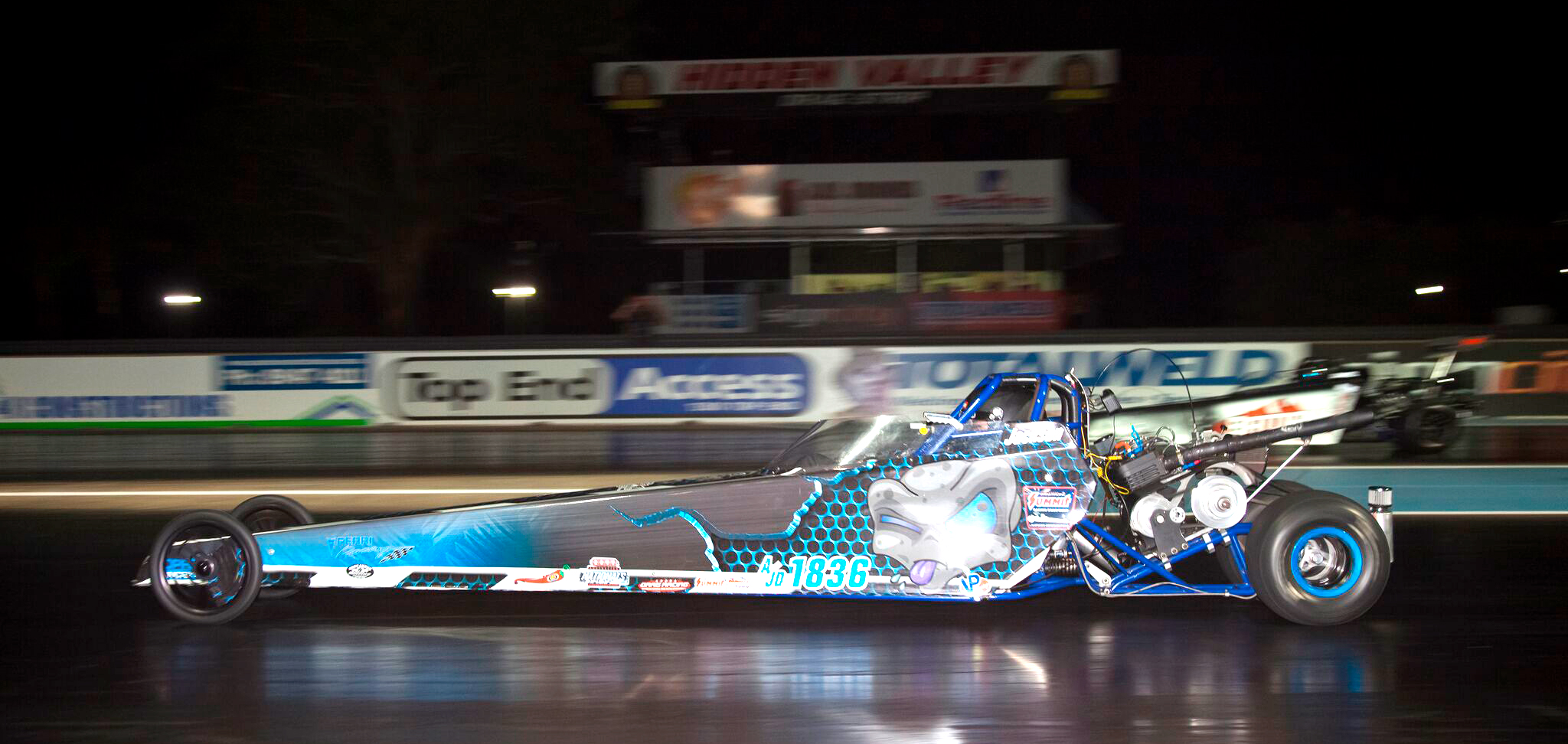 Samuel Perri photo by Edmund Forman
For the first time ever, Sydney Junior Dragster brothers Samuel and Jackson Perri sat in the top two positions with ETs of 8.002 and 8.005. Bradley Bishop, also from NSW, recorded an ET of 8.005 for third.
Eliminations head Saturdays action kicking off from 4 pm
Watch the OVO Livestream on ANDRA's Facebook Feed and also at www.andra.com.au
Qualifying Results can be found HERE
END