What went wrong for defending Competition Eliminator Champion Craig Geddes at the Desert Nationals in Alice Springs earlier this year?
Geddes was virtually invincible last season winning five out of six final rounds in six events contested. This season began in similar fashion with a first ever trip to Hidden Valley Drag Strip resulting in a final round runner up to Kim Fardella in the combined Super Comp bracket.
Unfortunately on that pass the engine that carried Geddes to multiple National Records and a Championship took a bow for the final time.
"We had an awesome time doing the round trip to Darwin and Alice Springs," said Geddes.
"Darwin went well but unfortunately in the final our old faithful 284ci engine died.
"We then headed down to Alice early to fit the spare 352 engine which had never been in the car previously so it required quite a bit of plumbing, different clutch and diff ratio.
"We didn't have enough ballast with us to make the car B/D legal with the extra cubes so we needed to enter A/D even though in theory 50 cubic inches short."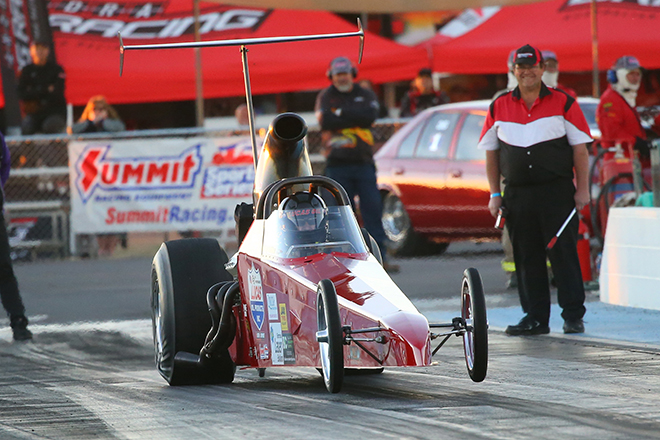 Geddes suffered his first, first round exit since January 2015 at the Desert Nationals but despite the set back, the team were happy given the thrash job to be ready and the limited preparation.
"We knew it would be difficult to be ultra competitive but it was more important to support the category and event."
"After qualifying was done we managed to get within 0.07 of the A/D National record, not bad in only three runs with a new combo.
"We put up a good fight first round of eliminations against Dave Dequen from WA but we were beaten by 0.002 to the line.
"It will now be good to settle into some racing a bit closer to home in the short term and keep building on the points we have gained so far."
Closer to home includes the next hit out at Calder Park Raceway for the Rowe Memorial Super Stock Classic, an event he won last year.
But Geddes and the team are also looking further afield to the Goldenstates February 3-4 and the Westernationals March 4-5 at Perth Motorplex.
"We are certainly looking at the prospect of racing both events in WA now they are back into the ANDRA Summit Racing Equipment Sportsman Series although those guys over there are nasty, they tend to beat up on us real bad. WA is our voodoo track but sooner or later we need to turn that around.
"Next year will be very busy for us business-wise as we go through a major expansion phase and start production on driveline components for the new Thales Hawkai Military Vehicle.
"Due to this there is a possibility we may struggle to attend every event but we will certainly be trying our hardest to retain the Champions status and have another shot at the John Storm Memorial Trophy for the most successful Sportsman racer in the country."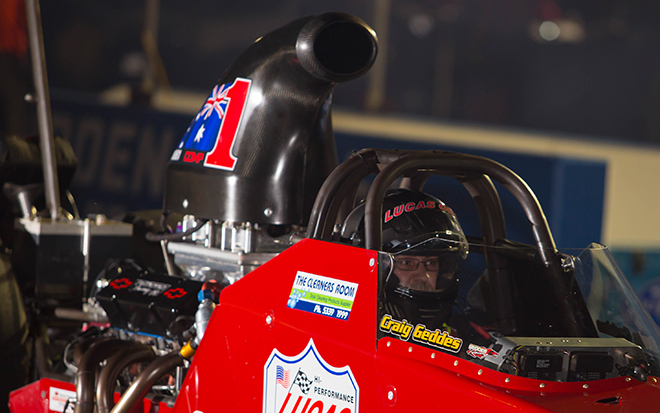 Geddes has made an art form of hopping between classes to make the most of his National indexes and achieve bonus points for National Records. The E/D class has been very kind and while owner Rob Martin has supplied a very stout 280ci Chevy ready for another assault on E/D when the time is right – the next few events will be contested in the B/D class with a 315ci Chevy engine.
"Our Crew of Daryl Hepworth and Ethan Wright are keen to get back out on track and continue to develop our car/clutch combination," said Geddes.
"As always this is impossible to do without family support, Amanda and the kids are also looking forward to the future.
"I will also continue to help other racers find vehicles, parts and refine setups as required. This is a critical area to help support and grow the racing in this country during these trying times."
The Rowe Memorial Super Stock Classic and Round 4 of the Summit Racing Equipment Sportsman Series will be held one day only on Saturday November 19 at Calder Park Raceway.
For more information please visit www.calderparkdragracing.com.au, visit the Calder Park Drag Racing Facebook page or keep an eye on the Rowe Memorial Super Stock Classic Facebook event page.
Image credits: Jeremy Horvath / High RPM (1st, 3rd), Grant Stephens / Drag News Australia (2nd)