Round 10 of the Summit Racing Equipment Sportsman Series was to be the event for some racers to close the gap in their chase for a championship. The predicted forecast of rain and winds only added more pressure to the racers and the Steel City club. It hasn't been a kind season for the club with Mother Nature causing plenty of migraines.
Qualifying was thankfully concluded however some rain and high winds made the track dusty, resulting in lengthy stoppages for track preparation and stoppages. Racing was scheduled to start at 5pm however, it didn't commence until 7pm.
Junior Dragster, Super Street, and Super Sedan were the only brackets to get in a round before it was decided for safety reasons to come back Monday morning and continue. As the Monday was a public holiday it was the best decision especially for those who hade made long trips including from Western Australia.
In Supercharged Outlaws, Mark Hunt's trip to Perth for the Westernationals put him on maximum points. However, Doina Day and Westernationals winner Alan Mahnkoph were also hungry to close the gap at Steel City Dragway.
After three sessions, club president Mark Kuhns recorded a 4.630 over the eighth-mile to top qualify his beautiful 59' Vette. Day was second with a 4.826 in her dragster and Perth's Mahnkoph(above) pushed the world's quickest EH Holden ute to a 4.84 for third.
Following was Rodger Weste making his first ever championship runs in his Ford-powered Holden Monaro in 5.06 seconds, Warren Leonard nostalgic front-engined digger clocked a 5.27 and had a few tight moments when his rear slicks marked the deep end wall.
Mark Hunt rounding out with a 6.25 ET. Unfortunately, Hunt had some engine issues and withdrew from further competition.
With only two Top Sportsman entries, they were slotted into Super Sedan. No surprises with Michael Braggs (Top Qualifier) and Greg Damiani leading the pack with 5.06 and 5.28 ETs. Vlado Turic in his Nissan S14 nailed a 5.56 ET for third and was the Super Sedan top qualifier. Joining the 17-car field was John Kapiris, Peter Tzokas, George Tipouikidis and Danny Buccella .
Round 1 of eliminations saw Tzokas knock out Braggs. Tipouikidis put Turic on the trailer, Kapiris was a no-show against Greg Damiani, and John Edwards took the win over Danny Buccella. Also moving into Rd 2 was Andrew Thompson, David Yanko, and Michael Jennings.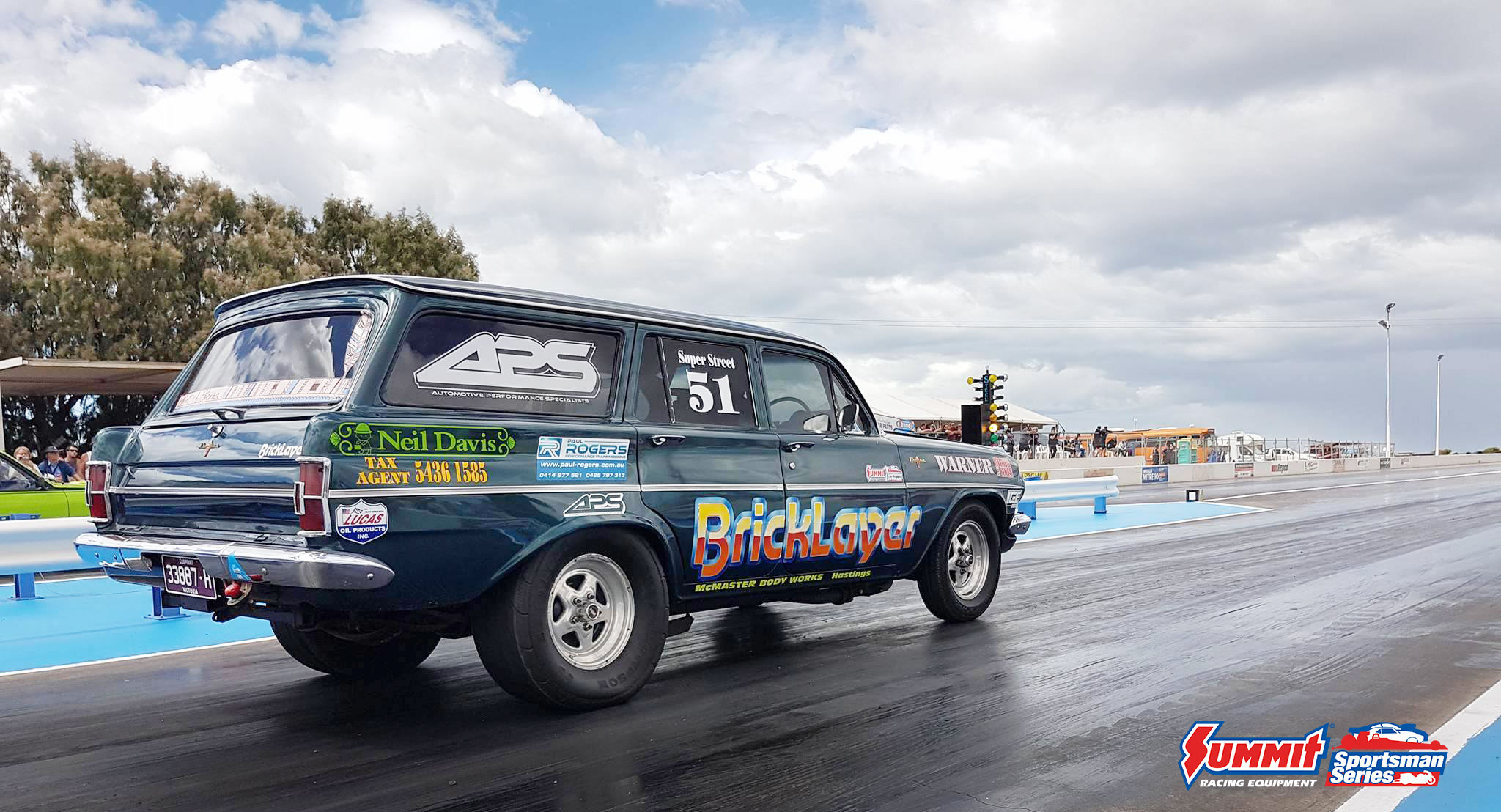 In Super Street, Australian Nationals winner Graeme Cooper (above) put his "Bricklayer" EH wagon on top with a 6.61. With three of the Top 5 point's racers in the pits, there was a real battle on our hands with the other 15 racers. Chris Tatchell had 200 points in the bank, while Anton Krajina and Perth's Paul Garbellin both were on 180.
In Round 1, Cooper picked his first win when Michael Bridges went red. Another Other red light went in favour of Erin Racanati while Harry Harris red lighted but was reinstated when his competitor hit a foam block. Krajina defeated Peter O'Connel and Tatchell was late on the tree and broke out against Garbellini. Also going rounds was Craig Ferguson, Simon Lazzaro, Neville Herreen, and Creagh Stuart.
Junior Dragster saw Hayley Percival top qualify with an 8.009 ahead of 18 other racers, including No.3 in the points Luke Veersma and No.5 Kelly Donnelly.
In Round 1 Percival took the bye run, Jake Berias moved into Rd 2 after Benjamin Anderson went red, as did Stephanie Davies against Andrew Shirley. Other wins went to Tegan Roach, Veersma, Kelly Donnelly, Jordan Spencer, Amber Young, Daniel Carranza and Blake Haynes.
In the other classes, Colin Griffin top qualified his Toyota Celica with a 6.31 ET while points leader and current champ Darryl Stephen finished 4th in the six car field.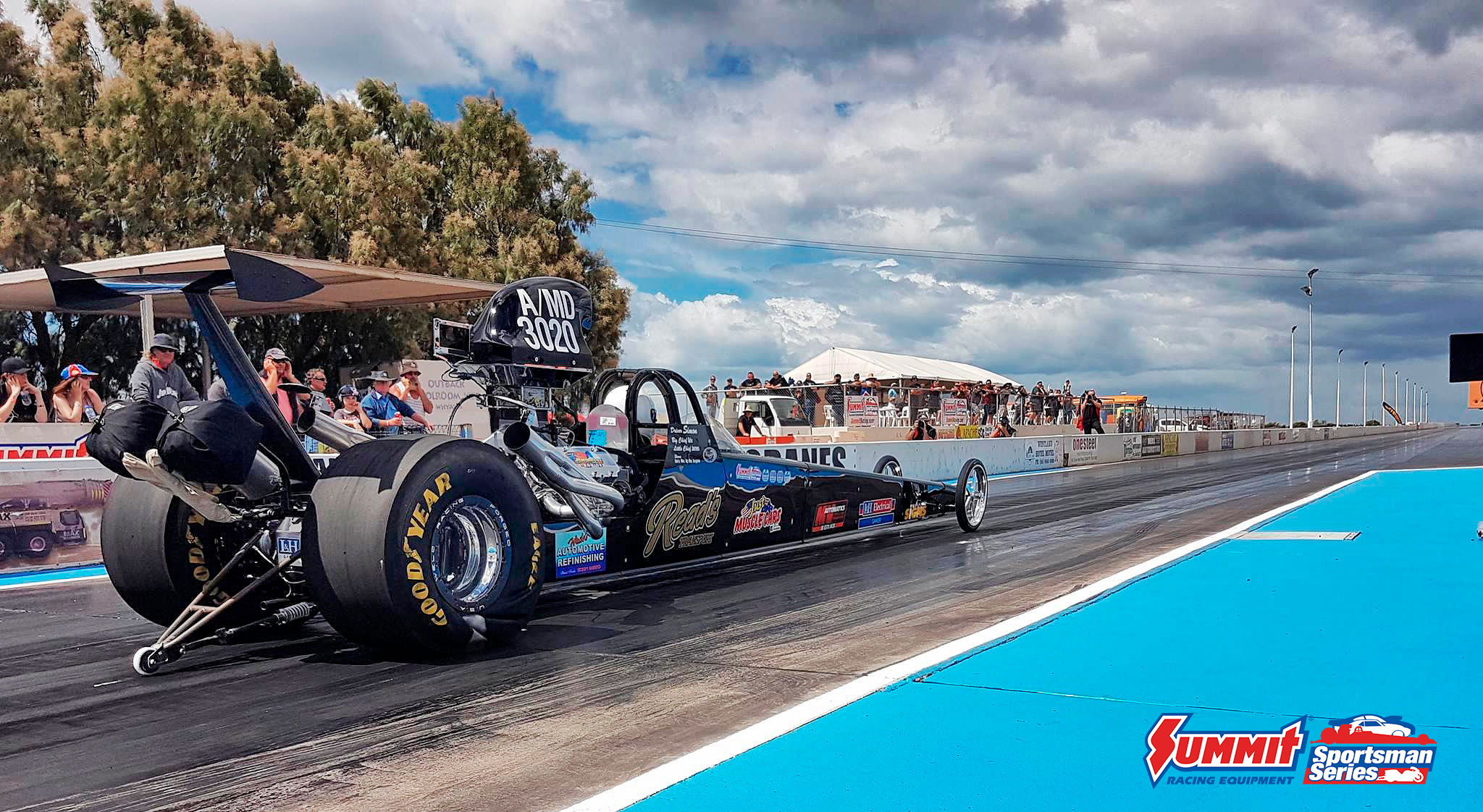 Simon Barlow (above) led Modified with a 4.52-time card ahead of Kenny Stewart's 4.82. While points leader Craig Baker sat it 7th. And in Modified Bike Gavin Dohnt (below) led the nine-bike field with a 5.976, his first ever top qualifier! Point's leader Bryan Finn sat in 6th position.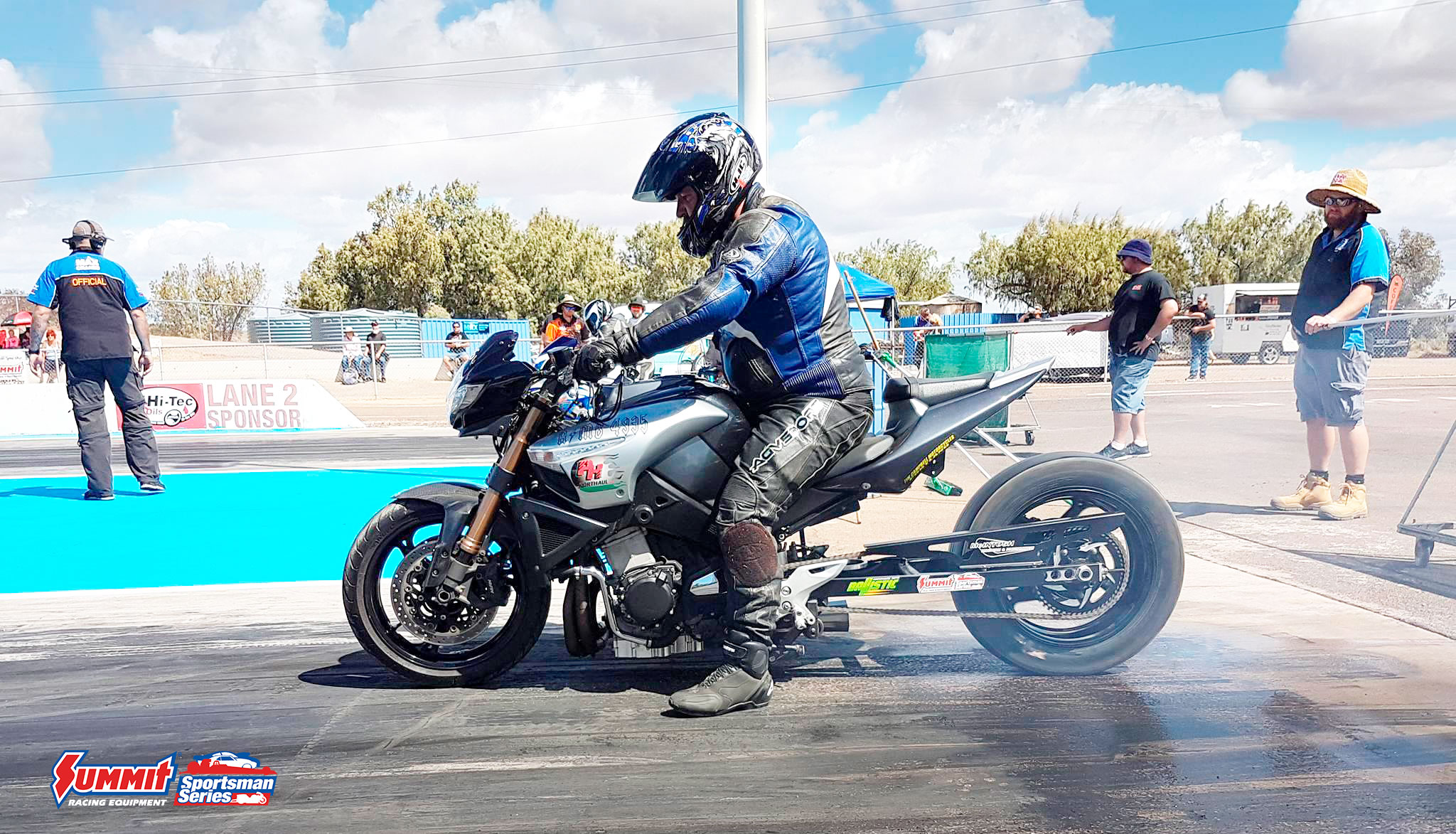 Unfortunately, with the strong winds and dust, the decision was made to postpone the racing until the following day. Overnight rain and more dust only added more dramas when Steel City Raceway club officials turned up early Monday morning. After much discussion club president made the tough decision to cancel all further racing with more high winds and dust expected throughout the day.
Photos by Donato Zotti/Drag News
The next event will be the Summit Racing Equipment Drag Racing Grand Finals at Adelaide International Raceway on Friday March 31 – Saturday April 1. For info CLICK HERE
For updated Summit Racing Equipment Sportsman Series points CLICK HERE