Thirteen year old Alex Mee has today made treasured memories at Mildura's Sunset Strip Dragway thanks to the efforts of a dedicated group.
Growing up in a drag racing family, Alex has always dreamt of racing himself however after being diagnosed with the terminal disease, Duchenne Muscular Dystrophy (DMD), it appeared this dream would never come true.
However, today Alex realised his dream of travelling the drag strip, with the car-loving youngster able to ride in a specially-liviried Junior Dragster as it was pushed by a golf cart to the start line and then down the drag strip* while his family, friends and racing community watched on decked out in special 'Alex Mee' race gear and clutching their special edition 'Alex Mee' racing posters.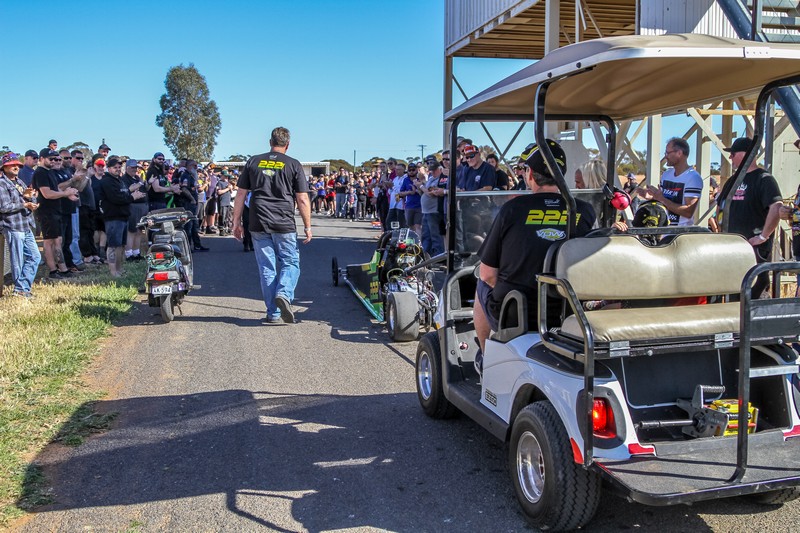 "This all means a huge amount – I have grown up with the drags all my life and Alex's dad Frank Intini and my partner Lance Larcombe also race. I always thought my son would too but then after his diagnosis we knew that was never going to happen," Alex's mother Donna Mee said.
"He just loves cars, and he has so many friends out there at the drag strip. What has happened this weekend is just incredible and has given Alex a chance to be out there and enjoying what he loves and what he watches everyone else doing. Words escape me as to how much this means to all of us.
"With his disease progressing, this is something that was probably a case of now or never and I am so pleased that this has all come together – while he may not have a lot of quantity of life, we want to make sure he has quality of life and treasured memories he will never forget.
"He has been so excited, counting down the sleeps and telling everyone at school. There were plenty of happy tears at the track today, and we can't thank everyone involved enough for making this a reality."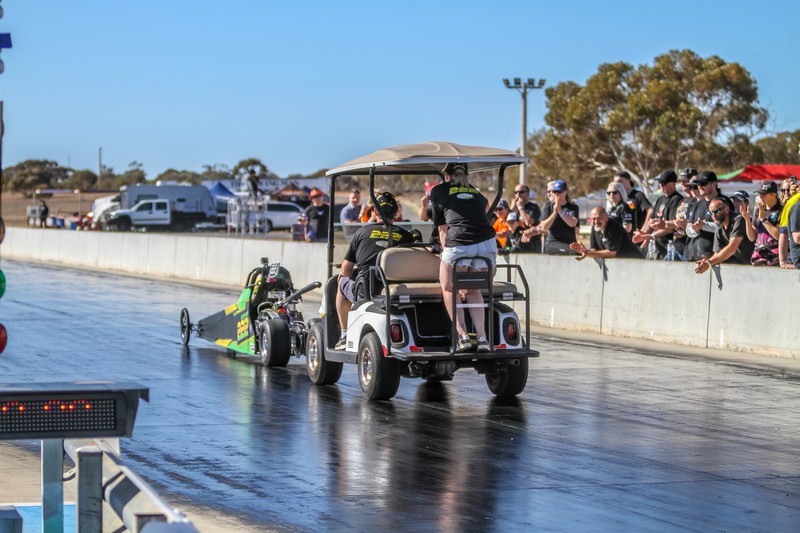 Alex's dad Frank said today's activity during the track's Sunset Strip Nationals event was exceptionally meaningful for the whole family.
"It was such an overwhelming feeling to watch him go down that track today, it was a huge mix of emotions," Frank said.
"It is really touching to see the effort everyone has gone to – no one has to do anything like this, and it is so heart-warming to know there are people out there that really care about kids in Alex's situation. The world can be an ugly place but when you have people like this doing things like this, they stand out like a shining light.
"This has been an opportunity to let Alex do something that he has wanted for so long and that he otherwise wouldn't have been able to do; a treasured memory he can look back on.
"On behalf of the whole family and all who love Alex I have to really emphasis our thanks to all of those involved – Jason Stares has been absolutely pivotal in making this a reality and together with Tim Reidy, Kingsley and Lauren Kuchel, ANDRA and plenty more has made this a reality for Alex and we can't thank them enough. We also have to thank the Sunraysia Drag Racing Association for fitting Alex's run in at what is one of their biggest events to date and Alan Ward for promoting it all over the place. It is very humbling that so many people have gone to such a huge effort."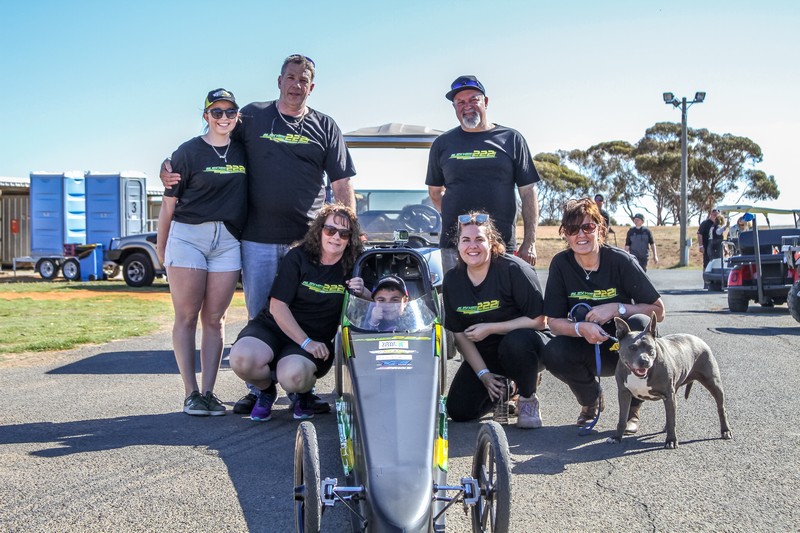 Alex and his family would also like to thank the following people who have played a part in the weekend's activities:
The Collis brothers for suppling their Junior for Alex to drive
Aaron Brookes and Bruno Cugnetto from VPW for giving Alex the race suit, helmet, gloves and boots.
Rob Sharp from YBI for all designs and posters
Anthony and Tegan Petterwood from Lifestyle for the crew shirts
Jason Maggs from Mprint for doing the wrap design of the helmet wrap, stickers and for traveling to Mildura to fit the wrap
Sunoco Race Fuels for supplying race fuel.
ANDRA for sorting insurance
Kingsley Kuchel, the Sunraysia Drag Racing Association, Tim Reidy and Allan Ward for all their input and help.
Grima Brothers Wholesale Produce
R Newman's and Son embroidery
Macarthur Trophies for a trophy and its engraving
Joseph from Pizza cafe for supplying Alex's favourite food for dinner
The Boulevard Motor Inn and Mildura Motor Inn for giving Alex and his family and the Collis brothers accommodation for the weekend.
Kellie, Ella Ruby and Maddison Anne Stares for helping come up with the idea and for all their help leading up to race.
As part of the activities at the race track today, donations were also taken in support of the Save our Sons Duchenne Foundation. If you wish to donate, please visit https://www.saveoursons.org.au/
The Muscular Dystrophy Association explains that Duchenne Muscular Dystrophy is the most common and the most severe form of Muscular Dystrophy. It is a genetic disorder characterised by progressive muscle degeneration and weakness. It is one of nine types of muscular dystrophy and is caused by an absence of dystrophin, a protein which helps keep muscle cells intact. Symptom onset is in early childhood, usually between ages three and five. The disease primarily affects boys, but in rare cases it can affect girls. Until relatively recently, boys with DMD usually did not survive much beyond their teen years however thanks to advances in cardiac and respiratory care, life expectancy is increasing. For more information on DMD, visit https://www.mda.org/disease/duchenne-muscular-dystrophy
*the engine on the dragster was running however the drive belt was removed. At all times, it was the driver of the golf buggy, not Alex, who had control of the dragster.
IMAGES CREDIT TO AUTOMOTIVE EVENT IMAGES
FOR MORE IMAGES FROM TODAY'S ACTIVITY, PLEASE CLICK HERE.