Newly crowned Summit Racing Equipment Sportsman Series Modified Champion Matt Forbes has capped a stunning season with a record points haul in the calculations for the John Storm Memorial Trophy.
The prestigious award is presented to the Sportsman racer who amasses the most total points accrued over the entire Summit Racing Equipment Sportsman Series.
Forbes stellar season included two double victories winning Modified and Super Gas in the same event at Portland and Calder Park becoming the first Sportsman racer to achieve the feat before repeating to become the first Sportsman racer to do it twice in one season.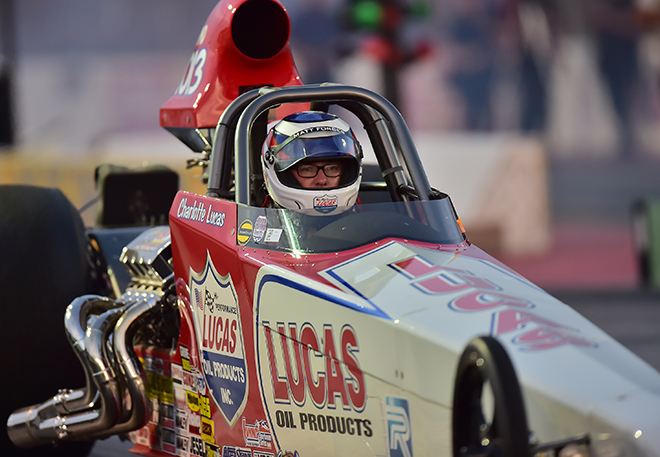 Racing across three brackets at selected events, Forbes accrued 1000 points in Top Sportsman, Modified and Super Gas.
Craig Geddes who previously won the award in 2014 finished second on 630 points following a dominant season in Competition Eliminator.
Third place went to John Kapiris on 510 points in a year he secured his fourth Super Sedan Championship in a row.
"One of our proudest accomplishments was scoring over 1000 ANDRA Championship points for the season," said Forbes.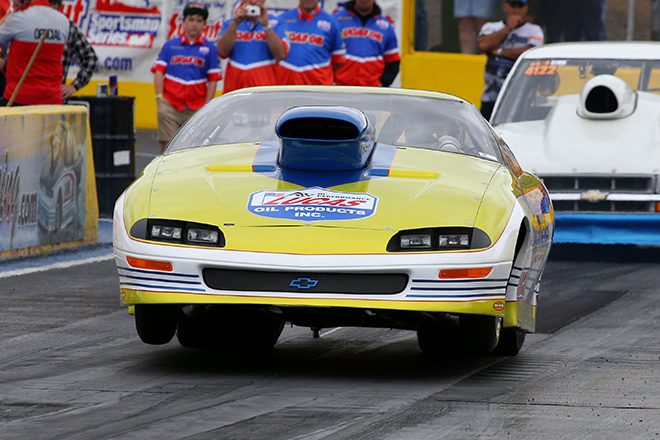 "To achieve this meant winning lots of rounds of racing in all cars!
"To race in three brackets requires excellent preparation and mental strength. Full tree, pro tree, fixed index, DYO, door car, dragster and roadster. We have a lot of fun and have some more changes and challenges – as if we need more (laughs) – coming for the new season!
"My team of marketing partners are incredible… we cannot keep the big wheels rolling without their dedication to our program. They really do love it as much as we love having them as part of our team.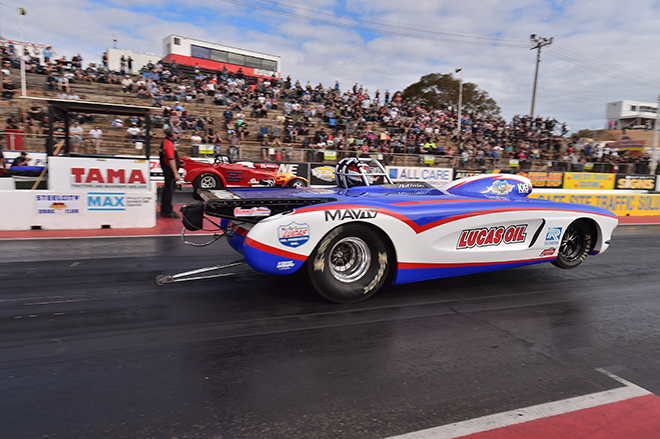 "Lucas Oil Products, Sunset Performance Engines, Paul Rogers PerformanceTransmissions, APD carbs and Todd Barton Design. Thank you for Championship number #3 in four years."
The 2015/2016 Professional Racers Cup, awarded to the most successful ANDRA Division Group One categories contested at the Australian Nationals, was once again swept up by the South Queensland Division followed closely by Victoria/Tasmania in the runner up spot.
The ANDRA Shield, recognising the most successful ANDRA Division in Groups Two, Three and Four at the Australian Nationals, was won by the Victoria/Tasmania Division followed by South Australia in a distant second placing.
For all 2015/2016 Division Champions, please see below.
ANDRA congratulates all of the ANDRA Champions and worthy award winners on a compelling and successful 2015/2016 ANDRA Championship season.
2015/2016 Division Champions
| | |
| --- | --- |
| Western Australia | |
| Competition | David Dequen |
| Super Stock | Kim Fardella |
| Competition Bike | Brett Ghedina |
| Super Compact | |
| Supercharged Outlaws | Darren White |
| Top Sportsman | |
| Modified | Simon Lekias |
| Super Sedan | |
| Modified Bike | Gordon Crawford |
| Super Street | Paul Garbellini |
| Junior Dragster | Michael Naylor |
| Super Gas | |
| | |
| | |
| South Australia | |
| Competition | Michael Davies |
| Super Stock | Jim Ioannidis |
| Competition Bike | |
| Super Compact | David Clark |
| Supercharged Outlaws | David Thornton |
| Top Sportsman | Paul Russo |
| Modified | Simon Barlow |
| Super Sedan | John Kapiris |
| Modified Bike | Bryan Finn |
| Super Street | Kylie Tanner |
| Junior Dragster | Kelly Donnelly |
| Super Gas | Jeff Romeo |
| | |
| | |
| Victoria/ Tasmania | |
| Competition | Craig Geddes |
| Super Stock | Les Heintz |
| Competition Bike | Robert Cassar |
| Super Compact | Andrew Dyson |
| Supercharged Outlaws | Doina Day |
| Top Sportsman | Stuart McBain |
| Modified | Matt Forbes |
| Super Sedan | Enio Marrocco |
| Modified Bike | Gavin Dohnt |
| Super Street | Garth O'Hehir |
| Junior Dragster | Daniel Carranza |
| Super Gas | Matt Forbes |
| | |
| | |
| New South Wales | |
| Competition | Kit Hunter |
| Super Stock | John Kuiper |
| Competition Bike | Niki Zakrzewski |
| Super Compact | Matt Lisle |
| Supercharged Outlaws | Peter Byrne |
| Top Sportsman | Jason Stares |
| Modified | Travis Liefting |
| Super Sedan | Marco Tolomeo |
| Modified Bike | Wally Hosta |
| Super Street | John Kerr |
| Junior Dragster | Natalie Bishop |
| Super Gas | Darrell Stephen |
| | |
| | |
| South Queensland | |
| Competition | |
| Super Stock | Jodanna Pullen |
| Competition Bike | Paul Pires |
| Super Compact | |
| Supercharged Outlaws | Christine Steffens |
| Top Sportsman | Brendan Edyvane |
| Modified | Paul Doeblien |
| Super Sedan | David Foreman |
| Modified Bike | Phil White |
| Super Street | Robert Winterburn |
| Junior Dragster | Eden Ward |
| Super Gas | Dale O'Dwyer |
| | |
| | |
| Northern Australia | |
| Competition | |
| Super Stock | |
| Competition Bike | |
| Super Compact | |
| Supercharged Outlaws | Adam Murrihy |
| Top Sportsman | |
| Modified | Katie Cunningham |
| Super Sedan | |
| Modified Bike | Ace Edwards |
| Super Street | |
| Junior Dragster | Andrew Tinney |
| Super Gas | |
Image credits: Bob Taylor – http://bobteee.webs.com/ (top, second, fourth), Grant Stephens / Drag News Australia (third)