"The Huntsman" Mark Hunt is everywhere right now. Not only is he currently in second place in the Summit Racing Equipment Sportsman Series Supercharged Outlaws Championship, he is spearheading a new Wild Bunch series and helping Swan Hill Dragway behind the scenes.
Mark has a true passion for the sport; he loves to help out whether it's fellow racers or the tracks. Nothing is too big or too small and when he first heard about Swan Hill Dragway, he thought it would be a perfect opportunity to hold the first Wild Bunch event as part of their inaugural Race For Pride.
"That way we can also give support to the Swan Hill Drag Racing Club for their first meeting," he says.
"It's a group of racers putting on a great show for the public."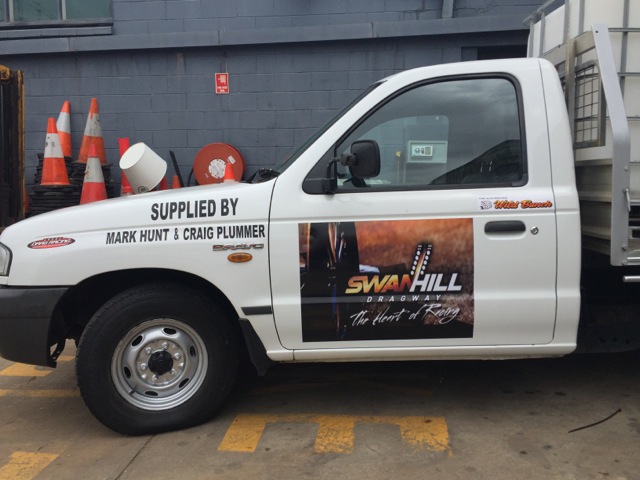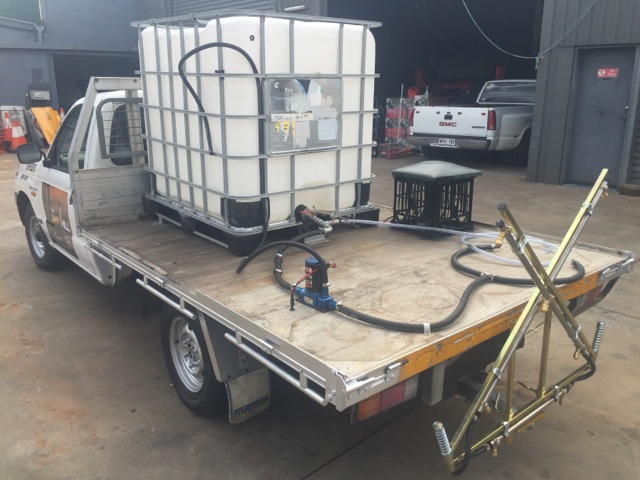 Also in his undying love and passion for the sport he knew that Swan Hill did not have a spray Ute, so he decided to donate a Ute and all the spray equipment – all fitted out by AIR starter Craig Plummer.
Unfortunately the event has been put on hold due to bad weather hindering track preparation and threatening the event but a new date will be announced and the Wild Bunch will be there.
"Wild Bunch will not run in competition with any ANDRA events and the intention is to take it National," explains Hunt.
"We want to bring entertainment back to the public and racers at each event.
"It's based on only blown sedan door cars with a 8.0 entry and 6.5 cutoff, running under a Handicap Pro Tree in a Chicago Shootout style.
"A lot of the Wild Bunch cars have been around for a long time but not raced for a while. The direction we want to take the Wild Bunch is to be able to race at various tracks around Australia and bring back the passion to Drag Racing."
According to Mark, a number of regional tracks have already expressed interest in hosting Wild Bunch events and reigniting the classic State of Origin battles. And 39 racers are so far prepared to participate.
"The ultimate goal for the Wild Bunch is to provide entertainment and fun for the public at all events and hopefully have a good following so the regional tracks can generate money!" explains Hunt.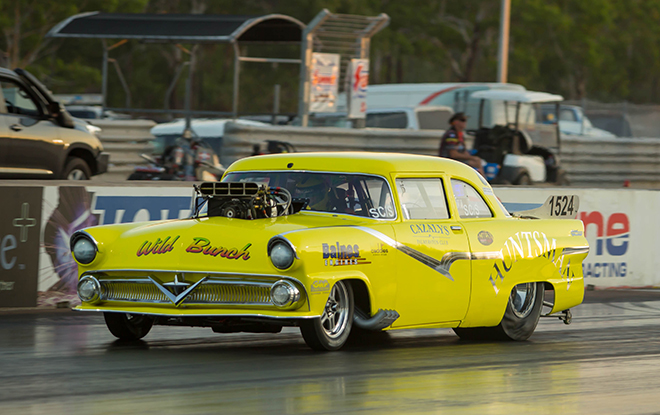 In keeping the Wild Bunch and ANDRA events on opposite dates, Mark hopes to create more racing opportunities while keeping National Championship hopes alive for many of the same racers not to mention himself.
He currently sits 20 points behind defending Supercharged Outlaws Champion Adam Murrihy in second place following an early season trip north to Hidden Valley Drag Strip and Alice Springs Inland Dragway
"We were testing a new combination so it was going to be a whole new ball game," he says.
"In Darwin we had a couple of hiccups; tyre shake – low oil pressure, we were really just testing the Customline."
A Round 1 break out loss in Darwin was followed by the breaking of the dam as "The Huntsman" secured his first ANDRA Christmas Tree with three impressive wins over title contenders Doina Day, Adam Murrihy and Justin Russell.
"Traveling down to Alice Springs to compete the motor in the bus let go, 92 kms out of Alice. At this stage we didn't know if we were going to make the meeting.
"I ran in qualifying and was quite pleased with each outcome. Going into E1 against Doina Day, I wasn't thinking that I could win the race, but would give it my best. We won though!"
"Elimination two, I was ready to race, still not believing that I could win against Adam Murrihy but again we triumphed.
"The Final Run against Justin Russell, of course the win I was over the moon. Never truly believing that we could win the Xmas Tree.
"The decision for ANDRA to change to a Handicap Pro Tree seems to work for me."
Now firmly in the title hunt, "The Huntsman" will travel to Mildura Sunset Strip October 22-23 for Round 3 Summit Racing Equipment Sportsman Series.
But for Mark, Mildura is more about it being another track where he gets a chance to race the "Cusso" with Championship points almost a sidebar.
"It's a whole group of racers and their cars getting together to have fun and race. Another chance for me to catch up with friends and possibly earn more points."
Watch out for Mark Hunt in Round 3 of the Summit Racing Equipment Sportsman Series at Mildura Sunset Strip October 22-23.
Supercharged Outlaws will be joined on track by Super Comp, Top Sportsman, Modified, Super Sedan, Modified Bike, Super Street, Junior Dragster and the first appearance of Super Gas for the 2016/2017 season.
For more information please visit www.sunsetstrip.org.au
Image credits: Grant Stephens / Drag News Australia (top), supplied (middle), Jeremy Horvath / High RPM (lower)