Darwin's Scott Maclean is preparing for a strong return to national drag racing in both a brand new Top Doorslammer and Top Alcohol Funny Car.
Work is nearing completion on both the team's new engine combinations and a B-double transporter that will allow the operation to cross the country in search of wins and, eventually, championships.
Maclean, the managing director of Redline Plumbing, said that business commitments and the build up of team infrastructure have seen the team away from the track for some time, but all the pieces of the puzzle were now coming together.
"We've been very busy with the company in both Darwin and our expansion into Queensland, but that hasn't been lost time as we have taken the opportunity to totally overhaul Maclean Motorsports," he explained.
"We bought the ex-BSR B-double which was basically gutted and rebuilt, tailor made for Maclean Motorsports. It is pretty awesome when you see it, it has been something we have been very specific with and we engaged (fellow racer) Grant O'Rourke to take on the job.
"We have taken our time and running parallel we have had Darren Mayer of DMPE in the USA doing a heap of research and development on our new engine combos. It is all coming to fruition."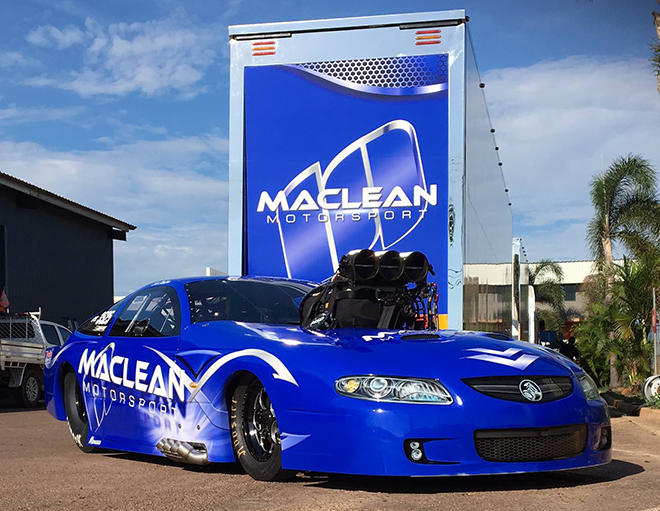 The plans will all culminate in a week of testing in Sydney where Maclean will get comfortable in both the familiar seat of his Top Alcohol Funny Car and the new environment that is his fresh Holden Monaro Top Doorslammer, built by USA chassis expert Jerry Haas.
Maclean, who has also served this year as the president of Hidden Valley Drag Strip in Darwin, said he plans to take in rounds for both of the current national series on offer to professional racers, but he would like to see a reunification take place.
"One championship is what we need, and it's our ultimate goal to see that happen again."
Image credits: Maclean Motorsport Pty Ltd