Day 1 of the 2017 ANDRA Australian Nationals launched with blue skies and big smiles all around. Melbourne really turned it on weather wise and the racers turned it on for the healthy crowd.
There was a real buzz in the air and for many older racers; it brought back fond memories of when the Australian Nationals was THE greatest drag racing event on the calendar.
Top Fuel-Dom Lagana
It was 12 months ago since Melbourne experienced the awesome spectacle of nitro-burning Top Fuel dragsters. Back at the 2016 Nationals we had two Rapisarda Autosports International entries. This time Santo Rapisarda expanded with three Top Fuel entries including US nitro star Dom Lagana and long-time tuner Lee Beard. Joining the show was RAI teammates Wayne Newby and Damien Harris. The fourth entry was local pilot Darren Morgan in the AEG Power tools dragster.
With one qualifier set down for today, Lagana stopped the 1000ft clocks in 4.075 seconds at 277.20 mph. In second place was Harris with a 4.155 at 274.83. Morgan nailed third with a 4.181 at 279.61 mph while Newby sat in fourth with a 4.426 at 212.36.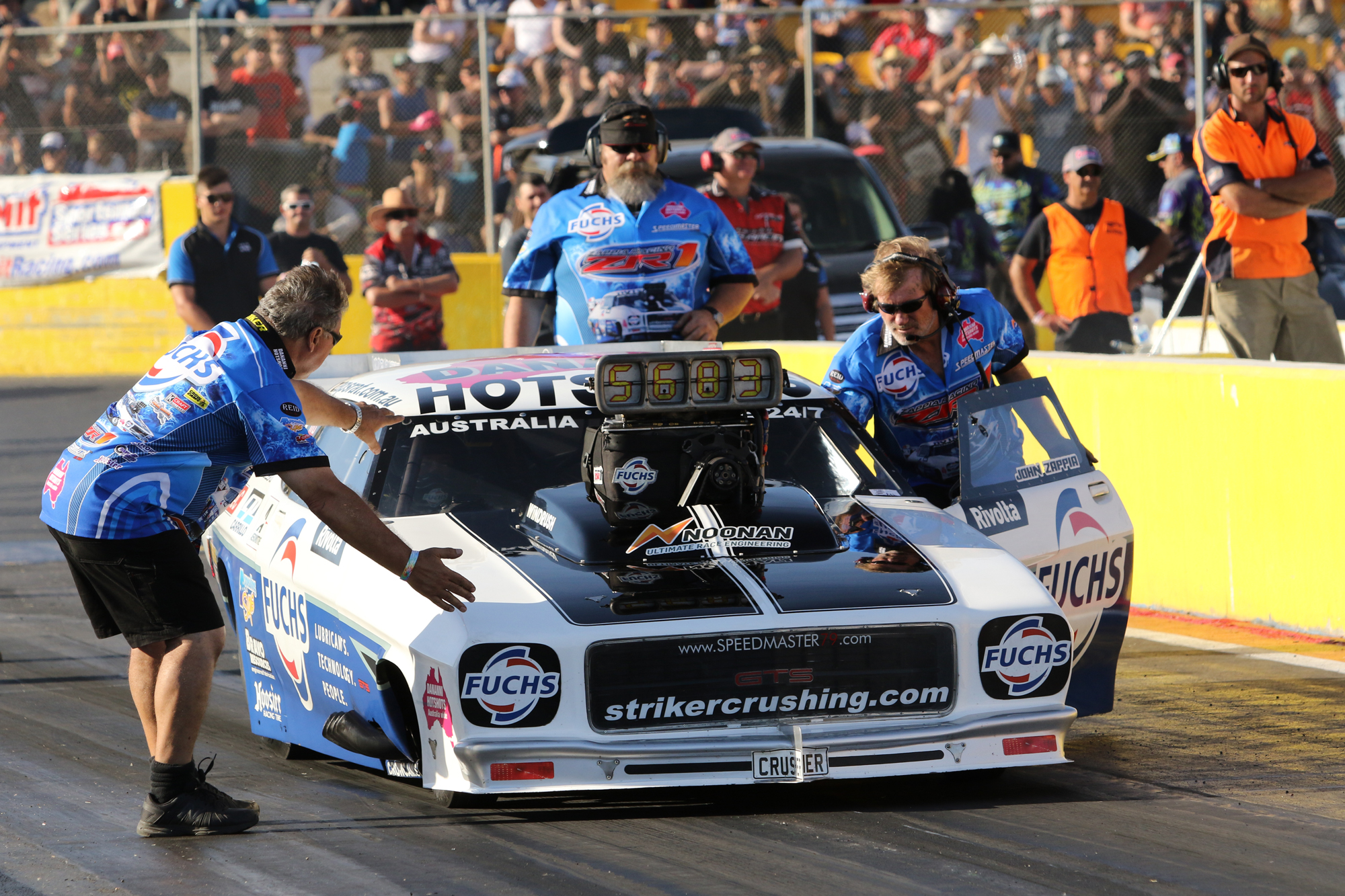 Top Doorslammer-John Zappia
Top Doorslammer had three qualifying sessions and it was John Zappia who led the way from the start to the finish. In Q1 the multi-time champ went 5-flat over the 1000ft distance at 223.65 mph. His second effort was a 4.919 and backed up in the third session with a 4.911. It was the second session that saw the field get serious with Ben Bray going 5.020 at 220.98 mph for second spot. Mark Belleri pushed the AC Delco Holden Monaro to a 5.070 at 220.91 mph for third. Paul Canulli wasn't far behind with a 5.076 for fourth place in the PC Cranes Duster. Sam Fenech punched out a 5.12 for fifth while Victor Bray improved with a 5.301 at 214 mph for sixth. Rob "Mad Professor" Taylor wasn't able to make a full-powered pass and rounded out the field in his brand new '68 Camaro from the US.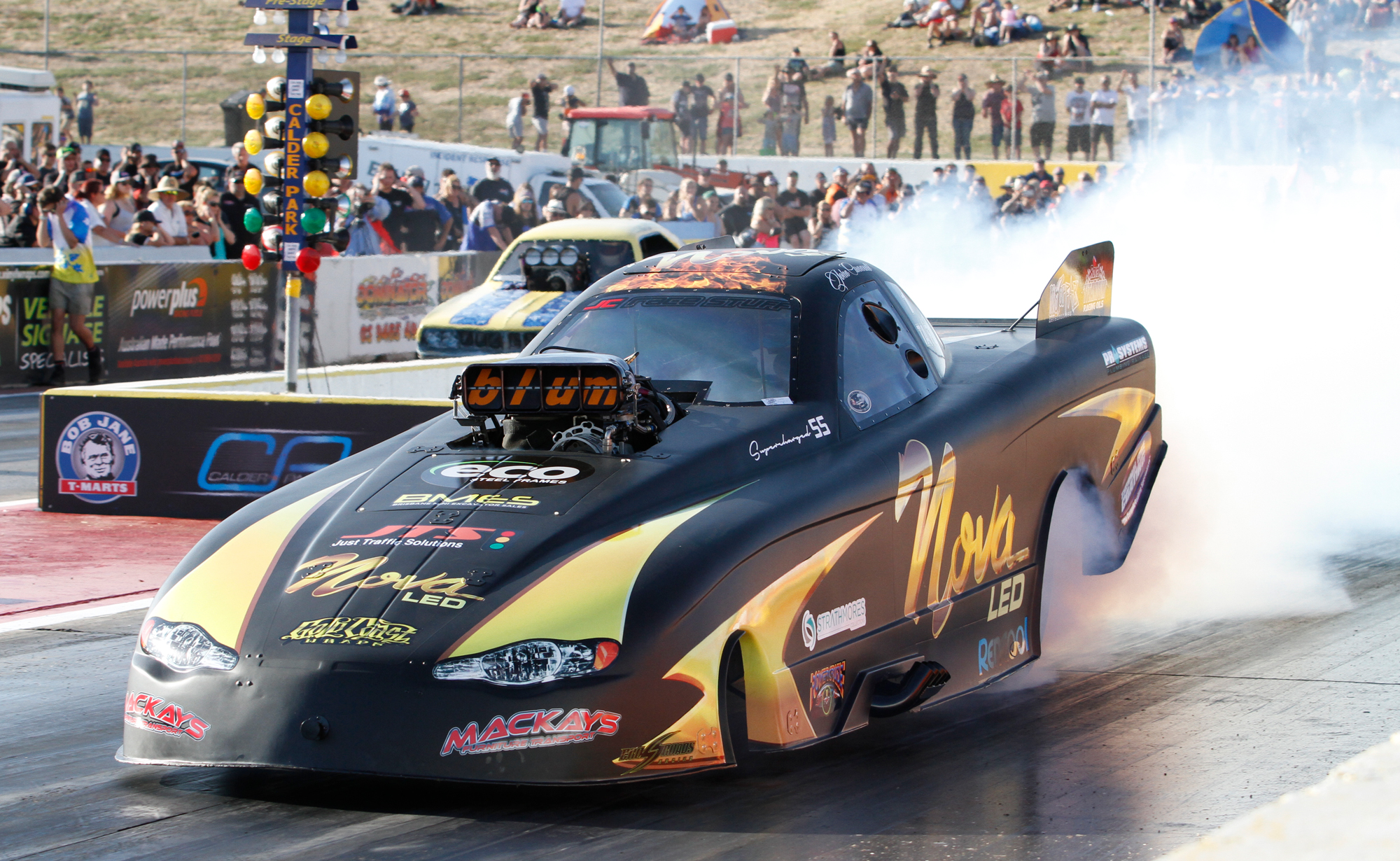 Top Alcohol-John Cannuli
With five entries it was a surprise to see the nostalgia Plymouth bodied Funny Car of Wayne Talbot leading the pack after the first session. His 5.47 ET was No.1 ahead of Craig Russo's 5.68 ET in his Funny Car. It was great to see John Canulli back on the drag strip clocking a 5.76 pass for third. Brian Lockman and Cameron Ambesi rounded out the session with a 7.18 and 8.87 respectively.
In the second qualifier Canulli improved in his Funny Car with a 4.98 ET at 190 mph. The Bantam Altered of Lockman also jumped high with a 5.32 ET for second spot. Talbot didn't improve however Jason Maggs recorded a 5.64 in the Speedflow small-block dragster. Russo didn't improve and was bumped down into fifth and Ambesi went 8.62 for sixth.
The third qualifier saw Canulli the only driver to improve, clocking a 4.82 to lock the No.1 spot.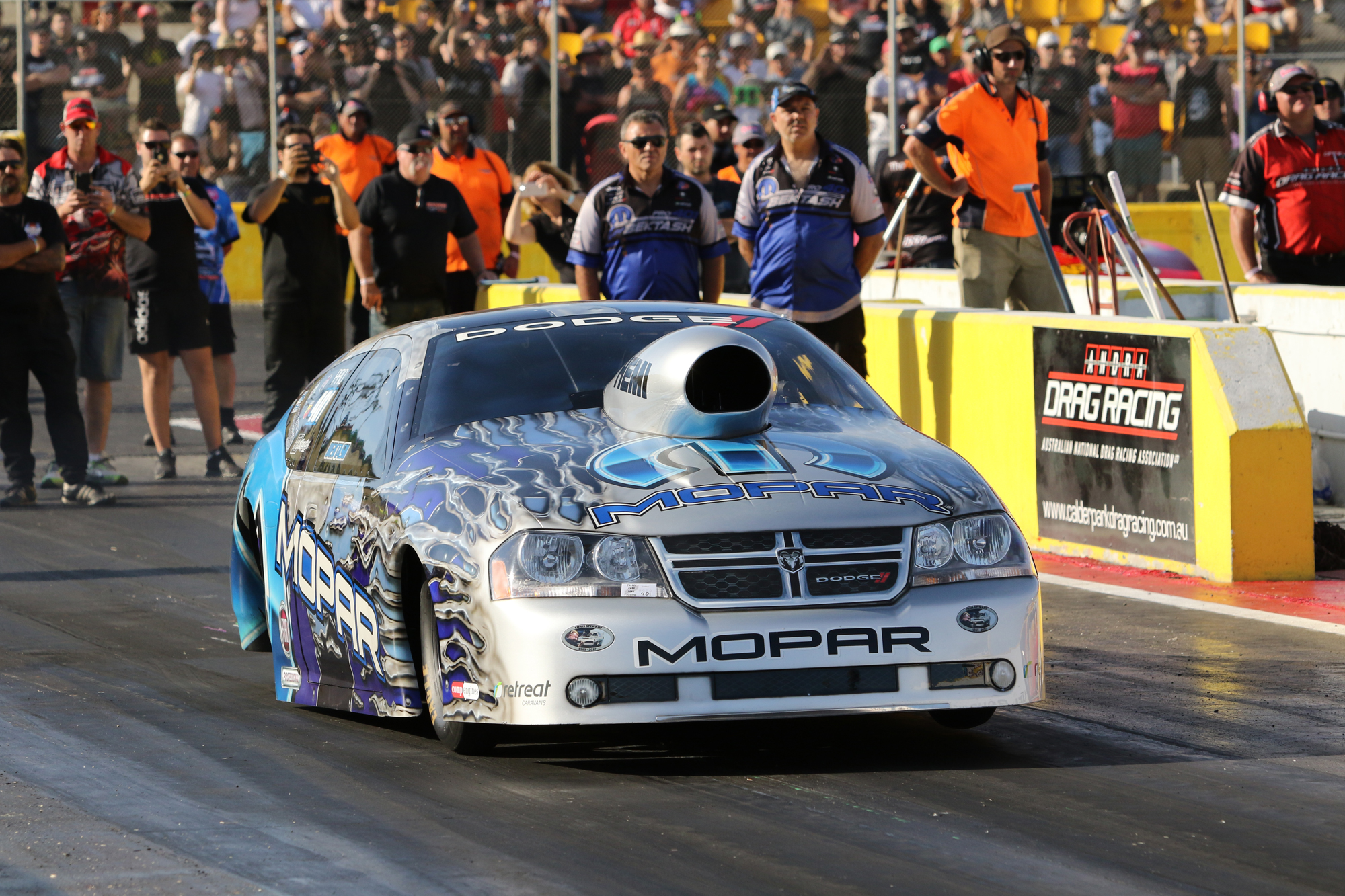 Pro Stock-Lee Bektash
After the Summer Nationals was rained out on race day, Lee Bektash was looking to extend his points lead at the Nationals. The first session saw the Dodge Mopar rip off a 5.98 ET at an over the record 177.09 mph for the 1000ft. Chris Soldatos was close with a 6.01 in his Pontiac GTO while Bill Perdikaris went 6.06 in his Ford Escort. "Smokin Joe" Polito rounded out the field in 6.12 seconds.
It wasn't until the final session that we saw some improvements. Soldatos went 5.99, Polito moved up into third with a 6.01 and pushed Perdikaris into fourth.