Reigning back-to-back ANDRA Top Doorslammer Champion John Zappia talks to Zappia Racing Media Manager and fellow drag racer Paul Carey about his ninth ANDRA Championship.
How did qualifying go in Adelaide at the ANDRA Grand Final event?
"First pass we put a similar tune up to the 4.88 (1,000 feet) we did previously in Adelaide – and off the trailer the car launched hard, wheel standing strong and ran a track record 4.83 (equates to a 5.75 – 5.78 quarter mile time). We were pretty happy with that.
Second pass we added more clutch, and the car wheel stood higher – it rattled in 2nd gear so I pedalled and the car went sideways. I got back on it not knowing my competitor in the other lane O'Rourke had ventured into my lane and was set to collide had I stayed off. That was a relief in hindsight.
Third pass we set the tune back to the first pass tune up and ran a dead straight 4.84. We managed Top Qualifier for the event ahead of Grant O'Rourke."
Round 1 was an easy win – what ended up happening in Round 2?
"The car launched well in round 1 but lost power in second gear – I pedaled and it tossed the belt. We got the win with a 5.33 against Carbone.
We went back to the pits and changed the belt – started the car and all was fine. Unfortunately the car would not start in round 2 – an earth wire on the magneto was at fault, so the meeting was over for the team. I suspect it was a problem on the second run – but we are all over that wiring fault."
Nine ANDRA Championships in a row – how does that feel?
"It feels good. Relief actually. We were under a lot of pressure to do well. It was a good achievement for the team, and we kept the championship by 61 points with things going wrong in the last few rounds."
It is obvious you have a quicker car in the field – sometimes by two tenths. Can you explain that?
"Attention to detail and experience pays huge dividends. The number of laps per year, quality crew and quality sponsors providing excellent machine work and products. All the 1% factors come together to add up to an advantage. We are full time professional racers – have been for nine years now, and would like to thank Craig Pedley from Striker Crushing and Screening for the opportunity and support he has given us over those nine years."
In US Pro Mod the qualifying order has cars pretty close in ET – what are the US teams doing that your fellow Australian Teams are not?
"US teams are much wealthier – either cashed up with sponsors or with their own businesses. It's hard to compare to the Australian scene. There is more experience there, more engine dynos, more chassis builders and more money. The crews are paid and shift around a lot, so knowledge is shared among the field. They also have 32 cars qualifying for a 16 car field."
Do you run the same equipment as other Australian teams?
"In a lot of ways we do. We run the B&J transmission versus the Lenco and we see that as a big advantage. We run NRE heads, Reid Rockers, Santhuff Shocks, Crow Cams and of course Fuchs Lubricants oils that are second to none. I think you will see the field tighten up next year with new equipment purchased by other teams and a few more cashed up players entering Top Doorslammer."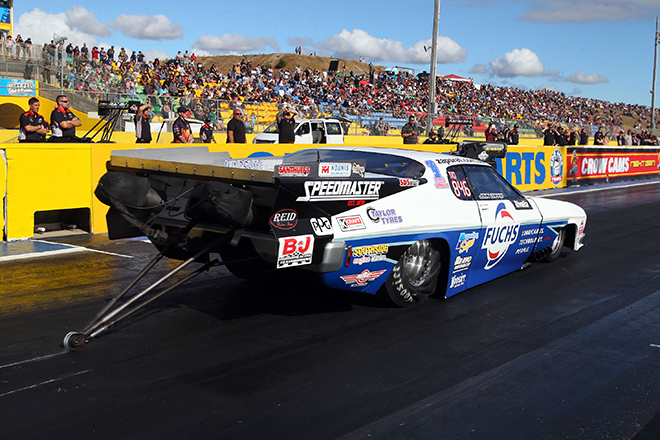 How do you sum up this six meeting season – the highs and lows?
"Winning Darwin was great in front of that huge crowd. But winning the Calder Nationals was the highlight and running 5.74 – coming back after all those years and winning. Running the 5.68 record in Perth was also a highlight. Lows would involve crossing the centreline and losing at Calder at the March round. It was a freak happening and cost us the round. The Fuchs Monaro not starting in Adelaide for the 2nd round was hard for me. To sit in the car after a successful start up in the pits, and not start in the staging lanes is very stressful. You feel out of control, and took away the chance to win a round after winning the championship. It was hard watching racers get through without being able to challenge them."
How did you manage the season financially as a professional with your sponsorship? Other teams have dropped off the circuit.
"Well winning pays more – so that helps. We have a great bunch of sponsors that allow us to sell their products in my spare parts business. We are distributors for Fuchs Lubricants, Speedmaster, B&J Transmissions, Santhuff Shocks and a lot of blown alcohol parts and with all our racing contacts we supply and support a lot of race teams. We have good contacts in the US and are able to bring in the best parts for resale."
What do you see as the future of Top Doorslammer next season – what are your team goals?
"We want to win ten ANDRA Championships. It's been a long-term goal, and the reality of that is dawning on us, so we will heavily invest our efforts to make that a reality. We aim for consistency at a higher performance level and to do that we need the best parts and attention to detail to make sure that little things don't trip us up."
What developments have you seen in the Monaro this season that gave you an edge?
"Nothing really. Getting the settings right on the Santhuff shocks and with minor adjustments to the clutch has proved a winner this season. We have been running five sevens for a while now – it's just been a little unpredictable with tyre shake, but the suspension settings have settled that down."
You have a large and very experienced crew working with you – do they give you advice on how to set up the car, or do you do the research and direct them?
"I do the research and direct them. My crew is very experienced and give me good feedback – we do confer. Some are very experienced in their field and are no slouches. We have great loyalty amongst the crew – nobody has gone off and shared our technology with other teams like in the US. We run two alternate crews to cater for away meetings. With crew holidays, shifts etc – we float two crews in and out of the various meetings. I am very grateful of the support of the crew over the years and the sacrifices they have made to be a part of Zappia Racing."
How is sponsorship looking for next year?
"It's looking good – Fuchs Lubricants and Dananni Hotshots (Haulage) are set to go for next season. Some other major sponsor deals are yet to be signed off but hope to get them on board to make our tenth straight championship a reality. Our supporting sponsors are very keen and loyal and we are grateful for their continued support."
What's the best advice you were ever given?
"Run your own race and not worry what others are doing. Focus on your own goals."
Do you have a saying or a motto that you live your life by?
"If it's too hot in the kitchen, get out onto the porch. You don't live forever – so make the most of each day."
Where do you draw your inspiration from?
"Look I live and breathe drag racing. I think about it 24/7 and every living moment. I am always thinking about ways to improve. I follow a lot of US racers and see what's going on at the elite level. When the budget is good – we do some R & D. We take risks at local meetings that do not affect our Championship points. We try to concentrate on the main race meetings with a consistent package."
Anything else you would like to share?
"We enjoyed some extra racing activities this year – the APSA meeting in Perth was good. There was a lot of pressure for our blown car to beat the turbo guys. We did that, and if sponsorship commitments allow, we will look at more APSA battles, Jamboree, Lights Out and Outlaw meetings that encourage tough competition and help bring the crowds in."
Image credits: Bob Taylor – http://bobteee.webs.com/ (top), Grant Stephens / Drag News Australia (middle)