It was another hot and humid day that greeted racers and fans for day two of the 46th Westernationals, however the action on the track was even hotter with John Zappia taking home another Top Doorslammer victory and more ANDRA gold.
However the biggest news was Zappia and his Fuchs Holden Monaro wrapping up his 10th straight ANDRA Top Doorslammer Championship. Zappia is the consummate drag racer that is methodical and precise in his daily approach to the sport he lives, loves and breathes.
It's his passion and his life, and if you ever get to talk with him, you see someone who is already thinking and planning to go quicker, faster and focus on winning championship number 11!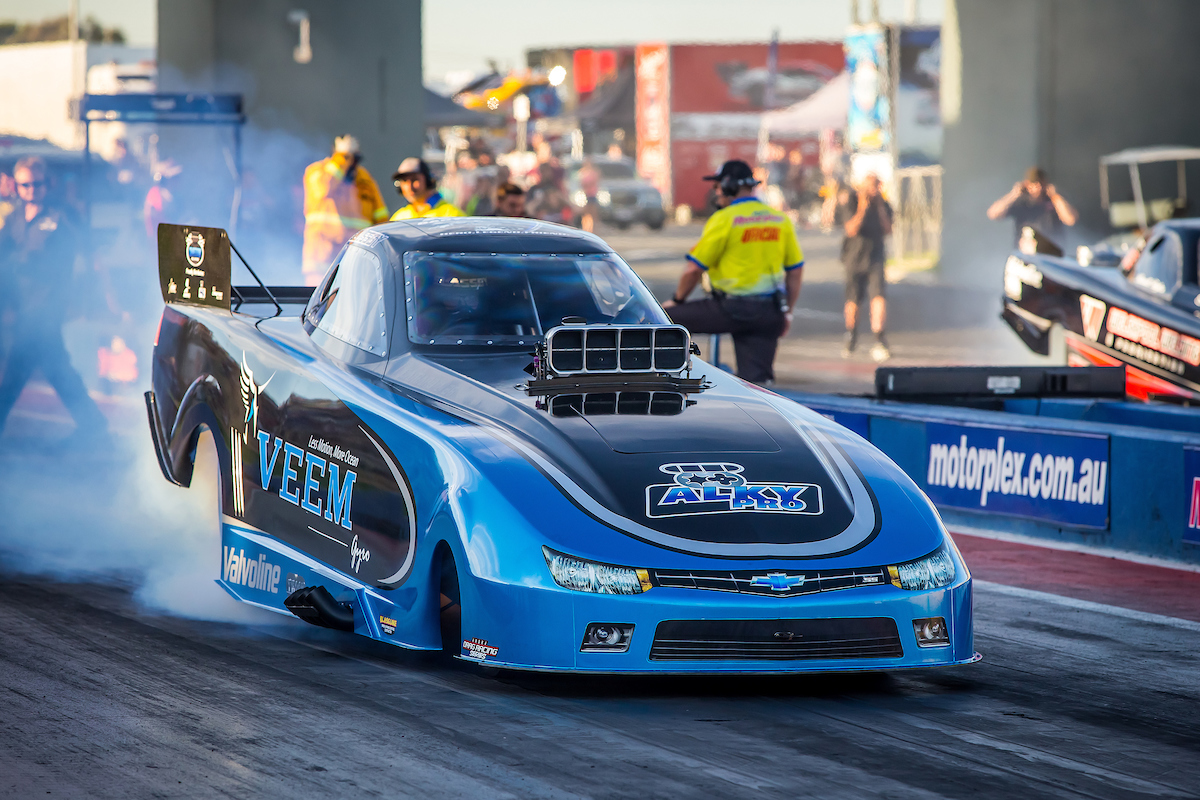 In Top Alcohol it was local racer Craig Glassby (above) who stood on the podium with a best of the weekend 5.45 ET over Aaron Deery's 5.60.
It was the first appearance back on the track in over 12 months following a transmission failure last April in his Veem Funny Car. The result saw a lot of damage to not only the racecar, but also to his leg, effectively keeping him in and out of hospitals over a six-month period.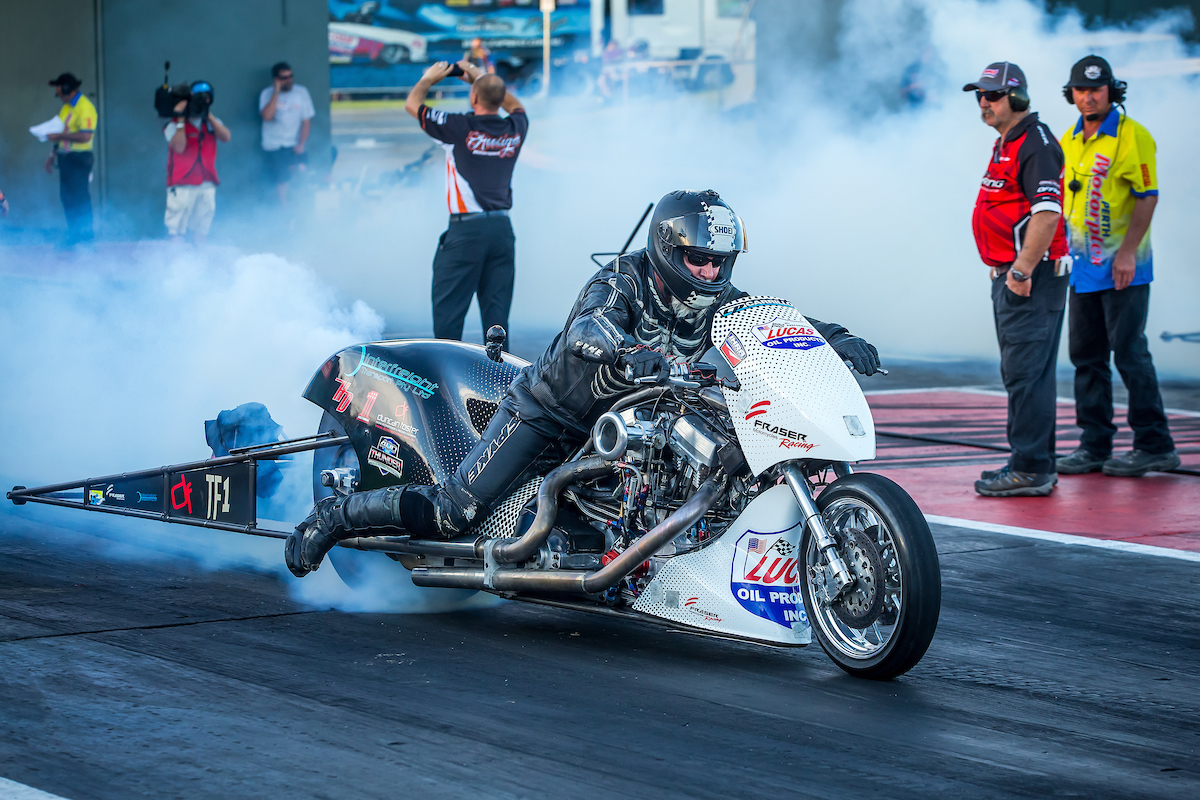 Top Fuel Motorcycle was nearly a double header for point's leader Damien Muscat after his A-Final victory on Saturday night. Muscat certainly had the consistency on his nitro Harley, however current ANDRA Champ Chris Porter (above) was able to turn his misfortune of damaging his engine on Saturday into a winning combination on Sunday taking the win in 6.69 to a 6.75 from Muscat.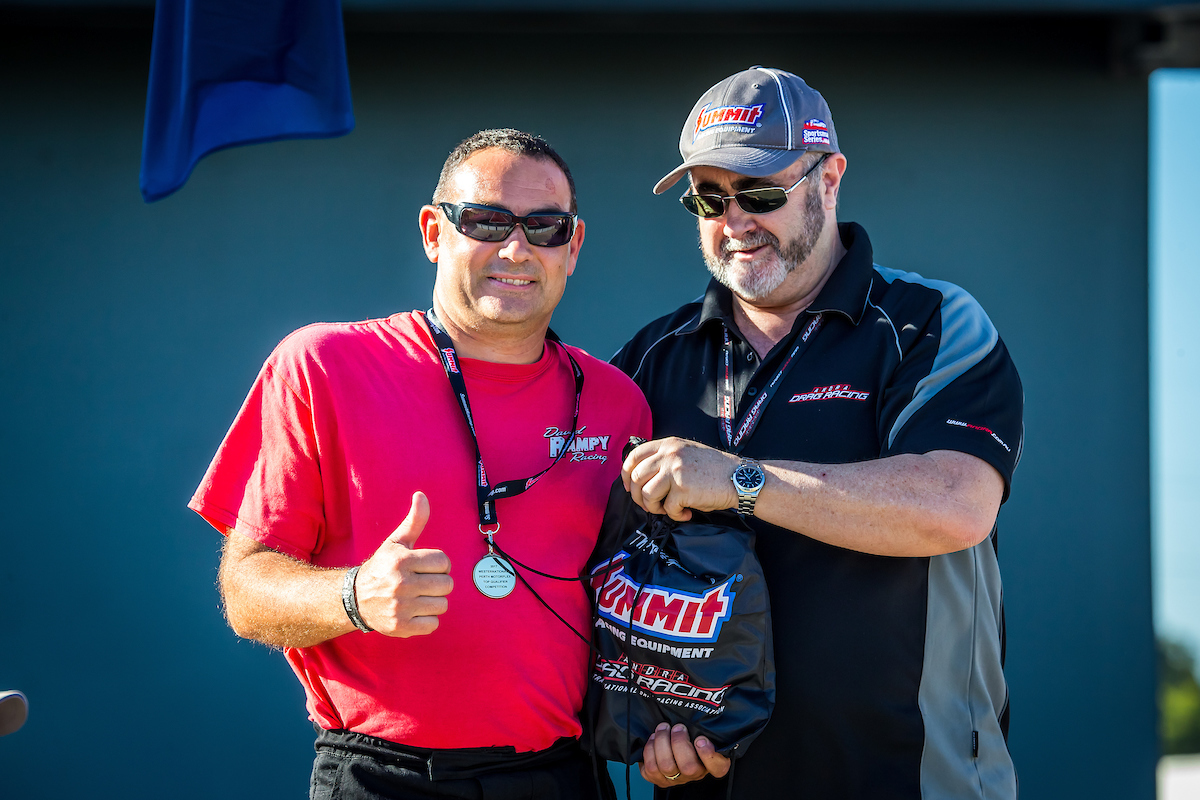 In the Summit Racing Equipment Sportsman Series winners included Craig Geddes (Competition) (above with ANDRA CEO Grant Goodall), Allen Puglia (Super Stock), Phil Paton (Competition Bike), Alan Mahnkoph (Supercharged Outlaws), Colin Davis (Top Sportsman), John Althuizen (Modified), Paul Downe (Super Sedan), Bruce Jones (Modified Bike), Kristie Wroe (Super Street), and Alanah Cope in Junior Dragster.
Other awards saw Longest Distance go to Damien Muscat, Best Engineered went to the nitro Top Fuel Motorcycle of Justin Vodanovich and Sam Gullotto picked up the YBI/Summit Racing Equipment Best Presented award with his Pontiac GTO.
images by Phil Luyer/High Octane Images
http://www.motorplex.com.au/drag-results/
and surpassing Victor Brays long st.
It was no doubt the highlight of the event with but there were plenty more awesomness