John Zappia currently occupies the number #1 qualifying position for Top Doorslammer with a fourth and final qualifier to come while Chris Soldatos has taken first position in Pro Stock at Adelaide International Raceway.
Zappia, who previously catapulted his Fuchs Holden Monaro into the 4.80s at AIR, managed to post a 4.996 at 216.86 mph over the 1000 feet race distance in hot conditions before temperatures cooled into the evening.
Top Doorslammer will complete qualifying on Sunday morning but for now it's Zappia who leads once again from Grant O'Rourke with a 5.147, Mark Belleri with a 5.175 and Mark Chapman, who went deep into the sand at the end of the strip in Q2, on a 5.282.
"The first and second run the car went pretty well," said Zappia. "It rattled a bit going into second gear so I had to pedal it a bit in second, got going again and then backed off too early – I couldn't work out where the 1000 foot finish line was once I got disorientated.
"We came out for the second run and pretty much left the set up the same but the car launched harder and went a .987 second 60 foot time. And it went 2.58 seconds to 330 feet with a little pedal just as I got into second gear but very minor.
"It was going really well but I shut off way early and only went 205 mph. We worked out that run would have been a 4.89 (second pass). They put a marker at the finish line that was flashing so I finally got a visual of where I needed to be. We put new tyres on for the last one, it gripped harder and rattled and went left and just got the centre line.
"We've got another qualifier tomorrow so we'll give the left lane a shot, see what we think and then we'll be ready for the first round."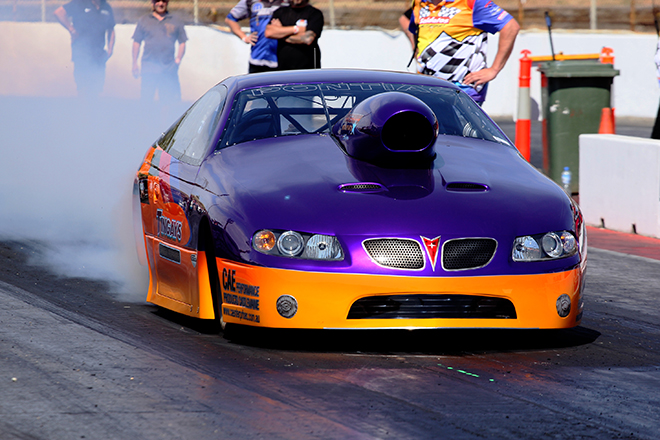 Lee Bektash set the early pace in Pro Stock with a 6.050 second pass in Q1 followed by a 6.009 in Q2.
In the same session, it was Chris Soldatos who recorded a 5.983 second pass at 171.20 mph holding firm through the final qualifier to lead the field into race day.
"That (second) run felt alright, the car moved around a fair bit," said Soldatos.
"We got down there alright, we're trying to sort out the new clutch and it looks like we're finally going to get there. We'll see what happens tomorrow.
"Tonight we were pretty lucky to get down there but tomorrow is another day."
Bektash ended the day in second place from Joe Polito on a 6.076, Bill Kotsias with a 6.358 and Gerry Parente fifth with a 6.924
Eliminations for the Summit Racing Equipment Sportsman Series get underway from 10am on Sunday. Top Doorslammer are scheduled to complete qualifying at 12:15pm followed by Pro Stock Round 1.
For more information please visit: www.adelaidedragracepromotions.com.au
Full qualifying results can be viewed HERE and final qualifying orders HERE.
Image credits: Grant Stephens / Drag News Australia (top), David Hope (middle)