Photo by Dave Reid
---
Is Johnny Kapiris Australia's greatest Super Sedan sportsman racer? If you look at his results you would have to agree. Four-straight ANDRA championship titles from 2013 to 2016 is an impressive streak in anyone's eyes.
Kapiris joins other sportsman greats such as Juan Kudnig who dominated Super Street during a stretch from 1994 to 2002, winning a rack of five championship titles. Graeme Frawley is another, with four Modified Championships.
As hard as he tried last season to make it five straight, Kapiris finished second to his cousin George Tipouikidis. Both finished with 360 points, but Kapiris was out in the semi finals.
"Of course I was disappointed to not have made it five in a row. I do set the bar high and always go hard and do the best I can. But the calibre for me and my racing is to look at the next meeting and try and do better," said Kapiris.
Now with a new season underway Kapiris has dusted himself off and is focused on winning more championship gold.
While drag racing has been part of his DNA since he was born, the fact that Kapiris is still in his 20s is a testament to his skill, sacrifice, and dedication.
"Growing up as a kid I loved cars and I would go out to Adelaide International Raceway and watch my family and friends race. That got me wanting to get a hotted up car of my own."
When you talk to Kapiris you can see the fire in his eyes, and hear the passion in his voice. He's already done the maths in his head and he knows what he has to do to win.
Kapiris said, "I don't care who is in the next lane. I fear no racer. I just go about my business and race knowing what I need to do.
"I've also opened my ears and listened to a lot of racers over the years including Mick Yafo, Mark Lee, Graeme Cooper and Neil Constantinou. These are the people that have helped me in many different ways in knowledge, support and tactics. I also have other racers I speak with on a weekly basis who give me a lot of support.
Over the years there are many stories and examples of the sacrifices Kapiris has made to go racing. It's not uncommon for him to sleep in his car because the budget didn't allow for a hotel. Or the fact most of the time, he is the driver, the mechanic and the crew.
He once quoted that racing was his wife, his girlfriend and his kids. "When you leave home you're going to your new family, your racing family."
Kapiris travelled up North to open up his points account for the 2017/18 Summit Racing Equipment Sportsman season. He went on to win Super Sedan over local racer Ashley Smith, who broke out.
Then after the Desert Nationals, Kapiris headed to Alice Springs and set up early. He then drove back home to South Australia to pickup his VN Commodore to open up his Super Street Championship campaign.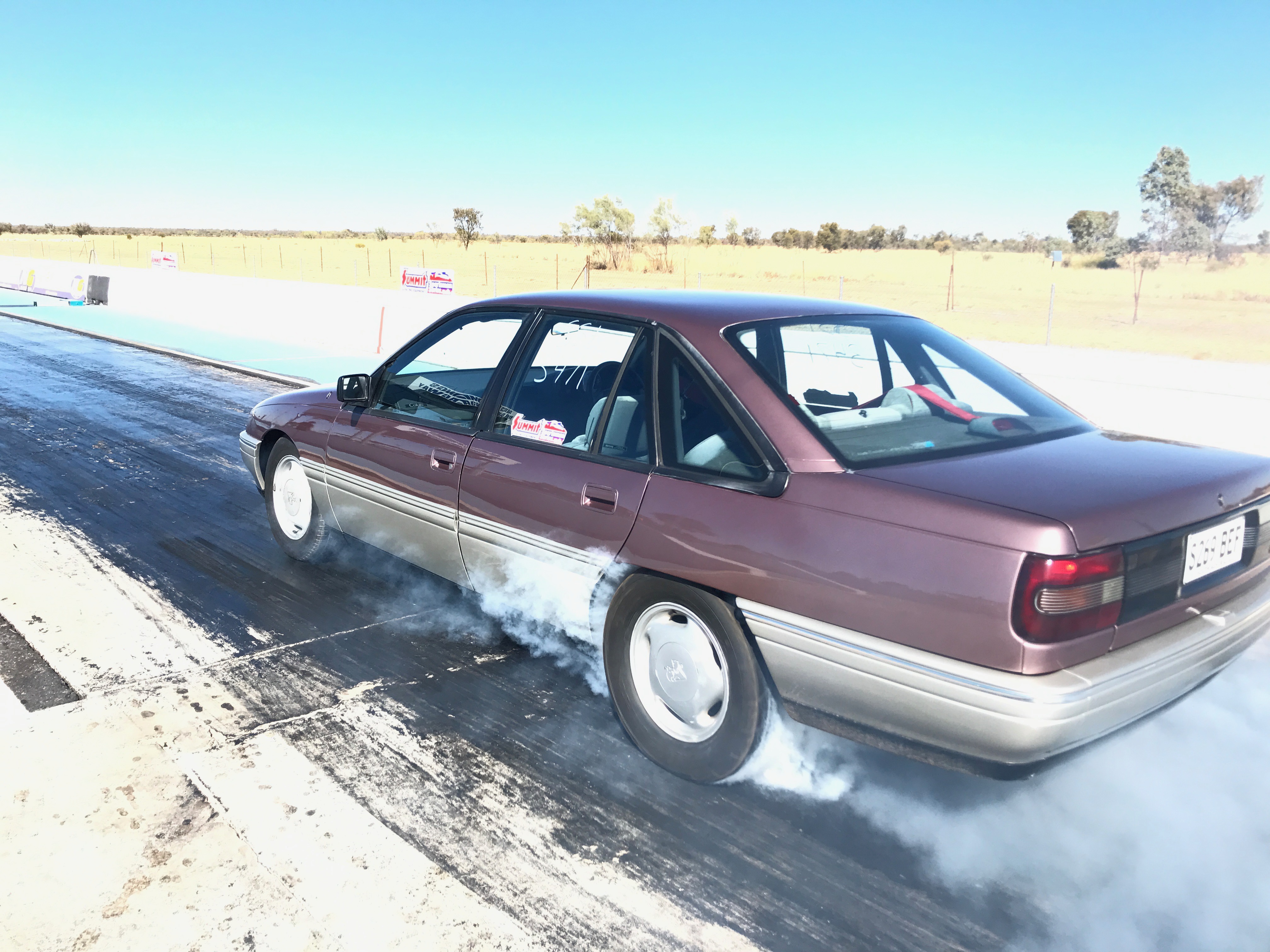 Photo by JB
---
Unfortunately, a red light put him out in Rd 1 of Super Sedan, while in Super Street he broke out in the semi-finals.
This isn't the first time Kapiris has raced in two categories, however, this is the season he wants to contest two ANDRA championships!
Heading into Rd 3 of the Summit Racing Equipment Sportsman Series in a few weeks' time, Kapris sits second in Super Sedan on 170 points, while in Super Street he is 6th on 60 points!
"It's going to be a challenge to compete in two categories but when you love drag racing as much as I do, it's easy. I'm looking forward to catching up with everyone at Mildura. It's the biggest event Sunset Strip has ever had with 25 in Super Street and 22 in Super Sedan. I'm really pumped!
---
Sunset Nationals Info
What: Artworx presents the Sunset Strip Nationals – Rd 3 Summit Racing Equipment Sportsman Championship Series
Where: Mildura, Victoria
When: September 23 & 24
Brackets – Top Sportsman, Supercharged Outlaws, Supercomp, Modified, Super Sedan, Super Street, Modified Bike, Junior Dragster and Super Gas
Times: Saturday and Sunday 10am to 5pm
Cost: Adults $10.00. Kids under 16 Gold Coin
Website – Sunset Strip CLICK HERE
Facebook – Sunraysia Drag Racing Association Facebook CLICK HERE
Facebook Event Page – CLICK HERE
Summit Racing Equipment – CLICK HERE
END