They said six-second Pro Stock passes were a possibility if the conditions were right at the Fuchs Winternationals and they weren't kidding.
Right off the bat Emilio Spinozzi went under the National Pro Stock record with a 6.975 pass while going over the National speed record at 196.67 mph. Tyronne Tremayne ran a 7.004 at 195.85 mph in the lane beside him making it the quickest side by side Pro Stock pass in Australia.
Aaron Tremayne then matched Spinozzi with a 6.975 of his own followed by Lee Bektash with a 6.991 in just the first of three qualifying sessions this weekend.
In the second session Tyronne Tremayne joined them with a 6.994 at 196.53 to claim the Australian speed record, as his first qualifier mile per hour was enough to back up his second effort to ensure he owns the record.
But Spinozzi was able to hold onto the number one qualifier overnight thanks to his superior speed compared to Aaron Tremayne's 195.93 mph on his identical ET.
"It was an unbelievable pass, a 6.97 and the fastest Pro Stock pass in Australia to date," Spinozzi said.
"It was an unbelievable feeling and when I got down the other end my brother told me we ran a 6.97 and I was so excited I couldn't hear him so I had to ask him again."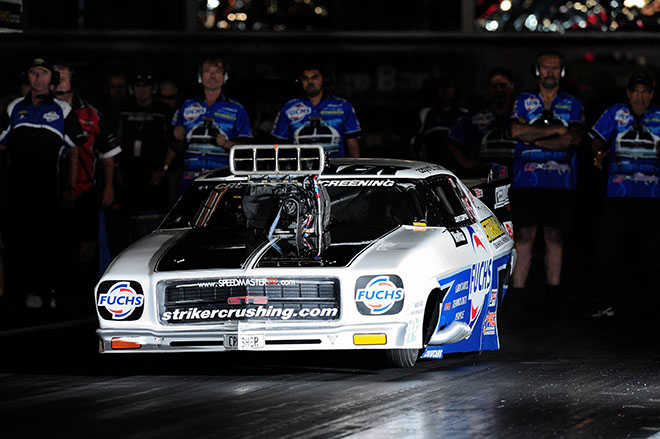 John Zappia lit it up in the final Top Doorslammer pass of session one with a 5.766, good enough to put him in first and a long way in front of Grant O'Rourke's 5.925 and Andrew Sutton's 5.941 in second and third respectively.
During the second session O'Rourke went quicker on a 5.935 while Peter Kapiris posted a 5.947. But Zap would hold onto first position as no one could get close to the six-time Top Doorslammer champ who ran an identical ET to the first ensuring West Aussie will lead the field going into the third qualifier tomorrow.
"The second run we stepped up thinking we could go a 5.72-5.73 but unfortunately I rolled three inches staging and it probably took a little bit of ET off (the overall time)," said Zappia.
"The car made it up early but then lost a couple of mile per hour at the end and we ended up with the same time.
"We feel without a shallow stage we should have been good for a 5.73-5.74, but it was definitely the best run I've ever had. The g-force pushed my head back and I could hardly see and it wasn't until I got in second gear that I could see properly."
"We're pretty happy the Fuchs Striker Monaro is flying and we've just got to find how we can get that top speed back off Kapiris."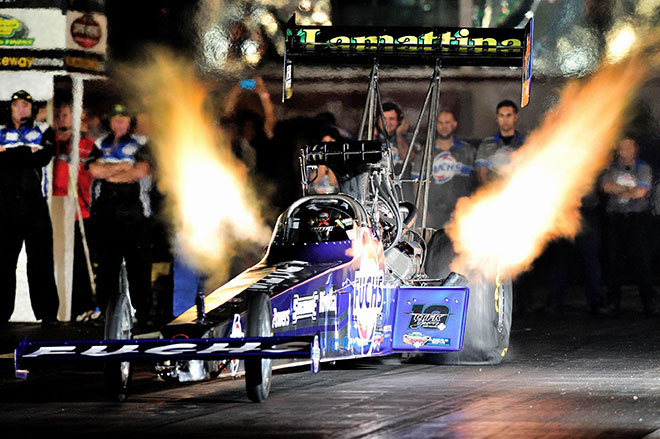 Phil Lamattina got back to his early season form laying down a 4.609 to lead Top Fuel after the first qualifier from Allan Dobson who flamed out across the line on 4.759. They were the only representative passes as teams either made conservative runs, spun the tyres or hurt equipment.
"Excitement is a bit of an understatement," said Lamattina. "It's no secret that we've been struggling. The test session really paid off, things are really starting to turn around for us and Aaron Hambridge (Crew Chief) has worked the issues out. It just goes to prove that we were ready for it because the track here is always killer and that was really good just to get the monkey off our back.
"For us we'd probably just say we got our car back. In Perth we were running consistent 4.60s and realistically it's probably a conservative tune up for the conditions that we are running here.
"Fingers crossed, we'll see what happens tomorrow, we'll probably run the same times except the second session will be run during the day but realistically the conditions are right and the third qualifier we could potentially see a 4.50."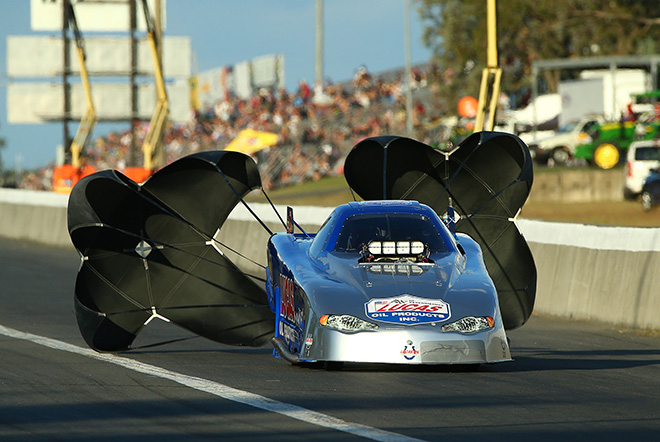 Gary Phillips set a new record here at Willowbank Raceway during the Santo's Super 3 Extreme Drag Race over Easter and he could be on course to do it again after he laid down a 5.457 at 265 mph to take provisional pole ahead of two more qualifiers tomorrow.
"The car shook and I had to short-shift it, so it wasn't as fast as the pass we ran at the Winters Warm-Up but it was still the fastest mile per hour it has ever run, and only 0.05 mph off the national speed record for the class," said Phillips.
"Our ultimate goal is Frank Manzo's world record 5.411 second pass, so now that we are in the field at the moment we will go out there tomorrow and have a play and try some stuff. If it works that is great, if not we can come back to this set-up for race day."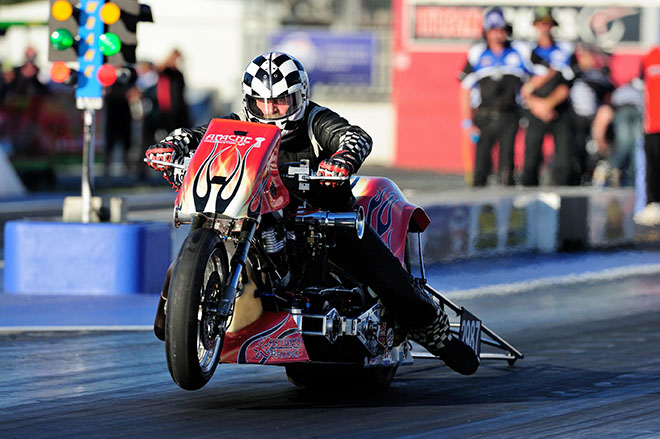 Mark Drew made the quickest and fastest Nitro Harley pass in Australia with a 6.378 at 228.96 mph to occupy top spot from Chris Matheson, Terry Burnett, Neville Smith and Graeme Morell in Top Fuel Motorcycle.
Drew was understandably pleased after debuting the new Nitro Harley recently purchased from NHRA champion Doug Horne.
"To run the quickest and fastest Top Fuel Harley pass in Australia this afternoon was a great way to start off our Winternationals campaign, and I think we can run even quicker tomorrow – maybe even low 'thirties'.
"Thanks has to go to my crew and the track staff and my supporters K-Trans and Perth Harley Davidson, we are very happy with the results so far – we put a tune-up in it that suited the conditions and I was quietly confident that it would perform as it did, so things are going great so far."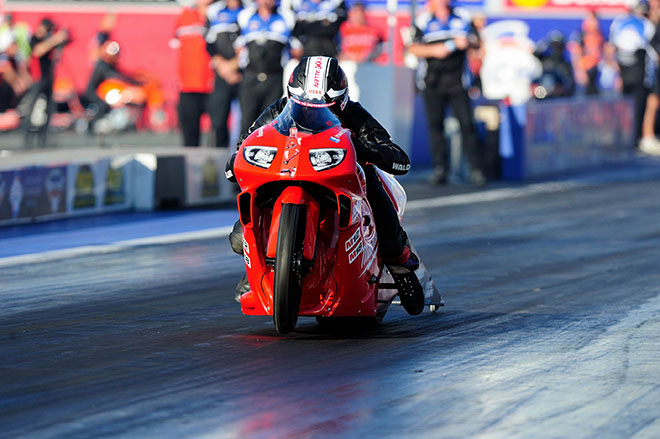 And finally Maurice Allen currently sits in top spot on a 7.352 from Luke Crowley and Scott White who were the only competitors to make a representative pass in Pro Stock Motorcycle.
Allen credited his crew for providing a set up for the warm Queensland climate.
"We are off to a great start, day one (for Group One) at the Winternationals is always a big day so to go out on-track and come out on top of the heap is always nice.
"The Team Milwaukee crew is doing a really good job this weekend, working very hard in the warm conditions and I am really appreciative their efforts. The track conditions were really good and while the atmospheric conditions were a little warm for our bikes we were able to get a good result and are looking forward to tomorrow where I think we can improve on today's efforts.
The Fuchs Winternationals continues tomorrow (Saturday 7 June) with further qualifying in all Group One brackets from 1pm and round one of eliminations for Top Doorslammer and Pro Stock commencing from 3:15pm.
Follow all the results as they happen by clicking here. For full qualifying results from today's action please click here.
Images courtesy: Fred Dwyer. Image of Gary Phillips courtesy: Dragphotos.com.au