Brodie was pretty much born into the sport of Drag Racing, watching Uncle John race and being part of Zap's crew – his job then was to chalk the wheelie bar.
"At around 5 or 6 years of age, I mentioned to Brodie that kids can start racing JD's at 8 and he never let his parents forget it," grinned proud parent Richard Zappia
In late 2013, Zaps Brat was licenced and ready to race thanks to help and mentoring from Peter Matulovich.
In 2014, Brodie was fortunate enough to travel to Darwin and race in his debut year as a C Junior. Competing in a field with 12 other JD competitors, he was lucky enough to win the event against the 2013/14 JD Champion, and this still holds special memories of his first interstate win, with a crocodile skull trophy prominently displayed on his trophy cabinet.
"We returned to Hidden Valley in 2015, and Brodie backed up his previous year's feat winning the race again," said Richard. "He then travelled south to Alice Springs and performed well, just missing out on the win and came away with runner up at the Desert Nationals."
Back at home, Brodie has raced really well against the older kids at home that year too.
Richard and Lia were really proud of him finishing 3rd in the WA Championships in the 2015/2016 season and 2nd in the Fast Series for that same season. This was quite a successful achievement for a 10year old C/JD.
In the 2016/2017 season, he stepped up to a B/JD. This proved to be a bit of a learning season for both Brodie and his parents (crew). The faster car reacts differently and trying to get consistency made for a trying season. Brodie was enjoying going faster with times of 8.5 seconds and speeds of 128 kph.

Photo by Grant Stephens – DRAG NEWS
So what does Brodie like about racing in the Northern Territory?
"This will be my 4th trip to race in Darwin and Alice Springs and I'm pretty excited. I get to start the new season in July when racing back home in Perth doesn't start until October. It's a great experience travelling as I get to race and have fun with friends I've made from the other states."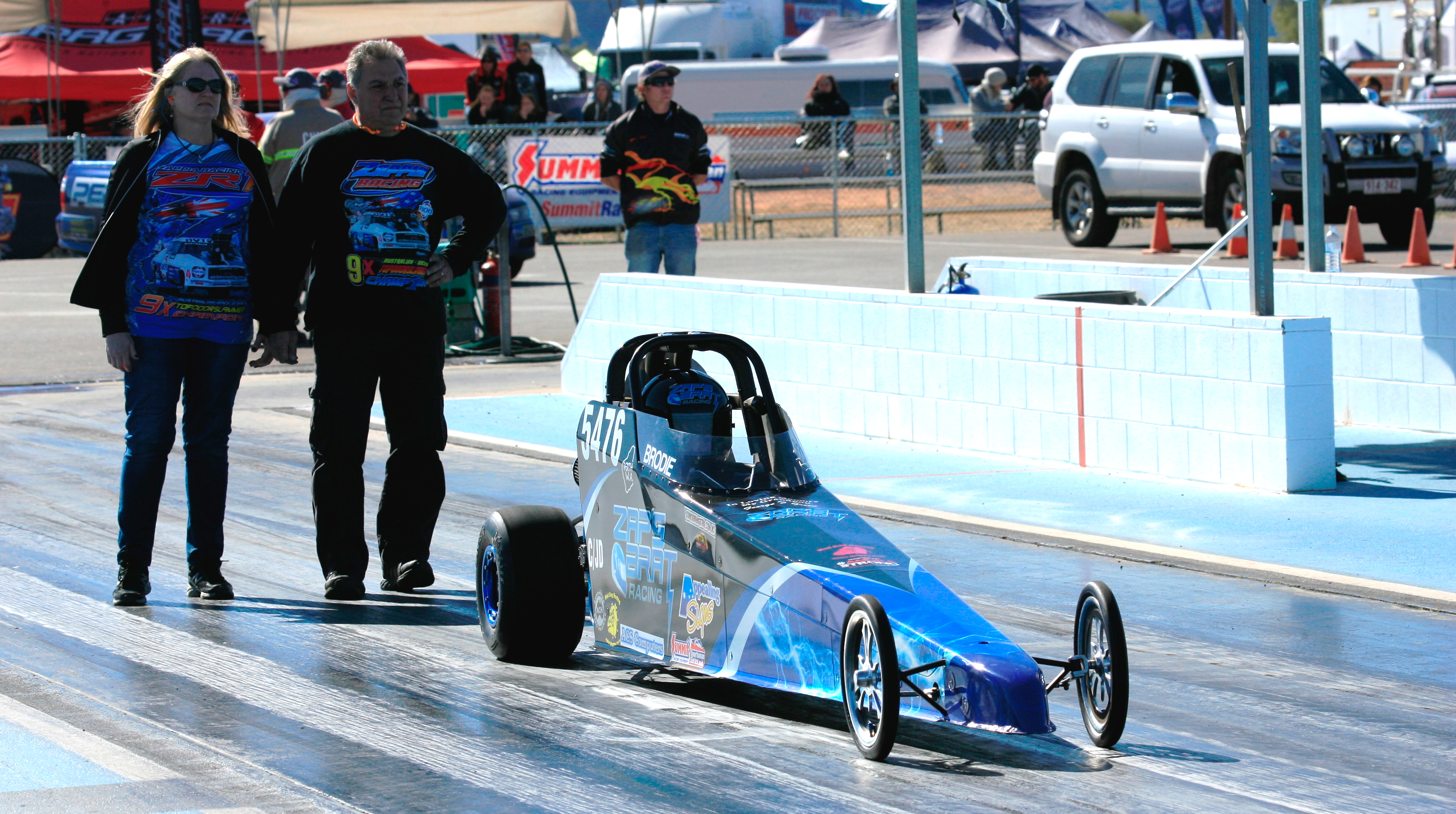 "Not all of my travelling has been with Uncle John. I've been really lucky that Mum and Dad have taken me to SA and Vic to race as well, so special thanks to them for all their hard work," said Brodie.
Brodie still has another five seasons ahead of him. He will be moving into A/JD's from September next year where he can run 8-second passes, travelling up to 144kph.
Brodie wishes to thank the people that have helped in his transport to make this happen, being Ed Bowman, Gordon Crawford (The Moving Man – Trophy Truck) John Zappia and Zappia Racing as well as Mike Sprylan from ACS Computers and Junior Dragster Australia for their support. In addition, Brodie wanted to thank Summit Racing Equipment for their support to ANDRA and their sportsman racers as well as supporting the Junior Dragster class and the Summit Racing Equipment Junior Dragster Facebook Page
Alice Springs Family photo by Dave Hope