West Australia's Ian Board recently made his racing debut in Modified after years supporting his family's exploits on the track.
Next weekend, he will enjoy his first ever Summit Racing Equipment Sportsman Series event behind the wheel at the Perth Motorplex's Goldenstates event (November 26/27), racing alongside his daughter Zara who will be competing in the Summit Racing Equipment Junior Dragster bracket.
"I am really looking forward to racing my first Goldenstates and my first Summit Racing Equipment Sportsman Series round, and it really means the world to me that I can race this event with Zara," Board said.
"This race meeting and this time of year is just so emotional for our family as we remember Anita even stronger than we normally do.
"I have no real expectations other than putting on a good display for the crowd and being on track with Zara, making memories and doing our Angel Anita proud – #6744 Ponypower forever."
With Zara having been racing for years, there have been plenty of laughs around the pits about her showing her dad the ropes.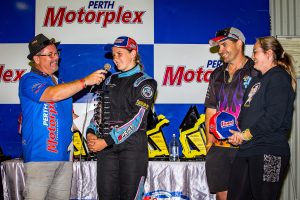 "Racing alongside Zara is just amazing and really something we never planned, or thought would happen. It is kind of a proud moment when I pull out of the tunnel, and someone says that is Zara's dad," he chuckled.
"She has got five years of experience on me, so it is the 16-year-old veteran with the 41-year-old rookie Dad," he grinned.
"We also got asked for autographs at PowerPalooza and that was a proud moment as I am used to seeing her sign people's items. Doing that together was special.
"It has already been very cool for me to see the sport from a driver's point of view, and I certainly see and feel the addiction. But I still get most enjoyment out of seeing Zara do well – maybe one day I'll snag a trophy and then I will be a little more hooked!"
It will be a busy season ahead for the Board Family Racing team.
"My racing plans moving forward are basically to have fun and enjoy racing with the family. This car was bought for Zara mainly, but Sonja (Ian's wife and Zara and Anita's mother) and I will be having a go," Board explained.
"The main focus this season is on Zara as it is her final season in Junior Dragster, but I will run the WA Drag Racing Championships including the Westernationals and you never know, we might even get an event in over on the East coast if things fall right.
"We will always put Zara first as it is her last season in Junior Dragsters, and she has a real chance of finally getting a championship win to add to her runner-up in the Summit Racing Equipment Championship and her two runner-up results in the Western Australian Enviro Exhaust championships.
"I as the apprentice will step back wherever needed to make sure she is on track. I also can't wait to see Sonja get in the car – she will be doing some test sessions in early 2022.
"Even though it is our last season in the bracket, our family support for the Junior Dragsters will never be gone. The new racers already have a place in our hearts, and we love watching their progress and will follow, help and support for years to come."
As he prepares for his SRESS debut, Board has a lengthy list of people he would like to thank.
"I must firstly thank Sonja. This doesn't happen without the 110 percent backing of your life partner," Board said.
"I would also like to thank Zara, Scruffy, Des, Irene, Adam, Sarah, and Norm (the team), as well as Tony, Rick, Conor Wood, Arron Derry, Matt Jarvis, and their families – I am sure there are so many more I have missed as well who have played an important part in supporting us.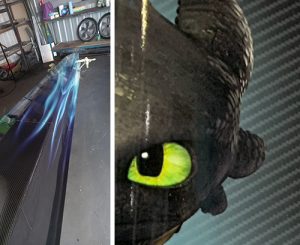 "I am also very grateful to our sponsors – not only do they back us, but there are also some very important people in our lives behind each of these company names: BL & SG Lake Brick Cartage, MPRINT Industries, Cajed Race Wear, ADR, Team Wood Performance Transmissions, Revitise Massage and Wellness, Redi Finance, ACS Sports Images and John's Auto Trimmers. We also enjoy support from Lost Performance LPR and Speedflow.
"Another shout out must also go to Summit Racing Equipment as the championship sponsor and Junior Dragster bracket sponsor, and all of ANDRA's sponsors, the Perth Motorplex staff and volunteers, the ANDRA staff and volunteers, and the track and bracket sponsors.
"Finally, our friends, our family, and our racing family who have all backed us through some dark times, and also the fans and supporters of our sport all deserve a thank you.
"We couldn't do what we love in such a world class venue without all of these people, and we are very appreciative of their support.
"I look forward to the season ahead, hanging out with great people, improving the WCJDA as President and just improving on and off the track. I wish everyone fast and safe racing. We can't wait either to unveil the new look for the car thanks to MPRINT Industries – Night Fury III is looking great."
The Goldenstates, featuring a round each of the Summit Racing Equipment Sportsman Series and the Australian Drag Racing Championship, will be held at the Perth Motorplex across November 26 and 27. For more event information, visit www.motorplex.com.au
For more from ANDRA, visit www.andra.com.au