Hussey Performance has announced it will offer ANDRA license holders 10 percent off its product and services as a member of the ANDRA Member Benefits Program.
The copper gasket manufacturer, based in Pennsylvania (USA), offers copper head gaskets of any thickness as well as oil pan/valve covers and header gaskets.
David Allen of Hussey Performance said the choice to join the ANDRA Member Benefits Program was an easy one to make.
"We wanted to join the program because it is a great way for us give back to the loyal racers, while hopefully gaining some customers!" David said.
"We are looking forward to working directly with the Australian racers to get the perfect gasket for their motor combination.
"Customers can order directly through me, so there is little confusion when it comes to making sure they get the exact gasket they need. I can be reached by email or phone at any time – the shop phone directs to my cell phone after hours so late calls are not an issue, I find this helps a lot with the time difference between Australia and the US!"
When it comes to the product, Hussey Performance has an edge over its competitors, says David.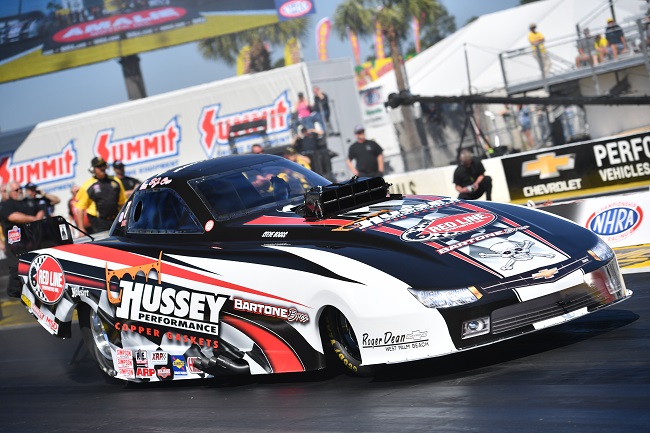 "The thickness of the gasket is crucial for getting absolutely everything out of your motor. Unlike any of our competitors, we offer our head gaskets in one thousandth of an inch (.001″) increments as standard," David explained.
"We keep sizes from .030″ up to .125″ in stock also, and this allows the racer to get the exact thickness for his desired compression ratio at no additional cost (normal gasket sizes are .040″, .060″, .080″).
"So, often with other suppliers, if someone needs a .047″ head gasket thickness to achieve a desired compression ratio, they would be forced to go with a .040″ thick gasket which will be too thin or a .060″ gasket which will be too thick, or they will have to pay an additional fee to have the gasket made to their desired thickness.
"That isn't the case here – everything is tailored directly to the end user."
While he might be based in the USA, David and his business have a love for the Australian drag racing scene.
"One of our first Australian customers was Maurice Fabietti and in one phone conversation he convinced me to come down and check it out – needless to say, it wasn't hard to convince me! I had wanted to visit my whole life," David said.
"Today we have a small sponsorship with Maurice, so you can see our decal on his car. I loved my time visiting, it was really great and the racers were extremely welcoming – we met a lot of very cool people. It reminded me a lot of NHRA racing, but with more of a family feel to it which I thought was a nice change."
For more information, visit www.husseyperformance.net or contact the Hussey Performance on (724) 318 8292 or HusseyPerformance@gmail.com