A near capacity Darwin crowd was treated to some of the quickest, most electrifying ANDRA Drag Racing action ever seen at Hidden Valley Drag Strip on Saturday. And to put the exclamation mark on the event, Rapisarda Autosport International turned it on in a big way over three Top Fuel exhibition passes.
First and foremost, vital ANDRA Drag Racing Series points were up for grabs as hometown hero Scott MacLean and Paul Cannuli opened their 2015/2016 ANDRA Championship season in style with popular first ever National event wins in Top Alcohol and Top Doorlsammer.
Hidden Valley Drag Racing Association President MacLean had worked tirelessly behind the scenes with his team of volunteers to stage the event and he was rewarded in the best possible way defeating John Cannuli in the final.
MacLean got the jump with a huge reaction time advantage on Cannuli, who had been quickest all weekend, and never looked back reaching the finish line first with a 5.617 elapsed time at 260.76 mph to Cannuli's quicker but losing 5.446 ET at 265.53 mph.
"For the first time I think I'm speechless," said MacLean. "It's just unbelievable, I'd like to thank my sponsors, this is for them.
"It's been a big week. Thanks to Hidden Valley Drag Racing Association for putting on such a big show this weekend. Thanks to the crowd, the sponsors, the NT Government. It's the perfect ending."
To reach the final MacLean eliminated defending 17-time ANDRA Top Alcohol Champion Gary Phillips in Round 1 with a 5.579 ET at 262.03 mph when Phillips spun the tyres. MacLean then enjoyed a solo 5.810 ET second semi final win at 248.16 mph when Jamie Noonan's dragster was shut down at the line with a broken oil pump.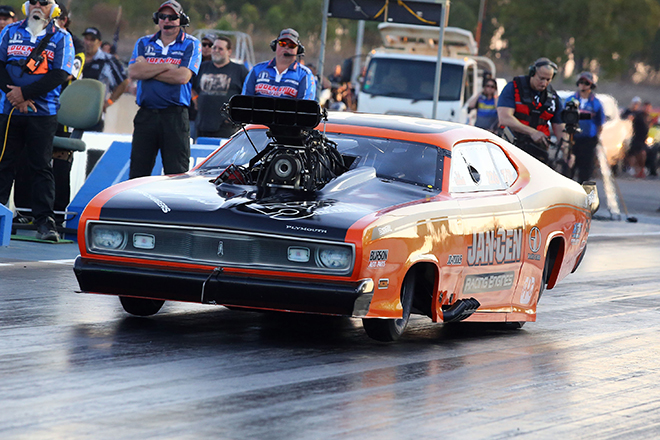 Crossroads Racing still had something to celebrate with Paul Cannuli securing his first ever ANDRA Drag Racing Series Top Doorslammer victory defeating Grant O'Rourke on a 6.097 ET at 240.12 mph from a 6.194 ET at 239.95 mph in the final.
O'Rourke had been a pace setter all weekend alongside John Zappia but Cannuli came up with the goods when it counted after his team worked hard all day to ensure the car could even compete following damage to the front end in his final qualifier on Friday night.
"Woohoo! Top of the world, so stoked," said Cannuli. "A big thanks to my crew for getting us there, they had to get the car ready, they did an awesome job.
"Thanks to Mike Janis in the States for helping us and Andy McCoy, he built the car. Big thanks to everyone, my brother, family, everyone. I honestly can't believe it."
Cannuli defeated Murray O'Connor in Round 1 with a 5.931 ET at 242.28 mph to a 6.215 ET at 236.05 mph. He backed that up with a 5.977 ET at 239.44 mph to defeat eight-time defending champ John Zappia in a dramatic semi final. Zappia touched up the wall after a messy launch as Cannuli powered to the win.
Top Doorslammer non-qualifiers Pino Priolo, Stuart Bishop, Daniel Gregorini, Rob Taylor and Matt Abel all competed in a Chicago Shootout for 20 Championship points per win.
Taking advantage were Priolo (solo in Round 1, Round 2 win vs Abel), Bishop (Round 1 win vs Taylor, Round 2 win vs Taylor) and Gregorini (Round 1 win vs Abel, solo in Round 2).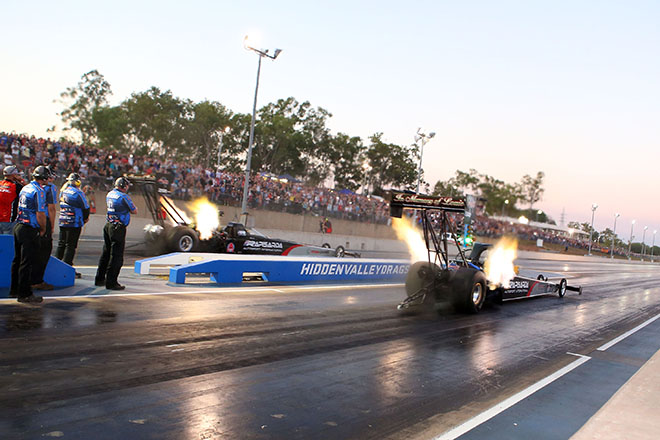 While Top Alcohol and Top Doorslammer were the main event, the highlight for many of the dense crowd lining the hill and the rooftop of the V8 Supercars garages was seeing up to 20,000 horsepower from Top Fuel champ Damien Harris and teammate Wayne Newby.
NT Chief Minister Adam Giles looked on from between the two Rapisarda Autosport International dragsters at the start line in his first ever nitro experience watching Harris power to a pass of 4.873 seconds at 246.35 mph while Newby recorded a 5.483 ET at 175.82 mph.
Harris would go on to post a 4.738 ET at 280.25 mph followed by a flying 4.639 ET at 317.49 for a new track record. Newby laid down passes of 5.032 ET at 233.23 mph then spun the tyres at the launch on his third pass to finish the night but the crowd didn't care as they were left begging for more.
As the crowd filtered home, the Hidden Valley Drag Racing Association were commended by ANDRA on a very well run and highly regarded event.
ANDRA CEO Malcolm Bulley said; "It's great to be here racing, we love coming up to Darwin. Nitro Up North was a fantastic event and the Hidden Valley Drag Racing Association, the local NT Government and all these enthusiastic fans have really shown what a great motorsport city Darwin truly is."
The ANDRA Drag Racing Series will return to Hidden Valley Drag for Round 2 of Top Doorslammer August 14-15.
To view final results, please click here.
Images: Grant Stephens / Drag News Australia