Saturday will host the final showdowns for the extended 2019/2020/2021 Summit Racing Equipment Sportsman Series, following the successful conclusion of day one of the ANDRA Grand Finals/Twilight Nationals at Mildura's Sunset Strip on Friday.
Three rounds of qualifying were held Friday evening, with a fourth and final round to be held for each racing bracket Saturday afternoon ahead of eliminations racing to decide this season's champions in the evening.
At the close of day one proceedings, Renee Cockerill (Super Gas), Brooke Camilleri (Summit Racing Equipment Junior Dragster), Chris Whittaker (Super Street), Gavin Dohnt (Modified Bike), Adrian Dal Broi (Super Sedan), Adam Mundy (Modified), Darren Saliba (Top Sportsman), Jayden Talbot (Supercharged Outlaws), Joe Khoury (Competition Bike) and Steve Norman (Super Comp) are topping the time sheets and the chase for the Decoglaze Glass Splashbacks Top Qualifier medallions in their respective classes.
Cockerill, Dohnt and Mundy are all in contention for the Summit Racing Equipment Sportsman Series national title in their respective brackets and so were pleased to have their ANDRA Grand Finals campaigns off to a good start.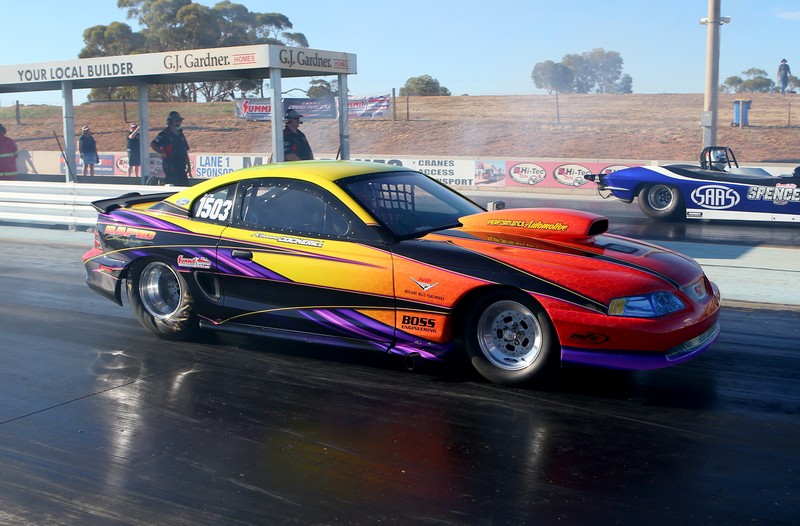 "The car has been going really well and is dialled-in quite well. In the last qualifier I short shifted which had the car going a bit slower but other than that the day has been really good, the atmosphere is really great and I am looking forward to tomorrow," Cockerill said.
"(When it comes to the championship) I am a bit excited and a bit nervous all at the same time. I have been doing this for 23 or so years and I have never won a championship. The last big meeting I won was at Ravenswood back in 1999, so that was a long time ago and to even get an ANDRA Christmas Tree would be awesome.
"I am trying not to let my nerves get the best of me heading into tomorrow – you have to be confident, you can't just sit and let things roll on. I am up there in the points, so I have to be confident.
"In the meantime, I have to thank my husband Steve – he works so hard on the car and he is the brains behind all of the work that gets the car to run the numbers, so a big thank you to him and also to my family and friends who support me as well."
For Dohnt, a second championship in the Modified Bike title is what is at stake tomorrow, after he claimed the national title for the bracket back in 2013.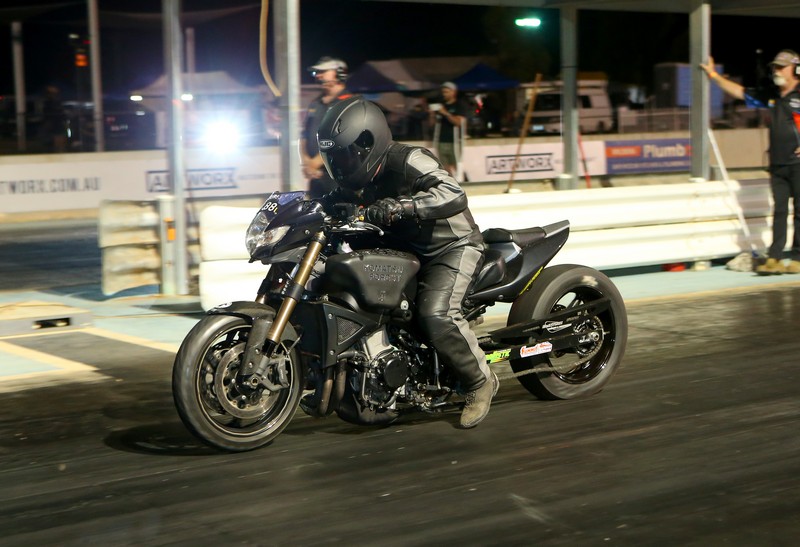 "I am pretty happy with today, we have slowed the bike down to make it rideable and over our three runs today there were only nine thousandths of a second difference between them, so I am very happy with the consistency," Dohnt said while thanking sponsors Komatsu Forrest, LV Dohnt Forestry and PB Suspension.
"The weather has been interesting, and I think the club has done a very good job with the track considering the amount of miles done on it. We will see how it goes tomorrow but hopefully the tune-up in the bike will see our consistency stay the same and we will be able to go into racing feeling fairly confident and able to pick our dial-in with some sort of accuracy.
"As far as the championship goes, it really is anybody's game with four riders that are right on it. It is going to be something of a roll of the dice tomorrow and we will see what happens. I want to say good luck to everyone for tomorrow's racing."
Mundy is hoping to back up his 2018/2019 season championship with a national title victory in the extended 19/20/21 season this weekend.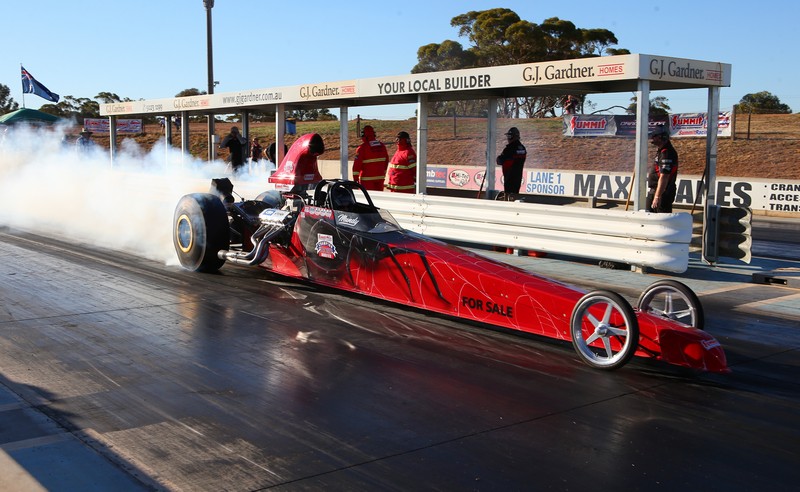 "Today has been a bit trying for us with the hot weather – I was expecting the car to run a bit faster, and we made a few changes but it didn't make it run any faster. But the track is in very good condition and is nice and sticky, and we were getting some good 60-foot times, and of course we are happy to be the top qualifier so far," Mundy said.
"It will all come down to tomorrow's final qualifying run, and to be honest if Bradley Hicks can get his car to hook up and do a full pass, I think he will be the one getting the top qualifying medallion.
"For the championship, I am feeling a little bit nervous compared to how I was at the last Grand Finals, I guess because this time I am the one that everyone is looking to knock off. Four or five people can actually snatch it tomorrow, so I am not taking anything for granted.
"I want to thank my crew, Des Mundy and Ron Beaucaris, and also all of the track staff, volunteers, officials and ANDRA."
For results from today's action at Mildura's Sunset Strip, please click here
The ANDRA Grand Finals action at the Sunset Strip will continue tomorrow (Saturday March 13) with the final round of qualifying from 2.00pm local time, ahead of the start of eliminations racing from 5.00pm. The finals are expected to be held at approximately 10.00pm.
The 19/20/21 Summit Racing Equipment Sportsman Series season has been extended in the face of COVID-19 to not only deliver successful completion of the current competition, but also a record prize pool thanks to Summit Racing Equipment. The performance powerhouse has announced it will offer 50 percent extra end of season prize money for a total prize pool of more than $100k including $10k for the prestigious John Storm Memorial, creating the biggest prize pool in Australian Drag Racing history.
For more information, visit www.andra.com.au[/vc_column_text][/vc_column][/vc_row]