West Aussie Gordon Crawford is a guy who really enjoys his ANDRA Drag Racing, but the more you get to know him, the more you learn that he is a good bloke too.
You only have to mention his name around the pits and you'll see the credibility Crawford has from his peers.
"I started my racing career late, mainly due to family commitments and building up our business," said Crawford.
However, his love of the sport ignited back in the late sixties when he was a keen spectator at Fairbridge Farm Airstrip. His enthusiasm became a pain in the butt at Ravenswood, constantly asking management if he could help in any way!
Crawford then progressed from Ravenswood to Perth Motorplex entering his road bike at weekly Whoop Ass events.
His next steps were Modified Bike, Comp Bike and Top Fuel Motorcycle.
"Right now I'm loving being back in Modified Bike, especially with fewer costs and less stress. I've come full circle, but I do miss the thrill of nitro and the rush of throwing a leg over the "Beast".
Crawford personality quickly endeared friendships within the sport. It was here that he saw an opportunity to assist his fellow racers to attend interstate championship rounds.
"I could see an area where I could help racers in all classes to attend interstate events by offering subsidised transport in my semi-trailer," said Crawford. "Many of them indicated it would be difficult to make the journey on their own for a variety of reasons.
"Over the years, we have transported hundreds of teams, both cars and bikes and rarely miss bringing home a trophy," grinned Crawford. Hence why the truck has now been dubbed the "Trophy Truck".
At the conclusion of the 2016-17 Summit Racing Equipment Championship, Crawford finished third, just 10 points behind Matt Lisle and 60 behind champ Bryan Finn.
He also finished third place in the 2014 ANDRA Top Fuel Motorcycle championship.
"Last season was certainly my strongest season and my best chance to win the championship," said Crawford. "So going back to Modified Bike wasn't such a bad move for me after all' (laughing).
"I had a good chance at the Championship but Finny was just too good for the second year in a row."
Crawford recalls the Summit Racing Equipment Grand Finals well, "Matt was out in the semis and I had Finn in the second round. His bike always runs within a hundredth of a second every single time, so the only way I knew I had a chance was to get him on the light.
"It had to be a screamer light if I was to get him but unfortunately I red lighted which not only cost me the race, but also the championship. I saw it straight away and said, you dickhead!
However in the true spirit of the Summit Racing Equipment Sportsman Series Crawford copped it on the chin and moved on.
"Yes it would have been awesome to have won my first championship, but there is always another year. I love my racing, however, I equally get a kick out of helping other racers compete interstate," said Crawford.
At the Summit Racing Equipment Grand Finals "The Moving Man" had a truckload of racers, some of who were making their first appearance at Adelaide International Raceway.
"I love seeing the racers I take do well. I had Perth Comp Bike racers Phil Paton and his son on board and seeing them enjoy the event and have a good time puts a smile on my face.
"Win, lose or draw it doesn't really matter for me. Winning is nice but at the end of the day, it's a bonus.
"My wife Jen and I have been going through some tough times with our health. Over the past 18 months, I've had treatment for bowel cancer. We reversed the operation recently and my doctor said that within 2 to 3 months I should get the all clear, which is fantastic news. But four months after I was diagnosed Jen was told she had aggressive breast cancer. You can imagine it's been a very difficult time for both of our families and us.
"At the Australian Nationals earlier this year, I was just feeling very tired. It was nearing the end of the season and combined with the flying and driving, it was taking its toll on me.
"This last trip from Adelaide was my 123rd trip across the Nullabor and while that hasn't all be related to racing, the majority has been," said Crawford.
"I also do Phillip Island once a year and take about 20 bikes across for a private track hire.
"I can get nine bikes and two car teams including all their gear. But if it's just bikes I can carry up to 22 onboard.
"We will be doing Darwin's Nitro Up North and Alice Springs Desert Nationals in a few months and look to have a fair few competitors onboard again.
Zoe Nieuwhof is one who is coming along to Darwin. She has done very well for herself over the past season having won the 2016/17 Perth Motorplex Modified Bike Track Championship as well as the Rider of the Year award.
"Yes at the end of the day she is my competitor, but I just see it that we are all here to have fun. I love watching other racers do well and enjoying themselves."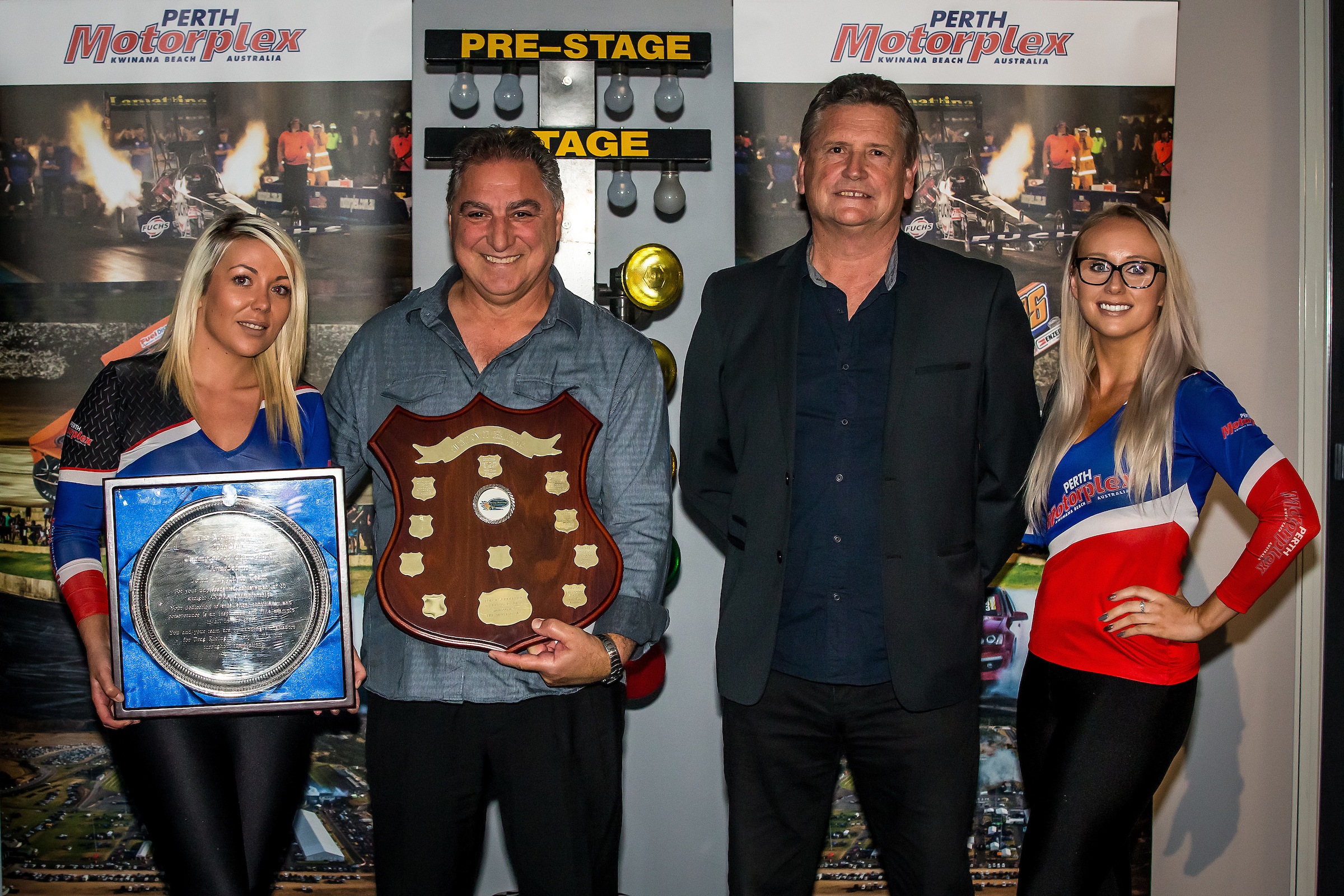 Gordon Crawford (right) pictured with John Zappia's brother Richard with the Champion of Champions Shield.
Something else Crawford does out of his own goodness is present a Champion of Champions perpetual trophy at the end of the Perth Motorplex season.
The basics of the trophy are centred on a lot of qualities Crawford stands for and believes in.
"Over the past seven years, I have given out a Champion of Champions trophy. It's a perpetual shield that also comes with an engraved silver plate and a $1000 cheque "said Crawford.
"I like to look at it as an encouragement award, something I'm very passionate about.
"So far Juniors have won it, a couple of Comp Bike guys, McClure has won it, and John Zappia has now won it twice.
"With John's outstanding performance over the last season and wrapping up his 10th ANDRA championship, it just couldn't go without some recognition," said Crawford.
"I choose it based on a number of factors such as excellence in drag racing. But excellence is just not about performance. I look at professionalism, teamwork, how they promote the sport, both state and nationally, and perseverance.
"It could be someone who comes from nowhere and blitzes the competition. You don't even have to win a championship!
"What I look for is someone who is outstanding and who matches the criteria I mentioned earlier. It is also done in conjunction with Perth Motorplex, where we both look on competitors and their outstanding performances on and off the track.
"And that was exactly what John (Zappia) achieved over the past season, including his team.
"I'm now 67 and I like to encourage the older generation to "give it a go"! I believe there are enough classes within our sport to suit almost anyone.
"I don't mind people knowing my age, as I feel it might also give others a prod to have a go. After all, you are only as young as you feel.
"I intend to keep racing, and transporting teams around for as long as my health allows.
"I'd also like to send my best wishes to all competing at Darwin and Alice, and a safe journey on and off the track," finished Crawford.
Racing image by Joe Maday/www.dragnews.com.au
Trophy image by Phil Luyer/www.highoctanephotos.com
If you are interested in heading to Darwin or Alice give Crawford a call on 0408928112 or email – gordoncrawford888@hotmail.com
Further event information can be found at the following:
Nitro Up North – www.nitroupnorth.com.au
Desert Nationals – http://www.cadra.com.au
[END]