Phil Lamattina has regained the advantage in Top Fuel, John Zappia won his seventh Top Doorslammer Championship as a runner up to Grant O'Rourke and Luke Crowley virtually assured back-to-back titles in Pro Stock Motorcycle at the Fuchs Spring Nationals today.
On the Labour Day long weekend in South Australia, a big crowd turned out to not only welcome back Top Fuel after a long absence, but also take in the sights and sounds provided by Racing Onn Promotions.
According to a returnee to the AIR venue after many years, it was exciting to see Drag Racing embraced so well by Adelaide.
"We had a great time. The kids loved it, I loved it and it was great to be able to see the Roulettes fly over and even give the kids a ride on the Monster Truck.
"They probably liked the free ice cream more than the racing but they just couldn't believe it when the Top Fuel cars came out so we really enjoyed it."
Coming into the day both the Lamattina Top Fuel Racing cars occupied first and second and since none of the four drivers could improve on their position in the final qualifier the status quo was maintained giving LFTR lane choice.
In the semi finals John Lamattina met Damien Harris who maintained hopes of stealing the Top Fuel Championship from under the noses of his teammate Allan Dobson and Phil Lamattina.
Unfortunately Harris spun the tyres big time while the younger Lamattina was able to put down a clean 4.205-second pass at 273.55 mph to reach the final.
The title fight in semi final number two proved to be exactly as both Allan Dobson and Phil Lamattina smoked the tyres the length of the track like it was the 1960s.
Although Dobson fought gallantly on a 4.673 at 235.10 mph, Lamattina was able to take the win light and a Championship advantage on a 4.313 at 247.66.
With LTFR guaranteed of the one-two, John handed over lane choice to his older brother Phil who reacted far superior on the green to take a giant leap toward his second ANDRA Drag Racing Series Top Fuel Championship on a 4.203 second pass at 267.14 mph from a 4.537 at 235.78 mph.
"It's great to have the points lead, it's always better to be chased than doing the chasing," said Phil Lamattina.
"I really have to thank John's team for allowing me to have lane choice in the final and also to have two Fuchs Top Fuel Dragsters in the final, that's no mean feat.
"The Rapisarda team is a tough, tough opposition. They want it and they want it bad. We came out on top today, but Sydney is another thing.
"In Sydney we'll be running the one car. We just believe that we just need to focus all of our efforts on the one car and we believe that's the best shot we have.
"We don't go to a race meeting just to win a couple of rounds, we would love to go three rounds and win the Championship with an exclamation mark."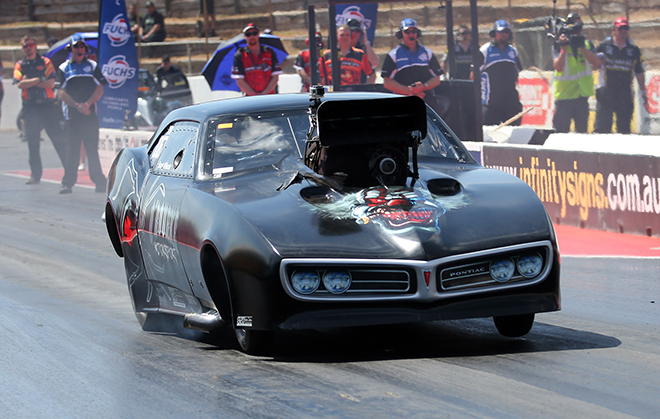 John Zappia made it seven ANDRA Drag Racing Series Top Doorslammer Championships in a row by reaching the Fuchs Spring Nationals final however it was Grant O'Rourke who secured his very first Series victory in his first ever final in at least 12 years of racing.
Stuart Bishop, nearest Championship rival to Zappia, had it all to do to stay in touch but in a repeat of the final at Hidden Valley, he two stepped to roll the beams in the semi finals against eventual winner Grant O'Rourke who recorded his lowest ET of the weekend with a 5.156 at 216.97 mph.
Zappia had earlier come through a testing Round 1 against Marty Dack but he was able to skate and pedal his way around the Falcon in a left lane that proved troublesome in losses for Gary Phillips, Pino Priolo and Bill Goonan before him.
Against Grant O'Rourke in his very first final, Zappia got way out of shape on the hit and tagging the wall with his rear wing as O'Rourke celebrated all the way on a 5.260 at 216.97 mph.
"We're wrapped, don't really know what to say," said O'Rourke.
"To take out Zappia, arguably the best of the best, the last person to beat him was me in the first round of the whole season and here we are now.
"I'm absolutely stoked. This whole weekend, this whole thing is about the mates and the kids that got shot down in that plane. I can't be more honest, more genuine about that.
"It just seems to be if there is any two people that have ever been matched together, it'd be me and Zap and I don't mind. There's a game here and a game there but I'd rather meet him in a final than the first round I'll give you the tip."
Despite the final round loss, Zappia secured lucky Championship number #7 in a row, a first in Top Doorslammer.
"Any time you make a final it's a good effort," said Zappia. "Unfortunately we staged a bit too far left (in the final) and the car went too far left.
"I pedalled and just scraped the wall, I didn't know I had scraped the wall, I knew it was close but it just grazed a layer of paint off and that was it.
"Winning the seventh Championship is awesome so the Fuchs/Striker Monaro lives to fight another day and we'll head to Sydney, crank it right up and see if we can push the record."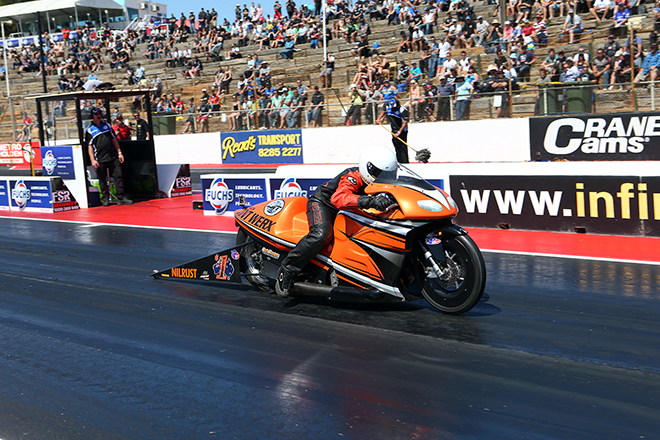 Pro Stock Motorcycle these days seems to always be about two riders, Luke Crowley and Maurice Allen.
Although Scott White performed very well all weekend and Ryan Learmonth impressed on his pro debut, Crowley and Allen met in yet another final for all the marbles.
Allen took down Glenn Wooster in Round 1 and had to ride around White in the semi when it looked as though he was beat, but White slowed allowing Allen to go through on a 7.902.
Crowley was in a familiar position winning his first round match up against Phil Howard then opening it up on a solo semi final pass of 7.299.
He would all but secure his second consecutive ANDRA Drag Racing Series Pro Stock Motorcycle Championship defeating Allen in the final on a 7.217 at 184.46 mph from a 7.766 at 160.94 mph.
"This win means more, it's three in a row, we haven't done that before," said Crowley.
"We ran our personal best for Adelaide in the final, 184 mph, the bike seems to be moving.
"It was a bit of dash after the solo run, I did a few things wrong so we looked back through all the data, looked at the conditions and went back to the setup we ran at the X-Champs.
"We 60-footed really well at the X-Champs so we went back to that exact same clutch set up within a gram and it worked. That's as quick as this engine has gone at this weight.
"We had a few little dramas all weekend. We put the spare engine in and the transmission didn't work for some reason last night.
"The golf cart broke down after we top qualified and I was sitting down the bottom end in the dark for 25 minutes wondering what was going on.
"We went through everything we had to and come race day I just sit down, do my job and try run the wheels off and luckily it all came together today."
The final round of the ANDRA Drag Racing Series and Aeroflow Sportsman Drag Racing Championship moves on to Sydney Dragway for the Australian Nationals to be held October 31 – November 2, 2014.
For full results please click here.
Images courtesy: Outlaws Images