With just the ANDRA Grand Final left to run, the Competition Bike fight in the 2019/2020 Summit Racing Equipment Sportsman Series is anyone's game with only 30 points between the top five.
Tony Frost, the 2017/2018 Competition Bike Champion, is leading the way on 225 points ahead of Levi Addison (210), Wayne Patterson (205), defending champion Robert Cassar (190) and Phill Paton (195).
"The Team and I are happy with leading the championship in Competition Bike at the moment, but we are only 10 points in the lead and with other racers all in touch it is going to be an interesting Grand Final event," Frost said.
"I would like to say we are quietly confident, but there are just so many variables in our sport and in our class that can happen on race day. Portland's South Coast 660 is a great example of that with Rob Cassar and I both breaking gearboxes.
"It has certainly been a great season so far and in particular running back to back four second passes at Portland would have to be a stand out moment alongside the South Coast Nationals win."
The Warrnambool racer has a lot of positive things to say about his fellow racers despite how close the competition is in the bracket.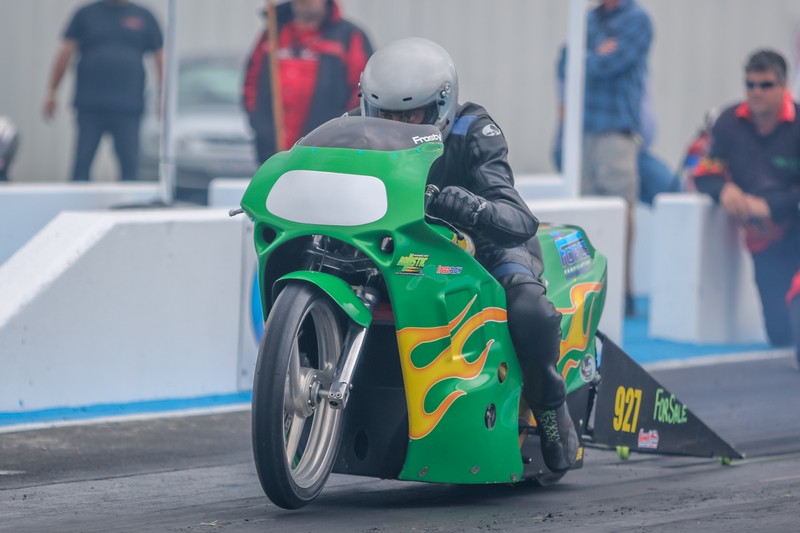 "Levi is a young and hungry guy who is great for a laugh in the pits while being ultra-competitive on the track, and as he is stepping up in Competition Bike he will be a force to watch," said the Pedders Warrnambool business owner.
"Rob and Katie Cassar, all I can say about them is just wow, that bike can go! Seeing it come past you carrying the front wheel is an awesome sight and Rob is a tough racer who definitely wants another championship.
"Chris Hosken and Nathan Stone are also great racers who are each starting to find the power and speed in their bikes, and will soon be running on the indexes.
"Hopefully a couple of the WA guys like Wayne Patterson and Phill Paton will be able to make it over for the Grand Final also.
"All of the competitors in Competition Bike and even Modified Bike are great racers. We all want to win but at the same time, we will all help each other out to make sure everyone gets to the track.
"I would rather help a fellow racer out and lose a win on the strip rather than win by default because they couldn't greet the starter, and I think that is the best thing about bike racers.
"Competition Bike is a great class and a great stepping zone for racers that don't want to be restricted to having to run dial-ins and just want to go as fast as they can. Thanks to Rob, the new format seems to be working and bringing more racers back to the class and hopefully next season even more will step up and into the class."
Like so many champions before him, Frost is quick to say it is a team effort.
"I have a heap of people I have to thank for their support. First and foremost is my family and my crew, as without these guys I just could not do what I love to do, so thank you Tracey, Rick, Jill and Bronwyn, Brock, Bailee, Caitlyn and Cody," Frost said.
"With our Force Wear Suzuki we know we can run on and under the index and our team has the experience to dial the bike in to the track conditions.
"Being able to rely on my crew checking and watching the bike on track and then reading the data to get the best out of the bike really makes a big difference, especially when we can check out what I feel on a run against data and video. They also all do their part to make each meeting fun and enjoyable and I really appreciate that.
"I also want to thank Trevor Birrell in Adelaide for his guidance and workmanship rebuilding our engine and parts as needed and I need to send a huge thankyou to our major sponsor, Clint and Danielle from Force Wear Components for allowing us to advertise their brand."
To view the current points tally for the 2019/2020 Summit Racing Equipment Sportsman Series, please click here.
The ANDRA Grand Final is currently postponed due to COVID-19 restrictions. ANDRA hopes to host the event later this year on dates to be confirmed. For more information, visit www.andra.com.au