The final action packed day of the Fuchs Winternationals brought down the curtain on the 2015 ANDRA Championship Drag Racing season in front of a capacity crowd at Willowbank Raceway.
It was a Rapisarda Autosport International type of day as they had the monopoly on the Winternationals with all three cars passing go to reach the semi finals and set up an all RAI Top Fuel final.
By negotiating Round 1, RAI wrapped up their first championship since Steve Read last won for the team in 2002 but the question was just which driver would be crowned champion.
Damien Harris was eliminated by US star Cory McClenathan in the semis, meaning Wayne Newby could steal the championship in his first season in a Top Fuel dragster if he could win the final and set either top speed or low ET.
It wasn't to be for Newby as McClenathan took the win in a fireball handing the championship to Harris and a second ANDRA Gold Christmas Tree for the weekend to team owner Santo Rapisarda.
"This is just so unbelievable, I have one of these on my mantle at home and now I have one to sit right next to it," said McClenathan, who won the 2011 Nationals event in Sydney with RAI.
"This is really cool to do this at the Fuchs Winternationals, I know it is a points deal for everyone and I didn't want to disrupt that so whoever won, won – but I did not come out here to be second place," said McClenathan.
"Santo calls me, he expects me to come out here and stand on the gas and not let off and that's what we did. We hurt some parts doing it, we had one good run today and you've gotta have a bit of luck in drag racing.
"Thanks to Santo's Cranes, Rapisarda Autosports, to Santino and Santo Junior who do a great job on their cars. Lee Beard did a fantastic job for me and all the guys over there – it's a team thing not one guy as they say but thank you to all and to Santo Rapisarda – this is in memory for Louie, and I am just so glad to have brought it home," he added, in reference to Santo's son Louie Rapisarda who passed away in a Top Fuel accident in 1990.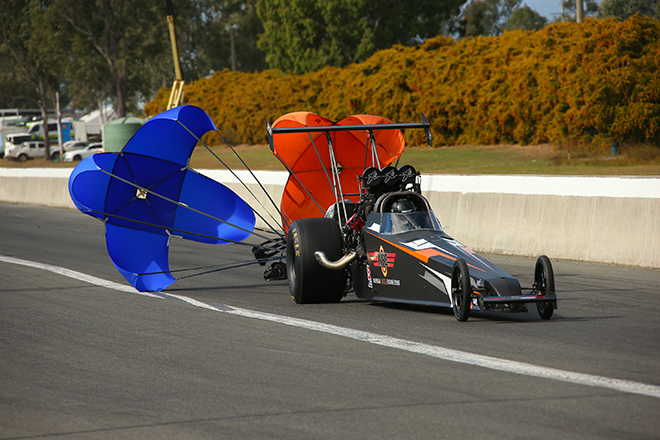 John Cannuli needed to reach the final to win his first ever Top Alcohol championship but his challenge literally went up in flames when a fuel line came loose sending fire through the cockpit of his funny car toward the finish line. Jamie Noonan drove around Cannuli for the win while he wrestled with the car to stop safely.
That run also confirmed Noonan had backed up his earlier 5.504 ET with a 5.519 second pass securing a new Top Alcohol dragster national record while resetting the speed record to 260.91 mph.
His victory also handed an emotional Gary Phillips, looking on from the stands, his 17th Top Alcohol championship.
"That was a great weekend," said Noonan. "In qualifying we couldn't get down the track, we just had to back it down that much to try and win the race and it all worked out to plan and it was a really good effort.
"Twice in two years I missed out on the final, there was rain on one and broke on the other so to finally get it is a great feeling.
"We actually hurt the motor in elimination one and we knew we had to put a rack of rods and pistons in it after E2 and the boys worked an awesome effort they put a full set of rods and pistons in after E2 and we finally got the win."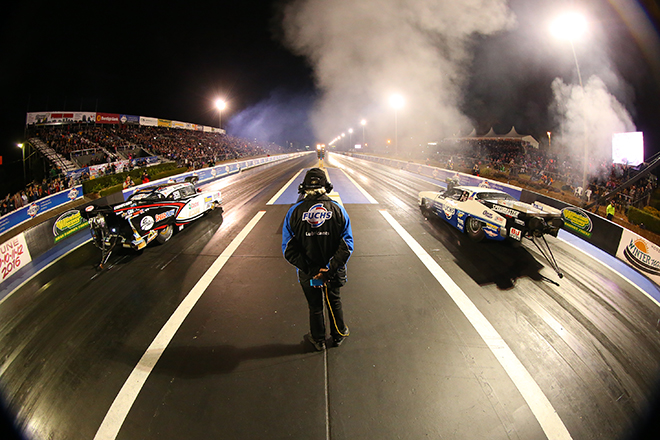 John Zappia, eight-time Top Doorslammer champion coming into the weekend, confirmed his status as one of the greatest racers in ANDRA Drag Racing history. The last to achieve a similar feat was Gary Phillips who won seven straight Top Alcohol championships between 1995-2001.
Zappia celebrated number eight by resetting the national elapsed time record to 5.693 seconds in a final win over Ben Bray who impressed in his return to drag racing after a horror smash almost exactly one year ago.
"New national record and a perfect season," said Zappia. "Man this is just unbelievable, the Fuchs Striker Monaro just flew all weekend, we had tyre shake every run except the final, we took a gamble, thought we were going the wrong way, let's just try something cause whatever we did on the second run didn't work, it went back to a 5.91.
"We know Ben can run a 5.91 we know he can cut lights so we thought let's try something we haven't tried, we threw it at it, it took it, I punched second gear, didn't have to lift, first full throttle pass of the weekend and I told everyone if I could hold it flat it would run a 60 and it went a 69er.
"This is for Craig Pedley from Striker Crushing, thanks for 10 awesome years, it has been fantastic Craig – this win is for you – tearing up."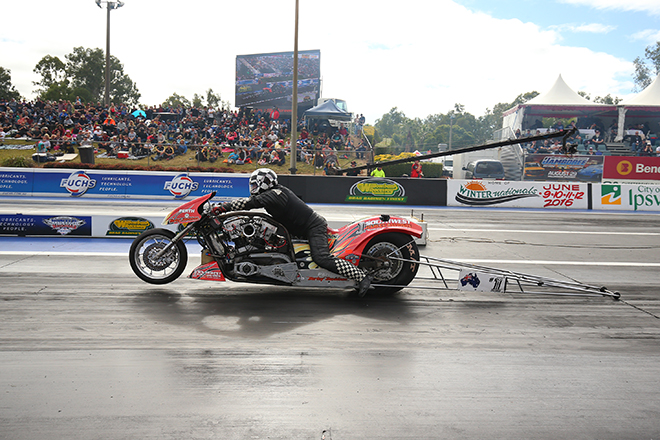 Mark Drew notched his second successive Top Fuel Motorcycle championship without even twisting the throttle when Chris Porter shut down at the line in Round 1 allowing Chris Matheson to take a solo win.
Drew celebrated by reaching the final in a defeat of Matheson and collecting his second ANDRA Gold Tree of the day with a win over visiting American Darian Guillory who had earlier laid down one of the quickest nitrous motorcycle passes ever in Round 1.
"That is really good, the track has been killer all weekend," said Drew. "In the end we just did enough to win to get through to take the win, and happy days, we have back to back Australian championships, its just great."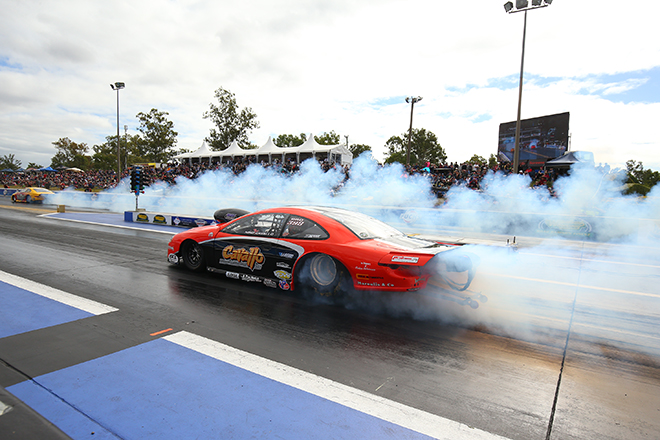 Lee Bektash has set a new standard in Australian Pro Stock and everyone expected him to not only claim the ANDRA Pro Stock championship but also the Fuchs Winternationals.
Bektash took a solo in Round 1, defeated Tyronne Tremayne in Round 2, and even though he had the reaction time advantage in the final, Nino Cavallo prevented him from making it a golden double after the event runner up was enough to secure the overall championship for the first time.
Cavallo had run consistent 6.9-second passes all weekend and thoroughly deserved his victory taking out Jodi Racco and Emilio Spinozzi on his way.
"Unbelievable, coming into Pro Stock I didn't expect to win a meeting to be honest but to win the Winternationals is just unbelievable – out of control," said Cavallo.
"A thank you to my crew they have done unbelievable this weekend and well done to Lee Bektash but we are real, real happy.
"The crew did a great job, they had three quarters of an hour to get the car done, they have just done great, an unbelievable effort."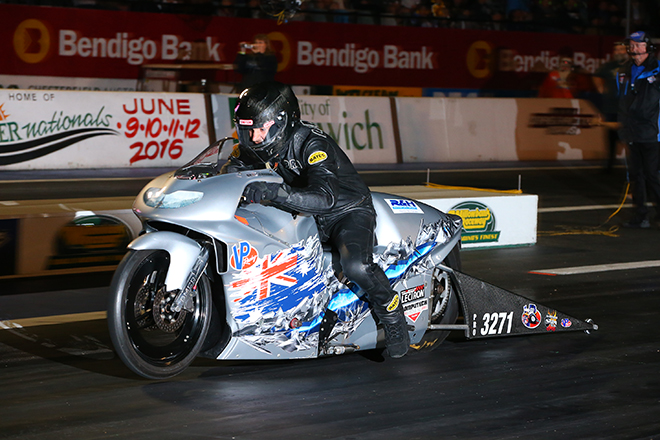 Sensationally Luke Crowley and Glenn Wooster dumped the top two in the Pro Stock Motorcycle championship, Maurice Allen and Scott White, out in the first round. That opened up the title for rookie Ryan Learmonth who defeated Locky Ireland to reach the semis.
With it all to race for, Learmonth stalled just after twisting the throttle and could only watch as fellow rookie Brad Lemberg posted a 7.158 second pass, the quickest run of the weekend to that point, handing Maurice Allen his second championship.
Lemberg went on to lower the ET even further in the final with a stunning 7.146 at 183.19 mph leaving Glenn Wooster to dream of what might have been with a red light.
"It feels awesome, a dream come true, on our rookie meet, I couldn't be happier at the moment," said Lemberg.
"We thought it would get a bit better, added a bit of fuel there, and it looks like it paid off. Dad is going to be stoked, sponsors VP Racing Fuel Australia, Pauly and Johnny – they do awesome things for us and have helped us out for a number of years, R and H transport services from Mackay have come on board this year, we are just living the dream at the moment."
The new ANDRA Championship season begins in just over one month when Top Doorslammer and Top Alcohol visit Hidden Valley Drag Strip in Darwin.
For full results for the Fuchs Winternationals please click here.
National Records:
Top Alcohol – Jamie Noonan
5.504 ET, 261.32 mph
Top Doorslammer – John Zappia
5.693 ET
To view the previous record please click here.